2012 NBA Playoffs Predictions: Boston Celtics Will Defeat Miami Heat in Game 7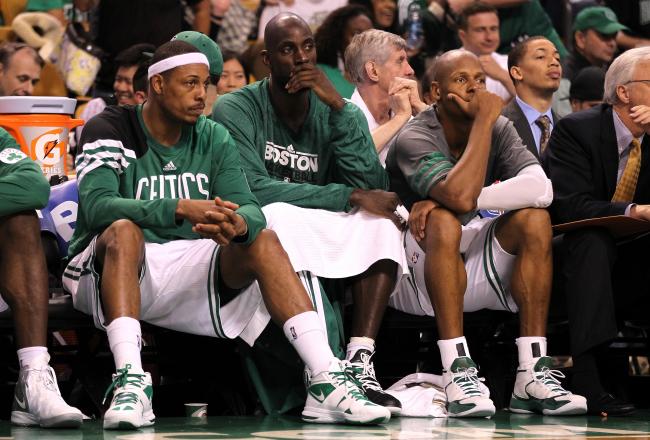 Jim Rogash/Getty Images
With just three minutes to go in Game 6 on Thursday night at TD Garden, something special happened.
The Boston Celtics may have been getting blown away by the Miami Heat as the Heat continued to maintain a steady 20-point cushion, but the Celtics' faithful that stayed until the final buzzer truly sent a message to not only the Celtics' players, but also to the Heat.
Boston certainly had no chance of coming back or even making a game out of it, but the fans still cheered loud—and for a good reason, as Thursday night could have been the very last time that we'll ever see Paul Pierce, Kevin Garnett and Ray Allen together in a Celtics uniform.
By listening to the crowd cheer, you would have thought that Boston was on the verge of clinching a trip to the 2012 NBA Finals—but it was far from doing that.
The fans simply cheered "Let's go Celtics" as loud as they could as if they were at a pep rally—a pep rally to send the team off to Miami for Game 7 of the Eastern Conference Finals.
But could that have been the last home game of the Big Three era?
Absolutely not.
The Celtics will travel down to Miami and officially knock out LeBron James and the Heat and advance to the NBA Finals to battle it out with Kevin Durant and the Oklahoma City Thunder.
No matter how tired you think KG and the Celtics looked in Game 6, Game 7 will be a final call for the team, and there's no way that they'll cough up a chance for their third NBA Finals appearance in five years.
How can I be so confident? Well, Miami head coach Erik Spoelstra carved it up perfectly for me with his comment following Miami's Game 5 home loss:
"They have championship DNA. They have what we're trying to get."
That rather oblivious and idiotic comment proves, in my mind at least, that Boston will out-will the Heat because it has "championship DNA."
I would love to ask coach Spoelstra this: Aren't you born with DNA? You can't achieve it, you know that, right?
I do not credit the Miami Heat with any "championship DNA" whatsoever.
I don't care that Dwyane Wade has a ring—that wasn't his team in 2006. That was Shaquille O'Neal's team—a player with that true "championship DNA."
But, regardless if Wade has it or not, LeBron is the leader of this team—and he is far from being a champion.
Don't get me wrong, what LeBron did Thursday night at the Garden was nothing short of magnificent. However, allow me to remind you that it was LeBron's first ever road victory in an elimination game.
Also allow me to remind you that LeBron's 45-point game wasn't all that special when you look at his playoff resume. James has 11 career 40-plus point playoff games—it's not like he rose to the occasion or anything. It was just LeBron playing to his fullest.
But I would love to have this question answered: Why don't we see this more often out of LeBron? Why can't LeBron show up every night like his back is against the wall and simply dominate?
Because he lacks that "championship DNA."
A team that doesn't lack "championship DNA" is the Boston Celtics.
It all starts from the top. General manager Danny Ainge has not only won as an executive, but he's won as a player. Head coach Doc Rivers is a proven winner, and so is Pierce, KG, Allen and Rajon Rondo.
They're all winners—something that LeBron and the Heat aren't.
Game 7 in Miami at the American Airlines Arena will be a final call for the Celtics—and they will prevail.
The Celtics are going to give it all they've got, as they very well know that this is the likely end to yet another illustrious era in Boston Celtics' history.
Starting with Garnett, the Celtics are going to out-will the Heat.
They will win the 50/50 battles, they will contest every single shot and they will fight until the very last second.
By looking at what Doc Rivers wrote on the blackboard in the team's locker room Thursday night, the Celtics will be packing for a week as they will not be returning back home until they play two games in Oklahoma City against the Thunder.
Be sure to check out Tony Santorsa's blog: PatriotsPlus.
This article is
What is the duplicate article?
Why is this article offensive?
Where is this article plagiarized from?
Why is this article poorly edited?

Boston Celtics: Like this team?