Why HBO Will Regret Inviting Dolphins to Do 'Hard Knocks'
June 6, 2012

Jamie Squire/Getty Images
From top to bottom, South Florida has the most interesting sports scene in the country.
The Heat will likely be facing an offseason of uncertainty after Thursday, while the Marlins are in the thick of an exciting NL East pennant race that, for now, has every team competing and won't be decided until the very end. 
The Hurricanes are still waiting on a verdict from the NCAA for Nevin Shapiro-gate, while the Florida Panthers are coming off their first playoff appearance in 12 years and look to be an NHL team on the rise.
The most boring of those teams? The Miami Dolphins. So guess who gets the reality show? (Other than the Marlins who will star on Showtime's The Franchise) 
As announced last week, it will be the Dolphins who star in the new season of HBO's Hard Knocks.
As a Dolphins fan and Featured Columnist, I couldn't be more excited. It's a chance to see a team going through a transition year that has already been turbulent. As usual, you will see rookies attempt to get their spot on the team, players competing in key position battles and hopefully a heavy dose of Lauren Tannehill.
I say hopefully because as a casual TV viewer and HBO subscriber, I'm not too interested otherwise.
Getting Dolphins fans to watch shouldn't be too much of a problem. We love our team through good and bad (and trust me, there's been plenty of bad) and love the behind-the-scenes stuff. For years we've clamored for the Dolphins to open the curtain a bit. Their attitude towards the fans has been aloof and disconnected, which projects the image of fear of accountability.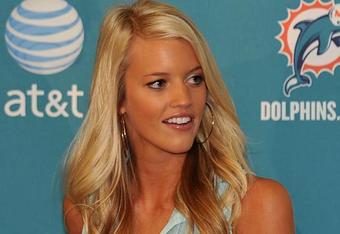 But while Dolphins fans love it, other NFL fans and reality show fans don't.
I spoke to Sara Hernandez, a documentary fan who isn't much of a football fan, about whether she would watch the program. She told me that she wasn't too interested in it, after I showed her an episode of Hard Knocks featuring the Cincinnati Bengals.
The 2009 Bengals were much more interesting than the 2012 Miami Dolphins. Aside from Reggie Bush, these Dolphins don't have the star power to carry a show like this.
What made it work with the Chiefs when they did Hard Knocks in 2007 was Herman Edwards, whose dynamic personality on the show is likely part of the reason why ESPN hired him as an analyst after he parted ways with the Chiefs at the conclusion of the 2008 NFL season.
Tell me, based off of the interviews you have seen so far, how exactly will Joe Philbin fit into that mold?
Miami doesn't have that dynamic personality. No Herman Edwards and his sermon-like speeches, no Rex Ryan and his crude but entertaining personality. There won't be Antonio Cromartie trying to remember the names of his illegitimate kids, nor Chad Ochocinco explaining the meanings of "child, please" and "kiss the baby."
Instead, the most likely star of the show will be Karlos Dansby. However, if his career in Miami is any indication, Dansby will tease you with the possibility of his character taking off, but then greatly disappoint you in the end.
This year Hard Knocks will get a team filled with good guys who will work hard. As a Dolphins fan this is great—exactly what you want to see on the field on Sundays this fall.
But for a TV viewer, documentary fan, reality show fan and casual football fan, it's the last thing you'd want to see Tuesday nights in August on HBO.
I'll still be watching, and I'm sure the show will do well. But it won't be the Hard Knocks we've come to expect that will entertain those who don't have a vested interest in the team.