Why Chicago Bears' Jay Cutler Is the Most Underrated Player in the NFL
June 4, 2012

Jonathan Daniel/Getty Images
When mentioning the names of elite quarterbacks in the NFL, Peyton Manning, Tom Brady, Drew Brees and Aaron Rodgers come to mind. The next tier may include Matt Ryan, Ben Roethlisberger, Eli Manning and others. But if Jay Cutler comes up in conversation, many put him in the average range.
In an NFL.com quarterback ranking, he's No. 14 heading into this year. Philip Rivers, who threw 20 interceptions on his way to an 8-8 record in 2011 is No. 8. Joe Flacco, the self-proclaimed top quarterback in the NFL, who was sandwiched between Kevin Kolb and Carson Palmer on the QB rating list last season, is No. 12.
The Bears offensive line has been one of the main reasons Cutler has not been able to excel at the quarterback position. The team has allowed 105 sacks over the past two seasons, most at Cutler's expense and highest in the NFL over that span. He rarely had enough time to throw and took a beating as a result. 
This year, the former offensive line coach Mike Tice takes over as offensive coordinator and will run an offense that provides a lot more protection than in previous years. Gabe Carimi will also be a significant addition to the line and the success of the offense. The Bears' top pick in 2011 missed most of last season with a partially dislocated right kneecap but looks to be on track for the season opener September 9. 
The lack of weapons in the Bears offense is another problem that has hindered Cutler's abilities. For the past two seasons, Matt Forte has been the leading pass-catcher for the team but never caught more than 52 balls in either season. In fact, the player with the most receptions in a single season during Cutler's reign was Greg Olsen back in 2009. He was arguably Cutler's best big target in his three seasons with Chicago but was traded to Carolina for a third-round pick before the 2011 campaign.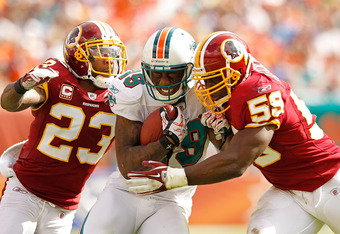 Mike Ehrmann/Getty Images
These statistics advocate a definite need for a big, talented wide receiver. The Bears tried to experiment with Roy Williams, which yielded average results but nothing resembling a No. 1 target. Johnny Knox, who may be out for the year, along with Devin Hester and Earl Bennett, provide decent options. However, none of them are No. 1-caliber wideouts and all lack size and physicality. 
The addition of Brandon Marshall and Alshon Jeffery should pay huge dividends for Cutler and the Bears in 2012. Marshall, who was acquired from the Miami Dolphins for two third-round picks, and Jeffery, the Bears second-round pick this year, both have good size and great talent.
In Cutler's two full seasons with Marshall in Denver, they connected 206 times for 2,590 yards and 13 touchdowns. To make things more comfortable for the duo, Cutler's quarterbacks coach in Denver, Jeremy Bates, will take on that same role in Chicago for the upcoming year. 
Cutler discussed his liking for the new coaches when team activities began: 
"I think Jeremy has a really good feel for what I like to do and what I don't like to do. There were plays out here today (where) I told them, 'I don't like them. Let's think about getting rid of them.' He's fine with that and Tice is fine with that. So it's a give and take, and that's a breath of fresh air around here; being able to give ideas. Everyone gives ideas and let's pick the best ones that work for everybody."
This is a massive improvement over past years when Cutler wasn't even allowed to call audibles at the line. The entire Mike Martz debacle not only left his quarterback battered and bruised, but gave him no freedom within the offense.
There has to be enough trust in a talented quarterback to at least let him change the play at the line, but Martz wouldn't let him. The former Bears' offensive coordinator has a knack for sub-par protection and long drop-backs. Now that he's gone, Cutler can breathe a sigh of relief and start throwing from an upright position more often this year. 
While it seems obvious that he hasn't had the tools to succeed in the past, Cutler has done a tremendous job of giving the Bears a chance to win. He helped lead them to the NFC championship game in 2010 when the team wasn't expected to even sniff the NFC North title. He got the team off to a 7-3 start in 2011 before his season was cut short due to a thumb injury. He is 18-8 over the last two seasons, and though the defense and Matt Forte deserve some credit, Cutler is the offensive leader. Where he goes, the team goes. 
So why is it that Jay Cutler doesn't get enough recognition for his abilities? He has one of the strongest arms in the league, there's no doubt about that. He may throw too many interceptions for some people's liking, but a lot of that is due to his offensive line trouble and having to get rid of the ball quickly. He also has a Favre-like tendency to believe he can make any throw, which gets him in trouble at times, but it's what makes him confident and it's how he makes some of the great throws that he does. 
The media is to blame for a significant part of this. It may be because of his laid back, seemingly uncaring attitude, or maybe for what some perceive as a cocky personality. For whatever reason, it seems that the media shines a negative light on Cutler.
The major turning point was the NFC championship game against the Packers in 2011. After leaving the game in the third quarter with a knee injury, the media and Bears fans alike labeled him a quitter. There was even a full-fledged attack on Twitter from many NFL players. His reputation was tarnished, and even after the truth came out, that he had a Grade II MCL tear and tried to play through it, it did little to change the minds of those quick to judge. 
Though he takes more hits than any quarterback in the league, people question his toughness. He hasn't had a legitimate offensive line or big-weapon receivers, but people question his ability. Cutler's true talent will come out in a big way this season, and he should finally get the respect and recognition that is long overdue.