Detroit Lions: Matthew Stafford Is Underrated in NFL Network's Top 100
June 3, 2012

I haven't always agreed with the views expressed by the NFL Network. In all honesty, I've been puzzled by some of the commentary that Warren Sapp and Marshall Faulk have provided—particularly related to the Detroit Lions.
There's no need to rehash those old stories because the network has struck again. The latest misstep has to do with their Top 100 Players of 2012 list. They've released numbers 41-100 so far. The rest will come between now and Wednesday, when the No. 1 player will be revealed at 8pm.
One positive is that a Lions player finally cracked the top 50. In fact, this player is No. 41. If you guessed Ndamukong Suh, Stephen Tulloch or Cliff Avril it would have made infinitely more sense than their selection.
The network's choice left me dumbstruck. They've ranked Matthew Stafford No. 41. The only thing I can say is: Huh?
They managed to put Stafford ahead of six other signal-callers: Peyton Manning (50), Philip Rivers (61), Michael Vick (70), Joe Flacco (74), Tony Romo (91) and Tim Tebow (95).
OK, I'll agree with that, even though ranking Manning No. 50 seems like blasphemy. For the sake of time, I'll stick to one argument per article though.
While Stafford should be ahead of those six, No. 41 is underrated for someone who had such a successful season last year. He was elite, and his numbers prove it: 63.5 completion percentage, 5,038 yards, 41 touchdowns, only 16 interceptions and a 97.2 quarterback rating.
There's not 40 players, offensive or defensive, that deserve to be ahead of Stafford based on those numbers.
The rest of the list will obviously consist of 40 more players. I would guess the majority of those would be quarterbacks, receivers and running backs. These lists tend to dole out more attention to the offensive side of the ball.
I'll focus on the quarterbacks.
Based on the those revealed already, one can speculate who will be ranked higher than Stafford: Tom Brady, Drew Brees, Eli Manning and Aaron Rodgers of course. Their numbers were equal to or better than Stafford's last year. Plus, they all went further in the playoffs, and they're already proven champions.
Those four signal-callers have legitimate reasons to be ahead of Stafford.
Here are three more who will likely make the list ranked ahead of Stafford and really have no business to be.
1. Matt Ryan
His numbers paled in comparison to Stafford's last year, even though 2011 was his best season statistically.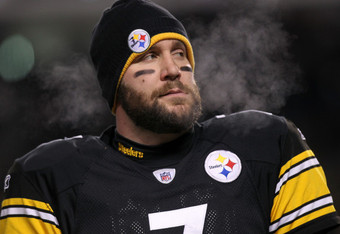 Yes, "Matty Ice" has made the playoffs three out of four years, but he lost in the Wild Card game last season just like Stafford did. Ryan is also a one-time Pro Bowler. Well, Stafford should be too. He got robbed last year.
Stafford cannot compete with Big Ben's playoff record and two Super Bowls. Even though one could argue that Roethlisberger's legend has been significantly inflated simply because he's a Steeler.
Just like Ryan, his numbers have never been close to Stafford's in 2011, and he lost in the Wild Card Game last year. Roethlisberger's star is fading while Stafford's is rising.
3. Cam Newton
You know he'll make the list, but there's no way he should be ahead of Stafford. While it's true Newton had a tremendous year—even with his rushing numbers—he still couldn't match Stafford's production. His team also missed the playoffs, and I don't believe he's learned how to make the players around him better yet—unlike Stafford.
It comes down to this: A player who threw for over 5,000 yards and 41 touchdowns was clearly the most important player on his team. In Stafford's case, he was also the most responsible for the Lions improvement and their playoff berth.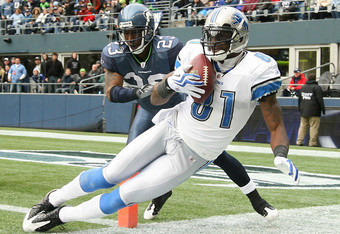 That puts him higher than No. 41 in my book.
Stafford might have been hurt by his one-season sample size, or it might be further evidence that no one is going to give Lions players their due until they win something.
I think Stafford was hurt most by his teammate Calvin Johnson though. He will be very high on this list. Given that he's generally regarded as the best receiver in the game today, the top 10 is not unrealistic.
The perception is that Stafford's numbers are inflated and other quarterbacks, who don't have a weapon like Megatron to throw to, deserve to be put ahead of him.
I think that argument is flawed. If it were true then maybe Mark Sanchez and Jay Cutler should make the list ahead of Stafford. Now, if that happened, Lions fans would really have something to complain about.