US Olympic Basketball Roster 2012: 3 Stars Who Should Be Left at Home
June 1, 2012

Jed Jacobsohn/Getty Images
It is now June, and the 2012 Summer Olympics are less than two months away. With the NBA Playoffs closing in on determining the 2012 league champ, it is not too soon to speculate which players will join the US quest for international hoops glory.
With the group of US hopefuls whittled down to 22 finalists, some of the 12 roster choices to go to London are obvious. LeBron James, Kobe Bryant, Chris Paul, Kevin Durant, Kevin Love, Dwyane Wade, Tyson Chandler, Russell Westbrook, and Deron Williams are virtual locks.
Due to the dearth of healthy US post players following injuries to Dwight Howard and LaMarcus Aldridge, Chris Bosh can be penciled in too, as can Anthony Davis fresh out of the University of Kentucky.
That leaves one roster spot remaining for US coach Mike Krzyzewski. When he surveys his roster, he will likely take note of the overabundance of scorers at his disposal and try to shore up a need elsewhere rather than simply taking the best player.
With this in mind, these three marquee NBA players will likely find themselves stateside when the tournament kicks off in July:
James Harden
It should make no difference to Coach K that Harden does not start for the Oklahoma City Thunder, as it is not an issue to the Thunder, who utilize Harden off the bench to better distribute the touches between their three potent scorers. As Grantland's Jordan Conn explained, Harden makes a conscious effort not to hog the ball and does not mind playing third fiddle to his more established teammates, Durant and Westbrook.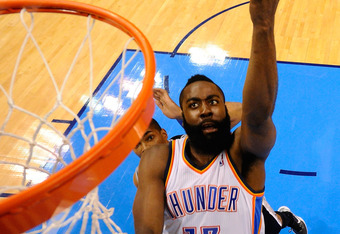 Ronald Martinez/Getty Images
But these playoffs have given the Oklahoma City sixth man the opportunity to prove himself a star in his own right.
When the situation requires Harden to step his game up, he explodes for lines like his dazzling performance in Game 2 of the Western Conference finals. Without Harden's 30 points on 10-13 shooting, Oklahoma City could not have even stayed competitive with a San Antonio Spurs team that shot 55.1% from the field en route to a 120-111 win.
While his blend of skill and selflessness would fit nicely in international play, there are just too many guards on this US team to warrant including Harden on this squad. Bryant will likely start at shooting guard in London, which means Wade will be filling Harden's usual role as sixth man.
Harden could possibly sneak onto the roster as a three-point specialist (he is a career 37.0% three-point shooter), but he is not the best fit with this group of US players.
Blake Griffin
If we are giving a guy like Davis international run before he ever plays a minute of professional ball, it seems strange to keep one of the most explosive big men out there off the US national team. Griffin was one of just four players this season to average 20 points and 10 rebounds per game for the Los Angeles Clippers, a stat line that should lock him into the rotation for London.
Griffin's strengths, however, do not translate wonderfully to international play. The NBA game is more tailored to his athletic play above the rim, while squads like Spain with both Pau and Marc Gasol on the interior will dictate a more bruising style of play. Not every team will have the names in the post that Spain does, but they will have no scruples about physicality on the inside.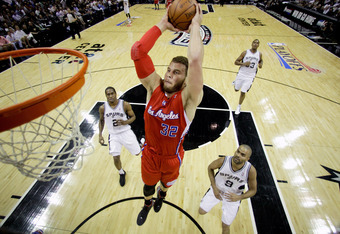 Pool/Getty Images
The Clippers had a tendency to use Reggie Evans or Kenyon Martin to spell Griffin on defense in postseason play, as all 250 pounds of Griffin can be overwhelmed in the post due to poor technique on defense. Griffin also needs to get to the basket to score, as his midrange game is not strong enough yet to give him another option when the interior gets locked down.
Griffin has taken over the highlight reel from the moment he stepped foot on an NBA court, but he is still very raw as a player and is not yet ready for the nuance of the international game.
It would have been a shock six months ago to say that Anthony, a member of the 2008 Redeem Team that took home the gold in Beijing, would not be around for the repeat attempt four years later.
This season did no favors for Anthony, who shot just 43% from the field forcing inefficient isolation plays and displayed a general indifference to defense as he clashed with Mike D'Antoni, who was the coach of the New York Knicks at the time.
Anthony seemed to distance himself from hero ball under interim head coach Mike Woodson, rededicating himself on defense and taking over offensively only when necessary. Against the Miami Heat in the opening round of the playoffs, Anthony's 41 points in Game 4 were instrumental in the 89-87 victory for a Knicks team that had not won a playoff game since 2001.
But for all of Anthony's heroics, posting three 30-point games in the futile five-game series against the Heat, he also shot 3-15 from the field in Game 1 and 7-23 in Game 3, signs of a volume scorer who can disappear at times and who won't make up for it at the other end of the floor.
Anthony can score from anywhere on the court, and his physical style at small forward fits well in the international game. But like Harden, he suffers from the relative ability of his peers.
In 2008, there was a two-horse race between James and Anthony to be the best small forward. Four years later, Durant has surpassed Anthony. Durant is arguably the most dangerous scorer at any position, and while he does not have Anthony's physicality, his length and his effort make him more useful on the defensive end as well.
At this point, Coach K must consider Anthony no better than the third choice at small forward. When Krzyzewski crosses the pond in pursuit of his second Olympic gold medal, he should eschew sentimentality and leave one of the key pieces of his 2008 team behind.