Tottenham Hotspur: Where Skilled Players Go to Rot
May 31, 2012

Gareth Copley/Getty Images
Notice anything wrong with the following phrases?
"It's wonderful how well Kevin Prince-Boateng is playing." "It's amazing what kind of affect Giovanni dos Santos is having on the squad." "Steven Pienaar has been having a field day of late."
Guess what?
You haven't heard these phrases being uttered when the players were wearing Tottenham shirts.
Since the arrival of Harry Redknapp, Tottenham have been one of the top five clubs in the English Premier League, combining frightening pace and clever passing with a more determined and steely midfield to place fourth in two of the last three seasons.
Yet if one were to look at the squad, one might almost think the squad is made of robots. Fast ones, mind you, but somewhat devoid of anything resembling creativity.
With the exception of Luka Modric and Rafael Van der Vaart, the squad is devoid of the technically clever players that you might find every day in the Bundesliga or La Liga.
Wait, that's not quite right.
They have those players, but when was the last time you saw one on the pitch actually actively employing their craft?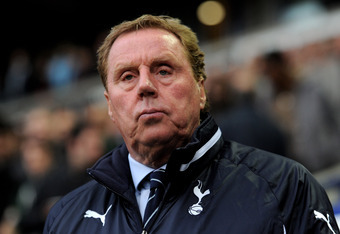 Michael Regan/Getty Images
Earlier, I wrote that Tottenham have an issue of flexibility in that with their current system, any time a cog in the wheel comes off, the whole outfit looks shaky in their approach.
Part of this may be due to the fact that Redknapp is an old school England manager. As mentioned in his ESPNSoccernet bio, Redknapp is a 4-4-2, "stick to your positions, play on the break, run down the wings and move the ball around" type of manager.
A great (yet terrible) example of this comes in the Chelsea match at the end of the 2010-2011 campaign. Sandro hit an absolute hammer only to, once he reached the sideline, be berated for moving out of his defensive position.
As has been seen in many circles, this type of approach is not as high on the technically adept as it is on those who can handle the punishing pace of the Premier League.
Sometimes referred to as "soft," players like Juan Mata, Raul Meireles, Samir Nasri, Nani, Yossi Benayoun, etc. would have a terrible time making Spurs' starting XI as it is currently set up.
Notice, though, that they are players who are on teams routinely in the top four of the Premier League, winning title and trophies as they go.
This begs the question: Why does Harry Redknapp under utilize creative players?
Redknapp places a value on pace down the flanks, which is part of the reason that Lennon and Bale are given freedom to roam on either side.
Another player to rule out of this list is Van der Vaart. Depending on your definition of the player, Van der Vaart is often played like a second forward (and certainly shoots enough to justify it).
Van der Vaart has not really been much of a trickster with the ball at his feet which is probably why the Dutchman has not had issues holding down a starting role in the squad.
Now that those types of players are ruled out, I submit a list of players who have been bought by Spurs who have found it difficult to crack the first team with any consistency:
Adel Taraabt, Jamie O'Hara, Iago Falque, Steven Pienaar, Giovani dos Santos, Niko Kranjcar, David Bentley, Kevin Prince-Boateng, and John Bostock.
Of course, not every member of the squad has gone on to great success necessarily after leaving Spurs, but there is a fairly common thread between all of these players.
Many of the above like to make things happen on their own and would be considered "selfish" in some circles, owing more to their own abilities than to that of the squad as a whole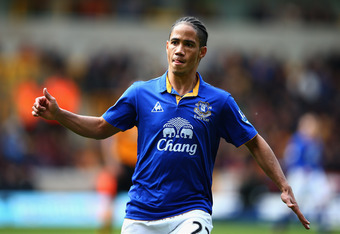 Clive Mason/Getty Images
Yet, when put in position to make plays happen in other settings, several of the players on this list have thrived.
Everton's second half resurgence (a shock, as we all well know) was centered around Pienaar returning to the club.
Kevin Prince-Boateng after travelling to Portsmouth for a little while, found his way to A.C. Milan. Given a license to roam, Boateng has made himself into a valuable member of the Rossoneri.
Giovani dos Santos, meanwhile, continues to kill it for Mexico on the international stage. Ask anybody who watched the Gold Cup final in 2011 which was the goal of the tournament, and if they say any other goal but this one, they're lying through their teeth.
Kranjcar and Bentley have each had moments of brilliance for Tottenham pre-Redknapp but, even after they've done well in repeated appearances, the boss freezes them out for large chunks of matches at a time.
So what gives?
If the manager, who was once a player, doesn't trust the players at his disposal to meet his own vision of the way to play the game, those players often get to sit.
This is true in most sports, but the truly great managers often figure out ways to get players into games and make them effective.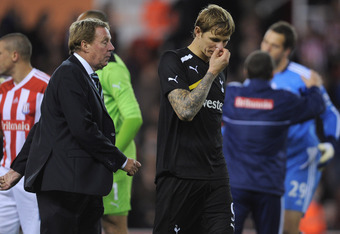 Michael Regan/Getty Images
Therein lies perhaps the one great critical argument against Redknapp—while often given a pass for his "lack of tactical expertise," it's his lack of being flexible and finding a way to make the formations fit the players that often gets the squad in trouble.
The lack of will to indulge players in their preferred positions (ask Van der Vaart what he thinks about playing on the wings) is often more bothersome than it is worth. The results of the season speak to that.
In Redknapp's case, if he is so dead set on getting players for the system, why does he bother adding players that he has no intent of using?
And, even more pertinent, why doesn't he get rid of them?
And perhaps most important, why would a player like that make his way to Spurs?
It's one of the few big name clubs where a player with skill goes to rot for a few years.