Tottenham Hotspur: Spurs' Identity Crisis
May 28, 2012

Shaun Botterill/Getty Images
Tottenham Hotspur's second half of the season was, to be somewhat blunt, gross. Floundering in big games and giving up third to they-who-shall-not-be-named, Spurs looked confused as to who they were and what they were doing.
It was during the stretch from the Stevenage tie in the FA Cup until the final four games of the season that the squad decided to go on siesta offensively, scoring a paltry eight goals in nine matches, compared to the nine they scored in the final four fixtures.
While partly due to fatigue (due to that super strong bench Spurs had), I believe there is a bit of an identity crisis that is holding Tottenham hostage.
For as many years as I have watched Tottenham, Spurs have been a 4-4-2 side, relying on counter-attacking at breakneck pace to undo defenses and score goals.
While certainly players like Michael Carrick, Tom Huddlestone and Jermaine Jenas were solid distributors of the ball, the arrival of first Luka Modric and then Rafael Van der Vaart opened up new avenues for Spurs to play in.
The emergence of Gareth Bale to complement Aaron Lennon on the wings, along with attacking full-back play from Benoit Assou-Ekotto, Vedran Corluka and Kyle Walker, made Tottenham a formidable opponent.
But there was a reason that Spurs were able to achieve Champions League qualification two seasons ago yet not be able to reach the promised land again.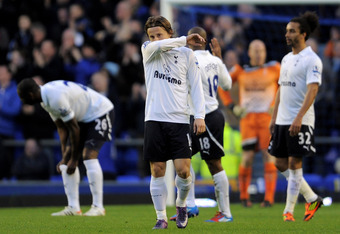 Michael Regan/Getty Images
One of the more notable changes in play of the last couple of years is that, due to the Spanish Tiki-Taka Inquisition, more teams are lining up with variations of five-man midfields, whether they are using a 4-3-3, a 4-2-3-1 or a 4-5-1.
The two-banks-of-four defense works, but at the same time, many of the teams Tottenham struggle against are packing the midfield and daring Spurs to do something different.
Of the teams that Spurs lost or drew with, only Stoke City are remarkable for using a 4-4-2 system. Almost all of the others play with the five-man midfield in some way, shape or form.
Why does this matter, you ask?
At times, it was painfully clear what teams were going to do. It was up to Tottenham to change the emphasis of attack.
Here's the problem: They don't know how to.
They have one identity and don't have a clue how to fix that.
Tottenham have a finely-tuned system in place in a 4-5-1 or 4-4-1-1, depending on how one views Van der Vaart's position. When working in full flow, Spurs can run circles around opponents.
But, this season, when players have been unable to play (see: Lennon's injury), Tottenham look completely lost as to how to make things work.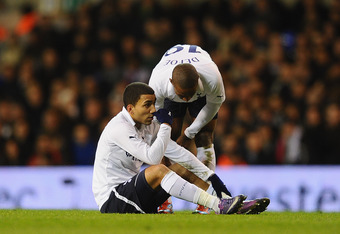 Mike Hewitt/Getty Images
Because they are so finely tuned, when something breaks or someone goes off the boil, the team generally don't know how to respond. Against lesser teams, Spurs have enough quality to see them through. Against dogged squads or better competition, the inability to get out of their preset shape causes them great problems.
Part of this stems from the fact that, with the players at his disposal, Harry Redknapp, for whatever reason, refuses to change the shape.
Redknapp often tried to stick Van der Vaart or Niko Krancjar out on the right in Lennon's absence, where both are far less active and usable than in their preferred central attacking positions.
Redknapp also bumped Modric to the left whenever Bale was out, instead of using a natural replacement like Danny Rose as a stop gap.
Redknapp often had two forwards on the bench, one of which would replace Van der Vaart late in games almost without fail, rather than being proactive and changing shape.
Redknapp had the dead bodies of Ryan Nelson and William Gallas on the bench, as well as one of the central midfield trio of Scott Parker, Sandro or Jake Livermore, sometimes Giovanni dos Santos and, last (and possibly least), Carlo Cudicini.
In short, Redknapp had a lot of square pegs to put in the triangular holes the formation demanded.
Instead of adapting to the players he had at his disposal, Redknapp tried to force the system to work, with often disastrous results when the players couldn't compensate for being out of place.
At some point, Tottenham have to adapt to the things they have or fix the roster to make the formation stick. This is paramount this season as a third year without Champions League football in 2013-2014 will nearly guarantee that most of the big-name players will ply their craft elsewhere.
So how do Spurs change? Herein lies a question that must be answered by Redknapp and the players.
If Spurs are looking to be the bombastic wing threat that they are feared as, then they must add pair of backup wingers to the squad that like to get forward quickly and put the ball into the box. The side also would need a target man with a willingness to attack the ball in the air, something that is lacking without a Peter Crouch on the pitch.
If they're looking to be a far more technical outfit, then they need to look at adding creative wide players who are willing to play outside-in to interlink with midfield and overwhelm opponents at the point of attack. They also need a forward who is clever enough to pull defenders out of position to open up spaces in-behind the defense.
A combination, for instance, of Jonas Gutierrez and Matt Jarvis would be excellent for sending balls in the box from the wings—but would be wasted trying to play a lot of short-exchange passes near the middle of the field.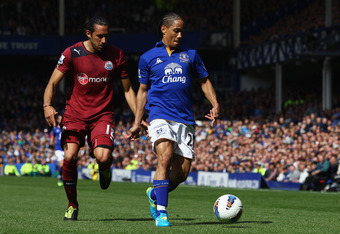 Clive Brunskill/Getty Images
Conversely, players like Wes Hoolahan and Steven Pienaar are better at being combination players than being forced to hold on to a spot on the wing and launch balls into the box.
The little subtleties make a difference. Krancjar would be fine out wide if Spurs were aiming to play a slow 4-2-3-1 system where he could move around the front third of the pitch, but he would be completely wasted out wide in a 4-4-2 system.
The players must fit the system. A lack of depth in the right areas hurt Tottenham as they slogged through the end of the campaign without being able to shuffle the deck every once in a while.
So let's hear it from you: What is Tottenham's best system going forward? Who would you bring in to make your system work? Or is this entire thought the rambling of a nutter?
Add you thoughts about the situation and your ideal replacements below.