NBA Playoffs 2012: 10 Reasons Why LeBron James Is Still the Postseason MVP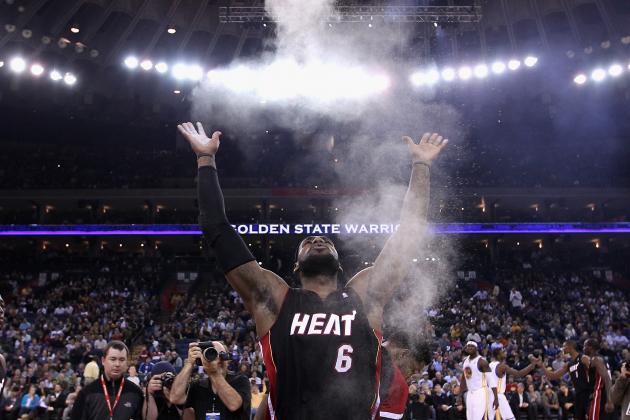 Ezra Shaw/Getty Images

LeBron James of the Miami Heat remains the postseason's MVP; "The Akron Hammer" is driving nails through the competition's coffin.
A tightly contested Miami Heat vs. Boston Celtics series anchors the 2012 Eastern Conference finals. Three things are certain in life: death, taxes and postseason criticism of LeBron James. His reputation is handcuffed to "The Decision," while the court of public opinion grants his teammates immunity.
"LeBron": A divisive, two-syllable name that knocks on the door of emotion. Depending on the owner, it's greeted with open arms or bounced quicker than Jazz on The Fresh Prince of Bel-Air.
He's a three-time regular-season MVP and, figuratively, should also be considered this postseason's MVP.
Odds are, you're reading this because you love or hate him.
Basketball fans—whether a fair-weather Miami beachgoer, disgruntled Clevelander or an impartial follower from a desolate town in Montana—routinely check the Heat score and James' stat line.
Why?
Because it defines the fans nearly as much as it does LeBron.
It's the athletic rendition of the Great Debate. An acutely sharpened line dividing opposing encampments that constantly spar in verbal warfare. Rings are weapons of mass destruction and statistics are ammo drops.
LeBron is a freight train plowing towards the light at the end of the tunnel. In his mind, the distant glimmer is an NBA championship. However, if the trophy is a mirage, the light will belong to an opposing train of thought set on a collision course.
Whether he shatters the mold in victory or buckles from the weight of his shoulders' burden(s), each unfolding chapter of his story matters.
Basketball's polarizing poster-boy took his talents to South Beach, but left unwanted baggage up north.
LeBron James may or may not be your cup of tea. But 10 reasons assure that he sweetens it with a Southern twist.
Begin Slideshow

»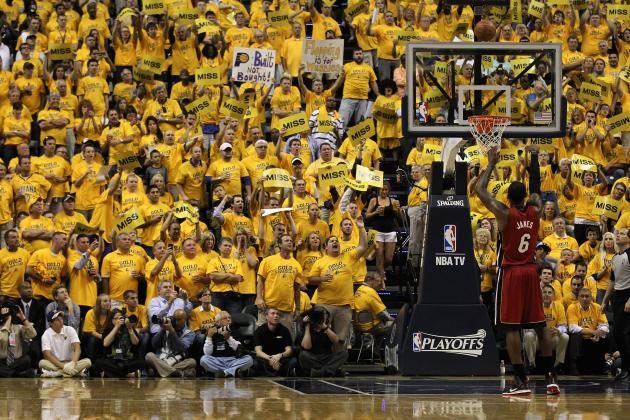 Jonathan Daniel/Getty Images

In an era dominated by flashy highlights, one word is frequently shunned: fundamentals.
Similar to blocking in football and jabbing in boxing, free throws are often overlooked and undervalued.
For the first three quarters, foul shots are basically in-game intermissions.
However, the lost art commonly takes center stage as tightly contested games inflate the value of every potential point.
Late-game free throws are hovering rain clouds that frequently drench LeBron's Heat jersey before disbanding. He's currently shooting 73 percent from the charity stripe.
However, No. 6 leads all players in free-throws made and attempts this postseason; give credit to a newly implemented post game and consciously aggressive mentality.
During Game 2's fluctuating tug-of-war, LeBron missed two critical shots from the line. But without his previous 18 conversions, Boston fans wouldn't have eventually been forced to swallow their Celtic pride.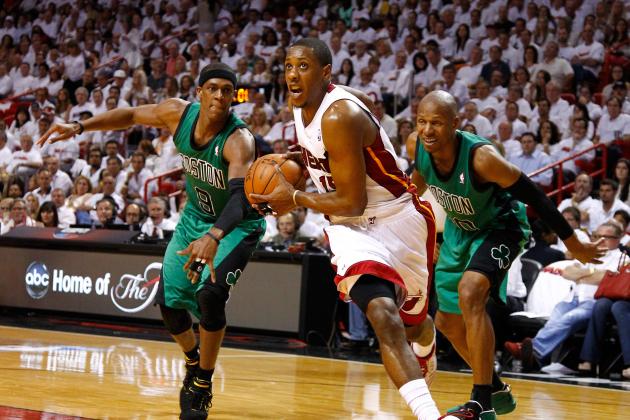 Mike Ehrmann/Getty Images

Name the Heat's fifth-leading scorer throughout last season's playoff run.
In other words, the player unassociated with Miami's Big Three, that doesn't share the name of a turtle-assassinating Italian plumber.
[Jeopardy Theme plays.]
Answer: James Jones.
If you guessed correctly, congratulations (you compulsive liar).
Currently, James Jones is Miami's ninth-leading scorer throughout the 2012 playoffs; he rarely cracks the rotation.
Mike Miller and Udonis Haslem were hobbled last postseason. The pair combined to miss 11 of the 21 games and were used sparingly.
The offseason acquisition of Shane Battier has paid dividends. Due to his relentless defense and (streaky) outside shooting, the forward has averaged the fourth-most minutes (31) per game.
However, the largest chunk of credit is attributed to Mario Chalmers' emergence. Miami's point guard is rapidly shedding the label of "role player" and evolving into a dynamic jack-of-all-trades. He laid down 25 points at Indiana in Game 3 and 22 against Boston in Game 2. The 6'1" Chalmers also grabbed 11 rebounds in the fifth battle of the Indiana series.
The perimeter sniping of Chalmers, Miller and Battier demands respect and spaces the floor for a driving LeBron, a reason why he's averaging three less minutes, but six more points compared to the previous postseason.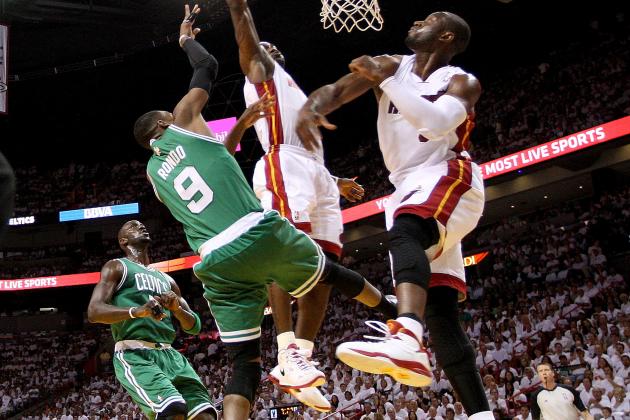 Mike Ehrmann/Getty Images

No. 6 locks down point guards and skies over centers for boards. LeBron James' talent doesn't discriminate.
If there's a hole in the defense, he mimics its characteristics and plugs the leak.
In the span of 15 games, James has battled for 133 rebounds; 43 more than his closest teammate, Udonis Haslem.
Celtics players have been blocked seven times in four games by the MVP.
He's also accounted for 32 steals.
In short, James flashes an unrelenting will, deceitful nimbleness and a vertical that refutes the laws of gravity.
Marc Serota/Getty Images

If a roster doesn't include at least two scoring threats, the season's over before it begins.
LeBron James and Dwyane Wade each possess the missing piece to the other's puzzle.
"D-Wade" is a human highlight reel that slices double-teams like butter, cashes bank shots and clutches the throat of pressure.
He attacks the rim like an American Gladiator's chasing him, then assaults it like it stole something from him.
During the closeout game, No. 3 stood in the middle of Indiana's road to the Finals; then promptly hijacked its bandwagon and bailed after steering it towards a cliff. His 41 points and 10 rebounds officially marked the beginning of football season in Indiana.
"Flash" is the reason why LeBron's minutes per game are at an all-time playoff low, yet his team remains oppressively dominant.
Onlookers argue whether Wade fulfills the role of Batman or Robin compared to James.
But realistically, it's as if Batman found his long-lost brother.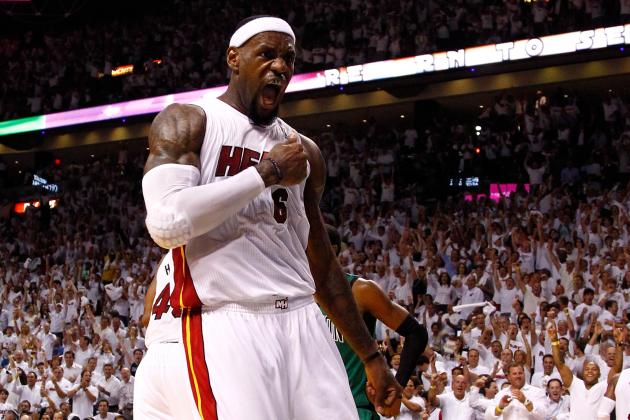 Mike Ehrmann/Getty Images

LeBron is an athletic specimen that basketball's never witnessed before. A 6'8," 240-pound forward that drains three-pointers, posts up, runs the point and can defend any position on the floor.
He redlines a motor in sixth gear, springs over foes like Super Mario and absorbs contact like a trampoline.
James participated in 17 less games due to a shortened season, but attempted 130 less three-pointers.
Throughout preceding seasons, LeBron frequently settled for jumpers; he often didn't utilize his distinct advantages.
When the 2011-2012 campaign tipped off, it signaled a new chapter in James' story.
It was as if Erik Spoelstra had a restless bull, double-coated the basket with red paint and flung the gate open. LeBron showcased a new-found level of aggression that bulldozed any debris in his path.
The result?
Five less free throws than the entire Boston Celtics roster in Game 2.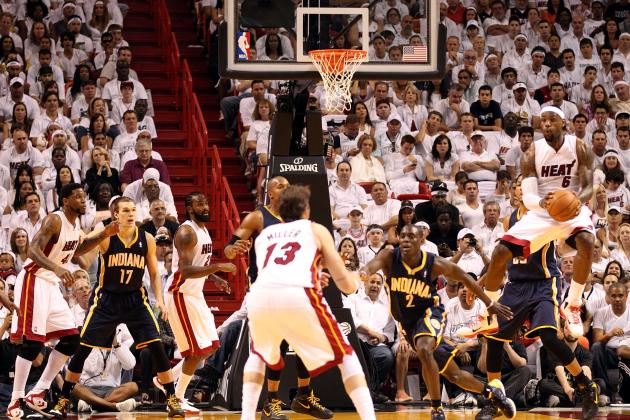 Marc Serota/Getty Images

No, not LeBron James, Dwyane Wade and Chris Bosh.
30 points, nine rebounds and six assists: the postseason averages for "The Chosen One."
If any other player outputted the aforementioned stat line in a single game, basketball die-hards would drown them in a flood of praise.
The above numbers represent an average night for LeBron James. Average.
He's leading the Eastern Conference favorites in scoring, distributing and crashing the boards.
But his critics often share selective memories and turn a cold shoulder to the numbers.
Despite the eye-popping statistics, much of LeBron's criticism still traces back to offseason gestures. Blind hatred still masks a hardcourt demigod as an overrated personification of disappointment.
However, a shred of objectivity will sober the hallucinations and prove that there's more than meets the eye.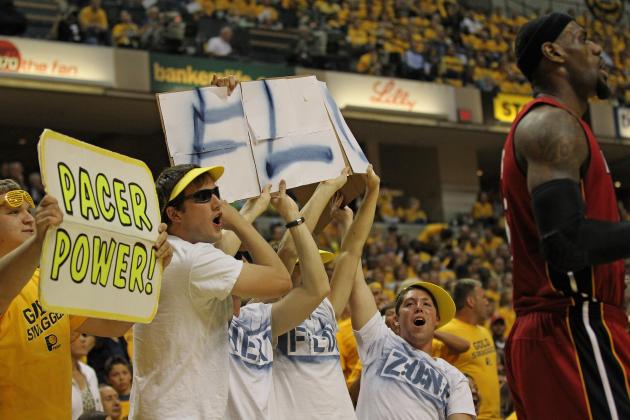 Jonathan Daniel/Getty Images

The Heat suffered a nail-biting defeat at the hands of Indiana in Game 2, the first game that Chris Bosh didn't start.
Game 3: Dwyane Wade forgets his cape and scores a pedestrian five points. Shane Battier and Udonis Haslem combine for five less after contributing donuts.
Joel Anthony—who normally looks as if he's trying to force a square peg into the rim—was the team's third-leading scorer.
Point guard Mario Chalmers chipped in with a game-high 25 points, but Miami invoked flashbacks resembling the Heat of old.
19-point blowout. This doesn't happen to Miami.
Predictability infiltrated the airwaves: the Heat are cold, the "Big Three" are incompatible, the "King" without a ring: chapter nine.
Miami's only threat in the land of the trees had fallen. Dwyane Wade played as if he contracted amnesia overnight and the ball was wider than the hoop. Again, Joel Anthony was Miami's third-leading scorer. (That can't be stressed enough.)
Heading into Game 4, Indiana strutted into Bankers Life Fieldhouse with an eyebrow-raising 2-1 lead. The Heat were sweating, while ice consumed the veins of the Hoosier State's pride.
It was if LeBron was entrenched in the center of a modern Edgar Allan Poe novel. Indiana's momentum was an irrepressible pendulum that became more threatening with each increment of points. Heat Nation's withering patience increased as the blisteringly hot walls closed in. The season's fate represented the pit's free-fall.
But, following a strikingly mediocre 1-of-8 first half, Dwyane Wade snatched the baton from James and reverted to original form. The two rotated turns in a game of "Anything you can do, I can do better." Unfortunately for Indiana, it resulted in 38 consecutive points by gravity's two arch-enemies.
Miami left with heads held high following a 101-93 victory.
Wade's 30 points, nine rebounds and six assists served as critical complements.
Complements, as in secondary.
The aforementioned stat line rarely rests in the backseat. Then again, 29 other teams don't have a three-time MVP on the roster.
40 points, 18 rebounds and nine assists.
If you nitpicked LeBron's game that night, odds are, you'll sample a straitjacket at some point throughout your lifetime.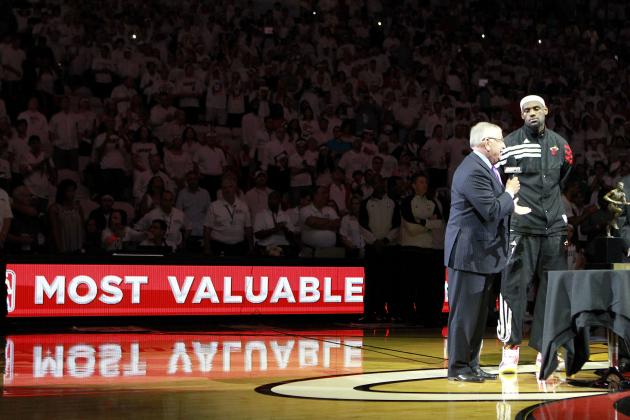 Marc Serota/Getty Images

Athletes' salaries often reflect reliability.
Role players are normally signed for unique capabilities regarding specialized tasks. The stars are playmakers that have a knack for dictating the scoreboard. Superstars erase the separating line between the two, but carry an increased workload.
LeBron James has been responsible for at least eight rebounds in nine of fifteen contests. He's created a steal in every game and eclipsed the 30-point mark eight times. Add nine instances of five-plus assists to the equation.
He scores and boards, steals and deals virtually every time he steps on the floor.
The textbook definition of "consistency."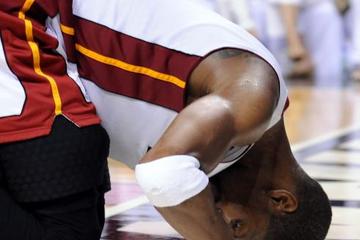 Photo: USA Today
Chris Bosh collapsed, a bandwagon's third wheel rolled to the wayside and passengers retreated to the shadows.
Bosh's stock shouldn't be undersold.
He presents a pick-your-poison threat in pick-and-rolls, spaces the floor with respected range and provides much-needed length in the post.
A beaker cracked in the chemistry lab, but LeBron and Co. cleaned up the aftermath.
Miami is a four-slice pie: James, Wade, Bosh, and a sliver occupied by role players. Once Bosh writhed in sidelining pain, the MVP's share grew substantially.
Make no mistake: Indiana's victories were attributed to a disarrayed Miami squad. Consecutive defeats following Bosh's injury weren't coincidental.
In Game 4, "King James" retained order in the court of public opinion by duplicating the task on the court of the Pacers.
LeBron's chalk toss littered the hot air of Indiana, then deflated the Pacers' ego with 40 points, 18 rebounds and nine boards.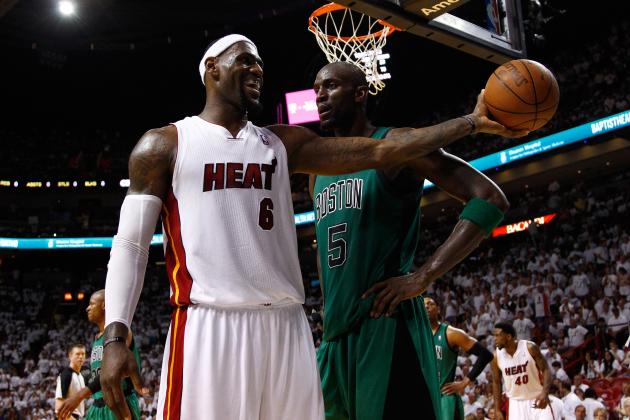 Mike Ehrmann/Getty Images

One word distinguishes basketball from its athletics peers: accessibility.
It's a historically rich sport interwoven with an embossed human element.
The ball divorced its laces and the basket is no longer literal, but its roots as the ultimate pick-up game still remain.
No barricades differentiate between spectators and athletes. No helmets disguise the face of a franchise as another camouflaged clone. Sticks, pads and cleats need not apply.
Basketball is the only mainstream sport where celebrities nonchalantly chat in-game with resting icons, followed by a live scorning from the game's most successful coach. The hardcourt sets the stage for late-game dramatics, when tables turn and players mock the fans.
The aforementioned details also magnify the public microscope and assure that criticism never flat-lines.
Kobe Bryant and Carmelo Anthony are shooting stars that deny their teammates' wishes. Dwight Howard and Blake Griffin hit the genetic jackpot, but waste their inheritance by not taking the time to invest.
But "The Chosen One" is the undisputed king of controversy. Is LeBron James' praise undeserving?
ESPN Insider John Hollinger's player efficiency rating (PER) draws from a formula that measures per-minute productivity.
In his own words:
To generate PER, I created formulas—outlined in tortuous detail in my book "Pro Basketball Forecast"—that return a value for each of a player's accomplishments. That includes positive accomplishments such as field goals, free throws, 3-pointers, assists, rebounds, blocks and steals, and negative ones such as missed shots, turnovers and personal fouls.

What PER can do...is summarize a player's statistical accomplishments in a single number. That allows us to unify the disparate data on each player we try to track in our heads (e.g., Corey Maggette: free-throw machine, good rebounder, decent shooter, poor passer, etc.) so that we can move on to evaluating what might be missing from the stats.

I set the league average in PER to 15.00 every season.
There are four teams left: Miami, Boston, Oklahoma City and San Antonio.
Let's compare the infinitely scrutinized MVP to the standouts of each respective team: Rajon Rondo, Kevin Durant and Tony Parker.
Currently, LeBron's playoff rating (31.02) has actually increased from the regular season and continues to dwarf his counterparts.
Durant (27.72) finished 3rd, followed by Rondo (22.97) at 13th and Parker's (19.52) 28th ranking.
Discard the variables, but the raw numbers still illustrate No. 6's diversity.
While Father Time trapped Tim Duncan and Kevin Garnett against the ropes in round 12, second winds allowed the veterans to counter. They deem the label of "power forward," but both individuals play the five spot: traditionally assigned to the center. They claim the paint, swarm rebounds and moonlight as their respective rim's bodyguard.
Although he's at a three-inch height disadvantage, LeBron still averages slightly more rebounds per game (8.9) than Duncan (8.8) throughout the 2012 playoffs. His FG percentage (.500) is also a nose ahead of Garnett's (.496), despite the big man predominately working closer to the bucket. James alone has also converted 19 more free throws than the tandem have in 29 combined games.
Traveling from the warzone of giants to the barracks of floor generals, "King James" even tosses the rock more (5.5 APG) than Oklahoma City point guard Russell Westbrook (5.2 APG).
The comparisons paint a portrait of the most dynamic player in the NBA.
But, in large, the basketball community still chastises LeBron James for leaving Cleveland and joining forces with Dwyane Wade. Naysayers neglect the fact that James remained loyal to the Cavaliers for seven years, an organization that never rewarded good behavior by signing a secondary star.
Remember, even Michael Jordan—Mr. Basketball, himself—posted a lopsided 1-9 playoff record before Scottie Pippen.
"The Decision" shoveled a hole for LeBron's image, and the Big Three's meet-and-greet showered it with dirt. While other superstars have owned regrettable off-court headlines—some even dipping into turbulent legal waters—LeBron is still the one climbing out of a seemingly endless abyss.
But when James' services were still on the market, the scale of judgment was evenly balanced and his popularity was unprecedented. Objectivity is a package deal that comes with neutrality; "The Decision" released brakes that restrained basketball's fastest emotional roller-coaster.
Currently, LeBron James is the postseason's Most Valuable Player. Statistics that earned him the regular-season MVP have only improved in the playoffs. A portion of fans will echo that he's overrated, but the claim is often jump-started by feelings of bias. Numbers don't lie, emotions do.
In basketball, championships dictate legacies. The Larry O'Brien Trophy represents the ultimate muzzle. The NBA's favorite antagonist will only lower critics' pointed fingers after earning a ring of his own.
If LeBron James' teammates mimic his consistency, a game of thrones will crown a new "King."