Seattle Mariners: How Is the Ichiro Suzuki Batting Third Experiment Working?
May 25, 2012

Otto Greule Jr/Getty Images
For the past two seasons, the Seattle Mariners have had the worst offense in the major leagues. Of all time. Seriously. In all of baseball history, the 2010 and 2011 M's have set the bar ridiculously low in several offensive categories. 
The 2010 squad scored a total of 513 runs for a slender average of 3.17 per game. Last season's team improved a bit, scoring 556 runs—they still ranked last in the American League, however. An analysis by Scout.com at the end of last season determined that in the 2010 and 2011 seasons combined, the Mariners scored 128 fewer runs than the next worst club, the Pittsburgh Pirates, and produced a slashline of .234/.295/.344 during that time. It's almost hard to believe how ugly those numbers are. And there's no precise way to explain it, nor is there one particular focal point upon which to place the blame.
Baseball is a team sport—and every member of the Mariners has contributed in his own way to the terrible offensive stink in the Pacific Northwest. Even Ichiro Suzuki.
Yes, the great, steady, venerable Ichiro had what would be considered a down year only for a player of his reputation and stature. The 10-time All-Star slumped mightily in 2011, compiling a mortal .272 batting average to go along with a .645 OPS. In fact, he posted career-low numbers in nearly every statistical category last season, leading critics to wonder if this was the beginning of the twilight years of Suzuki's baseball career.
Certainly, Suzuki's individual numbers may have contributed to Seattle's abysmal offensive performance in the past couple of seasons, but it's obviously not all his fault. He can't score runs if the batters behind him aren't driving him in. And the Mariners' offense isn't clicking on all cylinders if Suzuki is not the piston he has been throughout his career.
Despite Suzuki's off-year, the Mariners still acknowledge that he is the heart and soul of their offense. If he is going good, then the team is, too. And even a mediocre Suzuki in 2012 is still better than a large portion of the rest of the league, and certainly better than nearly every other Mariner on the roster. He still had 184 hits last season, and he drove in 47 runs—not that bad, all things considered. So, last offseason, the Mariners decided to make a fairly bold change in order to help jump-start the offense—move Suzuki to the third spot in the lineup.
Taking Suzuki out of his customary leadoff spot isn't that drastic of an idea, but it is odd not to see him at the top of the order. It'd be like watching Kevin Garnett bringing the ball up the court—it's not impossible. It's just different. But Suzuki in the three-spot makes perfect sense when considering that a) he is still the team's best hitter, and b) he's the team's best hitter.
At least he was.
Given Suzuki's typically high batting average, it was assumed that when batting further down the lineup he'd be a better run-producer. If hitters behind him could not drive him in when he's batting lead off, maybe he'd be the best candidate to drive runners home. Of course, the Mariners need to have the first two runners reach base in order for that theory to come to fruition. Through Thursday, Seattle's leadoff hitters have a combined .298 on-base percentage, thanks in large part to Chone Figgins' .250 mark. Meanwhile, the team's No. 2 hitters are reaching base at a .273 clip. So much for the hope of scoring more runs. How can Suzuki drive runs in if there aren't any baserunners on in front of him?
Seattle is actually better in 2012 offensively, from a run-scoring standpoint. The M's rank 12th in the AL in runs-per-game average, while sporting the league's second-worst OPS. Clearly, the Mariners could in fact be doing better somehow—there is obviously still room for improvement. A closer look, however, reveals that the root of the problem is not just the top of the lineup. Suzuki, himself, is partially at fault for the team's offensive woes this season.
As the No. 3 hitter in the Seattle lineup for the entire season, Suzuki is not doing his job driving in runs when the M's actually do reach base. Though Suzuki is batting .276 with runners on base this season, he has a dismal .170 batting average with runners in scoring position. That is crazy.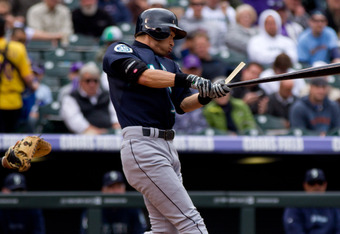 Justin Edmonds/Getty Images
Think about how bad that is as a statistic by itself. Then consider that Suzuki is a career .328 hitter in those situations. Even better—he has a .339 career batting average with runners in scoring position and two outs. This season, he's only 3-for-17 (.176).
There are no words to describe how shockingly disturbing those numbers are. For a player who has been a clutch performer throughout his stint in the majors, Suzuki is now dwindling during the most important in-game situations. In 2011, Suzuki grounded into a career-high 11 double plays. This season, having already grounded into six of them in 47 games, he is on pace to accumulate 20 GIDPs. Wow.
His stoic consistency is part of what makes him so feared, so dangerous—despite not being a power hitter. Suzuki has been issued 15 intentional walks on average throughout his 11-year career. This year, he only has one intentional pass. Obviously, the rest of the league does not believe that Suzuki still has it in him to produce when it matters. At least not at a high level.
His numbers sure support a declined lack of respect.
Though Seattle is scoring at a slightly higher rate this season, Suzuki is not helping out in the way that many expected of him. For a player with only 26-percent of his hits going for extra bases—including one solo home run—the M's might want to reconsider whether Suzuki is the best fit in the middle of the order. Suzuki has an unintimidating .382 slugging percentage, currently the 56th best mark in the AL. But the Mariners have two young up-and-coming hitters—Kyle Seager and Jesus Montero, who have been showing good form—currently ranked first and second on the team, respectively, in runs batted in. Shouldn't the M's examine other options in order to ignite some offense in the team?
Seattle still has a solid pitching staff, and their 21-26 record is not as bad as it could be. Though they are last in the AL West division, the Mariners are not completely out of shouting distance, and their -10 run differential indicates they could be better—if they score a few runs here and there.
Maybe the M's should move Suzuki back to the top of the lineup. Right now, his stint in the three-hole is not doing himself any favors. And clearly it's not helping the team either.

Follow me on Twitter: @nathanieljue