Seattle Mariners: Ichiro Suzuki Looks to Have Rebound Season in 2012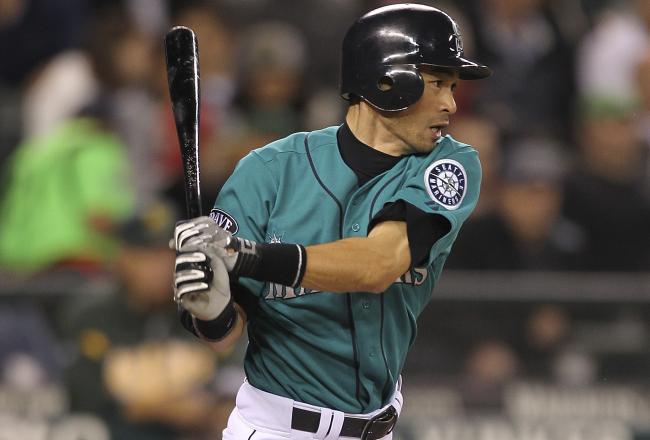 Otto Greule Jr/Getty Images
If any other baseball player on the planet saw his batting average fall to .272 for the season after hitting nearly .330 for his entire 10-year career, there would be maybe only a slight cause for concern.
But Seattle Mariners' right fielder Ichiro Suzuki is no ordinary ball player. Thus, there are some major issues to address regarding the future production of the Mariners' superstar.
Can he rebound from an un-Ichiro-like 2011 season, one in which he batted .272 with an abysmal .645 OPS? Or was last year the signal of an eminent decline for the 38-year-old?
If Ichiro played in a larger media market, this would be a huge story. But being tucked in the damp and cozy confines of the Pacific Northwest, the prognostication of Ichiro is only slightly on the radar of MLB's hottest topics.
Last week it was announced by ESPN.com, that Seattle manager Eric Wedge is seriously considering moving Ichiro out of his famed leadoff spot. There is a strong possibility that the speedy Ichiro will slide down to the No. 3 slot in the order come Opening Day.
It would be the first time in Ichiro's 11-year MLB career that he wouldn't be the clear-cut starting leadoff hitter.
Part of this move is to ignite some life into the motionless Seattle offense that has set several records for futility over the past two seasons. One intention is to move Chone Figgins to the top of the lineup in order to improve his production.
Hitting ahead of Ichiro instead of behind him may provide Figgins with better pitches to hit, while giving Ichiro the opportunity to drive in some runs instead of hitting with the bases empty so often.
But a latent function of Ichiro moving down in the order would be to provide him with more patience at the plate. Having runners on ahead of him—or at least the possibility of such—would give Ichiro a chance to start sitting back and waiting on pitches instead of aggressively applying his patented chop swing early in the count.
With the opposition pitching out of the stretch more frequently, Ichiro can wait to see a fastball—or a certain pitch—and do with it what he has done throughout his career: disrupt the defense.
Do you like the idea of moving Ichiro down in the lineup?
With Figgins setting the table, and possibly Dustin Ackley or Michael Saunders as candidates for the two hole, Ichiro can initiate some offense, either through hit-and-run executions or simply driving in runs himself.
Last season, Ichiro logged 47 RBI, roughly the same as his career median output. While his overall batting average slumped by his own high standards, he did hit a respectable .302 with runners in scoring position, and his on-base percentage climbed to .401. By comparison, Ichiro batted a sorrowful .249 when leading off an inning. Yikes.
This 2012 campaign will be an interesting one for the Mariners and Ichiro. He is in the last year of his contract, one that will see him earn $18 million this season. Will Seattle extend him to another long-term deal?
Given his age (38), Ichiro needs to prove that last year was an aberration. Most athletes are on the decline by the time they reach Ichiro's age. Though he still has some bat and foot speed (40 stolen bases), the M's have to be concerned about how he'll perform this season in assessing his future moving forward.
If Ichiro truly bounces back to his prototypical form, the Mariners will gladly ensure that he finishes his career in Seattle.
It's a bit tricky to evaluate how productive Ichiro is, however. After all, he has set the bar so incredibly high in his career that it's hard to truly determine that a season in which he tallied 184 hits, stole 40 bases and scored 80 runs is completely terrible.
Especially when taking into consideration that the team as a whole ranked dead last in all of baseball in nearly every major statistical category.
Yet Ichiro and his ball club knows that this is a very important season for him. Ichiro is a tremendously proud person and baseball player. He knows that there is a lot riding on him: if he demonstrates his ability to recover from last year, he can finish his career on his own terms in the next three to five years.
Unfortunately, if he racks up numbers similar to last year, or somehow regresses even further, it's possible that this could be his last year in an M's uniform. Even if Seattle does attempt to retain him, it will not be even close to the $18 million pay rate that Ichiro has been accustomed to for all these years.
How will Ichiro fare this 2012 season compared to last year?
Make no mistake, if there's any player who can iron out the kinks and smooth out the hitting mechanics, it's Ichiro. But the Mariners as an organization must make stronger efforts and longer strides in becoming a successful and winning ball club as a whole.
Otherwise, Ichiro will continue to lose interest in the excitement for playing for such a dreadful team. After all, who wants to play for the worst offense in the history of baseball?
It'll definitely be a story to follow all season. Can Ichiro regain his all-world form? Tune in and find out.
Follow me on Twitter: @nathanieljue
This article is
What is the duplicate article?
Why is this article offensive?
Where is this article plagiarized from?
Why is this article poorly edited?

Seattle Mariners: Like this team?