Orlando Magic: Dwight Howard Needs to Grow Up and Just Play Basketball
May 22, 2012

Chris Trotman/Getty Images
Remember the times when LeBron James used to be the most scrutinized player in the NBA?
Well, that honor can finally be transferred to someone else.
For as long as anyone can remember, Dwight Howard has been the most dominant center in the league since he stepped foot in the NBA out of high school. And for the last number of years, he's led the Orlando Magic to heights of which the franchise hasn't seen since Shaquille O'Neal played there.
But for the last few months—or year, or two years, or however long you think this saga has gone on for—the Orlando superstar has made it clear that he wants out of the Magic Kingdom, unless changes are made in personnel and management, specifically head coach Stan Van Gundy and general manager Otis Smith being relieved of their duties.
So now he gets what he wants, and he's still not happy?
Van Gundy and Smith are now gone; there's going to be a new regime in Orlando and Howard still wants to rid himself from the franchise that drafted him almost eight years ago, according to SheridanHoops.com.
Take whatever side you want into who do you believe more between both parties. But the reality is, is that this man has gone from being one of the most lovable players in the NBA, to perhaps one of the biggest hypocrites that has ever played the game.
Now, let's clarify something: It's completely understandable when you want to move on to a new city and go somewhere where winning championships is a high possibility. All of today's stars are heading off to greener pastures and joining up with other teams where they can win a championship.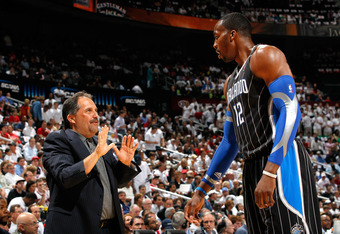 Kevin C. Cox/Getty Images
Obviously, LeBron is in that category with his new career in Miami, and it's uncertain to what Deron Williams will do this summer—whether he wants to stay in Brooklyn and be the major piece to the rebuilding of the Nets or if he wants to head to Dallas and play for his hometown Mavericks.
But when you hold the fate of the Orlando Magic in the palm of your hands for almost the last year, then go out of your way to sign an agreement saying that you will not opt out of your contract to become a free agent, that showed your commitment to the franchise and no one thought any different of you.
However, after getting what Howard wanted and has still requested that he wants out of Orlando, it shows a high level of immaturity and a lack of class to the organization, his teammates and the Magic fans around the world.
Howard is quickly becoming public enemy No. 1 in Orlando if this does come to fruition. The reason that Shaq left Orlando in the '90s was because they didn't have the money to keep him. There's no question that the Magic can offer Howard the money he wants when he hits the market, but the problem is, no one really knows what he wants.
Not one single person would be mad at Howard for wanting to take the money and head somewhere else for a chance to win a championship. But what people get angry with is that since these problems have become public, it makes him look more childish as the days go by.
And if that is indeed the case, then Howard needs to shut up, grow up and just worry about recovering from his back surgery so that he can be at 100 percent when the season starts back up. Howard has almost every accolade every player would want for a man in his position. If he wants a championship, and he doesn't think he's getting it in Orlando, then that's fine.
But don't come out to the media and the public, crying that you're not getting your way. It just makes Dwight look much more embarrassing than he already is.
The Magic need to rid themselves of Howard before this gets anymore out of hand than it already has gotten. It doesn't matter where he goes at this point, because no one will care. If he sticks it out one more year in Orlando without opening his mouth, then maybe his reputation will be somewhat back to normal.
If not, I don't think anyone would complain about Superman flying out of Orlando for good.