Tennessee Titans: Offense Set Up Perfectly for Jake Locker to Take over in 2012
May 22, 2012
Streeter Lecka/Getty Images
The Tennessee Titans may have been lucky to miss out on Peyton Manning this offseason. The courting of Manning largely stemmed from owner Bud Adams' infatuation with the future Hall of Fame signal-caller. That infatuation is understandable from Adams' position, but made no actual football sense.
The Titans actually have one of the best quarterback situations in the NFL.
Read that carefully, best quarterback situations, not quarterbacks. Obviously neither of Matt Hasselbeck or Jake Locker are on the level of Aaron Rodgers, Tom Brady or Drew Brees, but Hasselbeck's presence allows the Titans to give Locker every opportunity to develop in a comfortable situation.
While it is unclear who will open the regular season under center for the Titans, there is no doubt that the Titans are building for the future with Locker, but not disregarding Hasselbeck in the short term either.
After coming out of college, the biggest knock on Locker was his accuracy. Prior to actually being drafted in 2011, Locker would have been in contention to be the top pick for the 2010 draft had he declared. Instead he fell to eighth overall in the 2011 draft.
The Titans happily took Locker to move on from the Vince Young/Kerry Collins era.
As a 23-year-old rookie, Locker's greatest strength is the velocity of his passes. He can throw the deep ball with ease and won't struggle to get the ball to its destination even when his feet aren't set. Often people, scouts in particular, can be overwhelmed by arm strength and overlook the important aspects of being a successful professional quarterback.
The Titans didn't however. They understood that Locker's arm needed time to be controlled. Instead of thrusting him into the fire and brimstone that is Sunday football, Hasselbeck was brought in to be the starter and relieve the pressure on Locker.
Hasselbeck had a fine season considering the circumstances. With Chris Johnson struggling initially, and then Kenny Britt suffering a torn ACL, Hasselbeck also had his own injury issues later in the season. The Titans finished 20th in points per game last year, but Hasselbeck did well carrying an offense that ranked 31st in the NFL.
Entering this season, the offense shouldn't have those same issues.
Hasselbeck and Locker will compete for the starting job, and should Locker win it, Titans fans should have no qualms about his first full season on the field.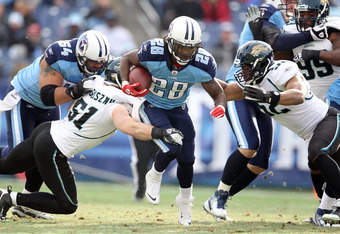 Andy Lyons/Getty Images
Some question marks emerged over Chris Johnson's commitment during last season. It wasn't clear if Johnson was struggling simply because he missed most of preseason or if his attitude had changed after his big payday. In Weeks 12 and 13, Johnson totaled 343 yards on 23 carries per game.
After those two games, the Titans blatantly decided not to risk injuring Johnson as he had 56 carries over the final four weeks of the season and never received more than 15 carries in one game. It is this kind of intelligence that makes me think that Mike Munchak is in for a very successful career in Tennessee.
Unlike the Minnesota Vikings, who pounded Adrian Peterson unnecessarily last year to the point where he tore his ACL, Johnson was preserved to return this season and lead the Titans' offense. There is no chance that the Titans rank anywhere near 31st in the league next year.
With Johnson carrying the offense once again, there will be less pressure on Locker. Unlike Christian Ponder in Minnesota, Locker will still have his star back. Even more importantly, Locker will have plenty of weapons who suit his style of play.
Locker isn't going to be Drew Brees or Peyton Manning. He is most likely going to play the game like Philip Rivers. By that I mean Locker won't be completing 30 to 40 passes per game to move the chains.
No, Locker will be looking for chunks of yardage whenever he drops back into the pocket.
To run that kind of offense, you must have big, fast receivers who love to go deep. The Titans definitely have that. Even when Kenny Britt went down last year, Nate Washington compiled over 1,000 yards on 74 receptions for seven touchdowns.
Just like Britt, Washington is a big receiver who has good speed. During his Pittsburgh days, Washington was solely a deep threat with questionable hands. Since arriving in Tennessee three years ago and becoming a starter, he has improved as an all-around player.
Washington stepped up as the team's No. 1 receiver last year when Britt went down.
For Jake Locker, having receivers like Washington is important. Bigger targets require less accurate passes to haul them in. With greater wingspans and the ability to gain position on the football, Locker can look to get it to the receivers area rather than try and pinpoint a position on the field.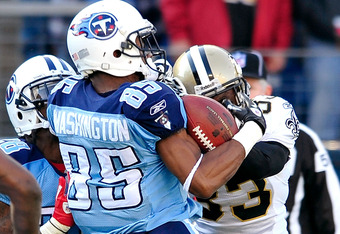 Grant Halverson/Getty Images
Just like when Larry Fitzgerald goes up and beats cornerbacks, or Calvin Johnson reaches over three or four defenders for the ball, quarterbacks feel more comfortable throwing the ball to a guy like Washington or Britt.
Not only do the bigger receivers have a better chance of catching the ball, it is much more difficult for defenders to pick off passes because they have to completely focus on dealing with the physicality of the receiver.
Britt beats cornerbacks better than most receivers in the NFL and having him return next year will be a major boost to this offense. Obviously, having your best receiver out there is major whether you are a rookie or a veteran quarterback, but when Britt and Washington are both on the field, it's easier to find mismatches in the secondary.
For that reason, I believe the Titans made a great selection in the first round of this year's draft.
Instead of adding to their defense, as many expected them to do, the Titans brought in Kendall Wright from Baylor. Wright was one of the most underrated prospects in this draft in my opinion. He is like a bigger Santonio Holmes, hopefully without the attitude and off-the-field issues.
Wright was the No. 1 receiver for Robert Griffin III at Baylor. In his senior season, he averaged 15.4 yards per reception and had 14 touchdowns with 1,663 yards. While he is not built like Washington or Britt, Wright will be an outstanding deep threat in the NFL with his ability to turn short gains into home runs.
Wright adds a dynamism to the receiving corp in Tennessee that wasn't previously there. Lavelle Hawkins is a good receiver, but he doesn't have anywhere near the talent of Wright. Lining up against third-choice cornerbacks, Wright could be a contender for Offensive Rookie of the Year.
Not only are the receivers perfect fits for Locker in Tennessee, so is the starting tight end.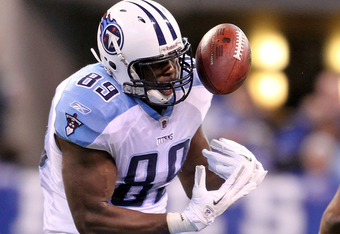 Andy Lyons/Getty Images
Jared Cook Jr is a huge receiver, but unlike a Rob Gronkowski or Antonio Gates, he doesn't carry that much bulk. Cook is like Jimmy Graham in that you think receiver rather than tight end when you look at him. Last year could be considered his breakout season, but if he lives up to his potential, bigger things can be expected to come. Cook is a rare tight end who can stretch the field and beat (some) defensive backs with his speed alone.
With a strong running game and big receivers working in his favor, Locker's only worry is whether he starts next year comes on the offensive line...or not.
The Titans, led by Michael Roos and David Stewart, have one of the best offensive lines in football. Roos in particular is incredulously overlooked by the national media when discussing the best left tackles in football. Locker will quickly learn to trust Roos with his blindside when he drops back into the pocket.
It's conceivable that Jake Locker may sit another year as he continues his development. Even if he does, the Titans' offense will still be there for him next season as none of the starters could be classified as old.
Well, except for Steve Hutchinson, but replacing a left guard isn't like replacing a tackle or receiver.
The Titans may be young, but they have plenty of leaders. Locker would be the only player who could be classified as a non-veteran if he became the starter. With a veteran line watching his back, and a veteran quarterback to show him the ropes, Locker would have plenty of leadership to aid his development.
Matt Hasselbeck isn't Brett Favre either. He understands that he is the stopgap and, from all I understand, is helping Locker as much as possible to transition to the starter.
The Titans finished 9-7 last year. Considering everything they had to endure, and how well set up they are for the future, Mike Munchak isn't getting anywhere near enough credit.
Big things are coming for the Titans' offense, just so long as their owner doesn't let his heart interfere again.
Tweeting @Cianaf