Would David Wright Be a Fool to Sign Long Term with the New York Mets?
May 22, 2012

Tom Szczerbowski/Getty Images
A few weeks ago, I wrote that the New York Mets need to sign third baseman David Wright to a contract extension, a reward that he has most certainly earned.
However, I see now that I didn't consider the other part of that equation. Does Wright actually want to sign with the Mets for the long term? 
ESPN's Jayson Stark asked that very question over the weekend, wondering why Wright would actually want to agree to a new deal with an owner that publicly badmouthed him in an infamous New Yorker article and a team that doesn't figure to contend for the postseason during the next few years as the front office overhauls the entire operation.
However, Stark's largest point is that Wright figures to see a massive payday after the 2013 when he becomes a free agent. Not only does he play a key defensive position that few teams have filled with a cornerstone player, but he'll stand out in a third basemen crop that includes the likes of Michael Young, Martin Prado and Mark Reynolds. 
Would Wright hit it big on the open market, though?
The New York Yankees are stuck with Alex Rodriguez, and Will Middlebrooks will likely have established himself as the Boston Red Sox third baseman, so they likely wouldn't pursue Wright. The Texas Rangers have Adrian Beltre signed through at least 2015. The Detroit Tigers moved Miguel Cabrera over to third this season, as did the Miami Marlins with Hanley Ramirez.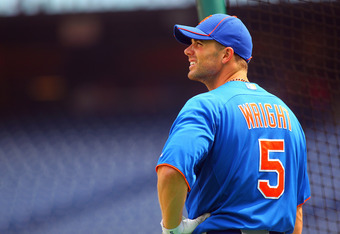 Rich Schultz/Getty Images
But there will still be plenty of openings available should Wright opt to play out his 2013 option and shop himself around the league.
Let's start with the Philadelphia Phillies. Not only do they have a need for a third baseman, but signing Wright would be a one-two punch to a division rival. 
Both Los Angeles teams figure to be in the market for a star at the hot corner, as well. Most observers expect the Dodgers to be a major player in years to come. Signing Cole Hamels next season and Wright the year after that would bring some major excitement to Chavez Ravine. Yet the Angels have a bunch of money to spend also, and won't likely let Wright go without a fight.
Other teams that could be strong suitors for Wright, though might not be able to compete with the megabucks spenders, include the Arizona Diamondbacks, Cincinnati Reds and Chicago White Sox. Let's add the Cleveland Indians to that mix, as well. 
Do we dare mention the Chicago Cubs? They'll have the money, but could still be in the midst of their rebuilding project. Giving a six- or seven-year deal to a 31-year-old player (by the 2013 offseason) might not be in their best interests. But Josh Vitters might have the final say in this matter, depending on whether or not he can develop into a major league third baseman. 
Right there, that's eight teams that could line up at Wright's door in the winter of 2013 with offers of free-agent riches.
Stark is right: Wright would be crazy to deprive himself of a such an opportunity. He'll be able to play almost anywhere he wants, for a playoff contender and get paid extraordinarily well to do so. 
We didn't even mention the Mets as a possibility. But they won't be in the mix if they let him go to the open market, will they?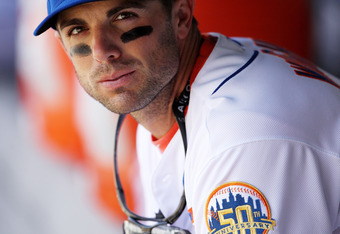 Nick Laham/Getty Images
If Wright chooses to stay, it will be for largely sentimental reasons. Playing for one team throughout a major league career has become increasingly rare for superstar players. But those who do have always been highly regarded. 
Perhaps Wright also envisions himself as the man who will carry the Mets back to the top. He's already popular in New York, but if he brought a World Series to Queens, he might approach Derek Jeter's pedestal among Big Apple sports fans. 
Of course, Wright will never get to step on the same plane as Jeter. If he went to another team and rode in as the conquering hero, he'd likely forge his own legend in that city. Maybe that's important to Wright. Especially if he's thinking about his legacy.
If Wright was sitting down with a yellow legal pad and had "pros" listed on one side, with "cons" on the other, the "pros" list of reasons for leaving the Mets and pursuing free agency is overwhelmingly strong and getting more so by the day. 
Between that, an owner who compliments him only when it's fashionable and a general manager who doesn't sound interested in giving a player a contract longer than four or five years, Wright's decision appears quite clear. 
Wouldn't he be crazy to re-sign with the Mets? 
Follow @iancass on Twitter