David Wright Contract: Third Baseman Has Earned Extension from New York Mets
May 2, 2012

Bob Levey/Getty Images
David Wright is doing his part for the New York Mets. Now it's time for ownership to make sure he keeps doing so for years to come.
Wright ended April with a slash average of .389/.494/.569 to go with three home runs and 14 RBI. That .494 on-base percentage leads the majors, while his RBI total is the highest on his team. 
Actually, Wright's numbers are even better after Tuesday night's 2-for-4 performance at the plate. That pushed his batting average up to .395, the third-highest in the majors behind Matt Kemp and Derek Jeter. 
Expected to finish last in the NL East, the Mets have been one of the pleasant surprises of the season thus far. Their 13-11 record is good for third place in the division, just 1.5 games behind the sliding Washington Nationals. 
Of course, it's still early in the season. And with the standings tightly packed, the Mets could still very easily end up finishing in last place as predicted. (Losing two of three to the Houston Astros this week certainly hasn't been encouraging.)
But things are generally looking up for the Mets right now.
Kirk Nieuwenhuis looks to be a promising outfield talent. Lucas Duda is emerging as a formidable power hitter. Jonathon Niese and Dillon Gee are becoming solid starting pitchers. Johan Santana is returning to ace form after missing all of last season.
More pitching help could soon be on the way, with Chris Young getting ready to return and top prospects Matt Harvey and Zack Wheeler quickly developing. 
Even Mr. Met has been voted as the No. 1 mascot in sports.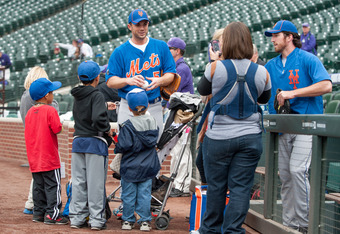 Dustin Bradford/Getty Images
Mets fans are feeling good about their team. They're happy with how their guys are playing and excited about the future, now that the problems with ownership are in the clear. 
There is no better time to reciprocate goodwill to the fans (as well as the players) by showing them that the cornerstone player of the franchise isn't going anywhere. 
If you look at the team's all-time records, Wright's name is listed among most every offensive category. He's first in Wins Above Replacement (WAR). He has the second-highest batting average in team history. He's fourth in on-base percentage. Third in slugging. Fourth in home runs. 
Wright also has more RBI than any hitter in Mets history. On a team that's had the likes of Darryl Strawberry, Mike Piazza and Carlos Beltran in its lineup over the years, Wright stands on top.
Yes, Wright has more plate appearances with the team, and thus, he's had more opportunities to drive in runs. But Wright hasn't played anywhere else. He's a homegrown product who's stuck around. He shouldn't go off and play for another team. 
No, Wright may not be one of the top players in baseball anymore, as he was from 2005-08. But he's the best player the Mets have. And if they let him test the market, the competition will pounce on the chance to nab a star third baseman.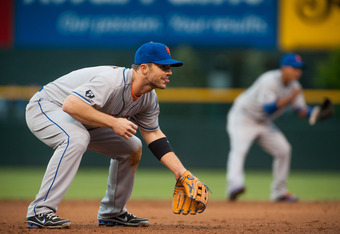 Dustin Bradford/Getty Images
There just aren't that many top-level players at that position available. How much could Wright get from the Phillies, Dodgers, Red Sox or Rockies in free agency? Would the Mets really want to get in a bidding war for his services, if it came to that? 
The Mets also benefit from their division rivals already setting the market price for a top third baseman. Ryan Zimmerman set the bar with the six-year, $100 million contract extension he received from the Washington Nationals in the spring.
As important as Zimmerman is to the Nats, Wright is even more so to the Mets. And he's a better player who's been able to stay healthier throughout his career. 
Mets general manager Sandy Alderson has said the team can't afford to hand out too many big contracts right now. But this isn't Oliver Perez or Jason Bay. This isn't a team in need of a complete overhaul. Some solid pieces are developing.
Wright is a guy the Mets can still build a team around, and they are in the process of doing just that. The team should make sure he can be the foundation for years to come. And the Mets need to commit to that now. 
Follow @iancass on Twitter