NBA to the NFL: Which Hoops Stars Could Play Pro Football?
May 20, 2012

Whenever I'm watching professional basketball, it's impossible to ignore the abundance of supreme athletes.
After recognizing the incredible ability of these hoops stars, I find myself envisioning how they'd transition to the football field.
Between Tony Gonzalez, Antonio Gates and Jimmy Graham, among others, we've seen numerous athletes make the transition from the hardwood to the gridiron. These so-called "basketball-rejects" have taken their elite basketball talents to the football field and become NFL stars.
While the majority of the basketball players-turned-football stars have been tight ends, there have been players that have made the transition at other positions—Donovan McNabb, a quarterback, played basketball at Syracuse, and Terrell Owens, a wide receiver, also played collegiate basketball.
Most of the recent examples who've successfully made the transition were only decent basketball players, so it's hard to imagine an all-world basketball talent like LeBron James being anything less than stellar on the football field.
With so many tremendous athletes in the NBA, it's very tough to trim it down to just 11 players on offense and defense, but this fantasy lineup of talent is quite impressive on paper.
Let's examine this All-NBA football team in all three facets of the game—offense, defense and special teams.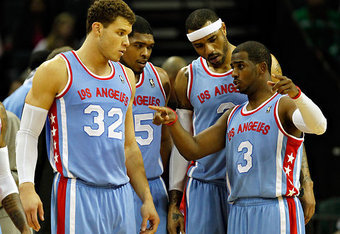 Offense
QB - Chris Paul (6'0", 175) LAC
Breakdown: It's hard to imagine any basketball position at quarterback other than point guard, so this game down to Paul, Deron Williams or Steve Nash for me. Other ultra-athletic point guards such as Russell Westbrook and Derrick Rose could be used elsewhere on the field.
Paul not only has the ability to spread the ball around to his teammates, he has the uncoachable leadership qualities that you want from your quarterback.
RB - Ty Lawson (5'11", 195) DEN
Breakdown: When you watch Lawson play basketball, it's impossible to ignore two things: his lightning speed and his thick build. These two traits would translate perfectly to the running back position, so Lawson beats out fellow thickly-built Jameer Nelson to be the starting half back. While so many other players were considered, Lawson's stature at 5-11 195 is perfect for the position.
WR1 - Russell Westbrook (6'3", 187) OKC

WR2 - Derrick Rose (6'3", 190) CHI

WR (Slot) - Rajon Rondo (6'1", 186) BOS

TE - LeBron James (6'8", 250) MIA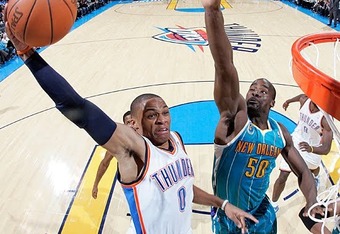 Breakdown: We'll go without a fullback and run a spread offense with the All-NBA team. Wide receiver is probably the position that has the largest amount of capable players in the NBA. Obviously, James is the starting tight end; at 6'8" 250-pus lbs, LeBron likely has enough speed to play wide receiver, although his size fits better at the tight end position in a Jimmy Graham, Jermichael Finley-type role.
After LeBron, Russell Westbrook may be the player I'd most like to see on a football field. Pair the incredibly athletic Westbrook and his 6'8" wingspan with 2010 MVP Derrick Rose, and you have a couple 6'3" vertical threats on the outside. Plug the magician Rajon Rondo into the slot, and this offense could have some dazzling trick plays up its sleeve.
LT - Kendrick Perkins (6'10", 270) OKC
LG - Glen Davis (6'9", 289) ORL
C - Elton Brand (6'8", 240) PHI
RG - Reggie Evans (6'8", 245) LAC
RT - Zach Randolph (6'9", 260) MEM
Breakdown: The offensive line would be a tough unit to realistically field group of five capable basketball players. Kendrick Perkins (6'10", 270) and Glen Davis (6'9", 289) look like a terrific left side of the line, but many of these guys would be asked to bulk up to 300-plus to play on the line.
Elton Brand brings some veteran "know-how" to the center position, and bruisers Reggie Evans and Zach Randolph take care of the right side of the line.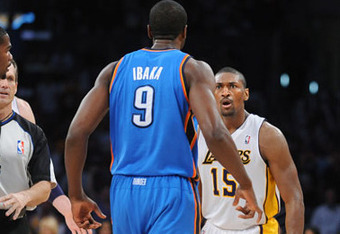 Defense
DE - Blake Griffin (6'10", 251) LAC
DT - Andrew Bynum (7'0", 285) LAL
DT - Dwight Howard (6'11", 265) ORL
DE - Serge Ibaka (6'10", 235) OKC
Breakdown: There are numerous NBA stars (Kenneth Faried, Amare Stoudemire) to be considered for the defensive line, but this is about as good as it could possibly get. You have the two most dominant centers in the game, Howard and Bynum, at defensive tackle and two freakishly athletic shot-blockers at defensive end, Griffin and Ibaka. Good luck getting a pass over the extended reach of this D-line.
OLB - Andre Iguodala (6'6", 220) PHI
MLB - Metta World Peace (6'6", 240) LAL
OLB - Tyreke Evans (6'6", 220) SAC
Breakdown: This is a tough position for NBA players to translate to due to height-weight measurables. With his physical attitude and reputation for dirty play, Metta World Peace was the obvious fit at MLB. Iguodala and Evans would make for a very athletic (and jacked) pair of outside linebackers, though I also considered James Harden and Tony Allen at the position.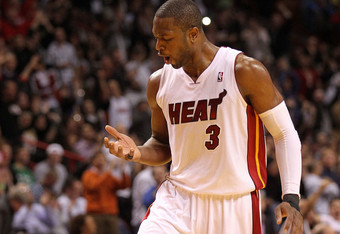 CB - Monta Ellis (6'3", 185) MIL

SS - Dwyane Wade (6'4", 220) MIA

FS - Kyrie Irving (6'3", 191) CLE

CB - John Wall (6'4", 195) WSH
Breakdown: Defensive back is another position where the NBA has a plethora of potential studs. Who better to play strong safety than the rangy, built-like-an-ox Dwyane Wade? Pair him with the ultra-quick Kyrie Irving at FS, and you have yourself a pair of players in the middle of the field who can cover a lot of ground.
At cornerback, you'd be hard-pressed to find a quicker, more athletic duo than Monta Ellis and John Wall. Sorry Nate Robinson, even though you played cornerback at Washington, we can do better than you on this list.
Specialists
Long Snapper: Kobe Bryant (6'6", 205) LAL
Holder: Kevin Durant (6'9", 235) OKC
Breakdown: A couple clutch players who deserve to be on the roster—just because. You wouldn't see any Tony Romo-esque botched snaps in the playoffs with Kevin Durant taking the snap from Kobe "Bean" Bryant.
KOS: Steve Nash (6'3", 178) PHX
K: J.J. Redick (6'4", 190) ORL
Breakdown: Steve Nash, a former soccer player, will handle to kickoff duties for the squad. J.J. Redick barely beats out Kyle Korver to be the field goal kicker. He is great at making "threes"...enough said.
KR1: Brandon Jennings (6'1", 170) MIL

KR2: Aaron Brooks (6'0", 160) PHX

Breakdown: Brandon Jennings and Aaron Brooks are both quicker than quick. While they're both small by NFL standards, they'd be a valuable asset to a team as return men. I realize Brooks didn't play in the league this season, but his days in the NBA aren't over. Putting these two back on kickoffs together would likely make for some pretty exciting reverses and trick plays.