San Francisco 49ers: Previewing and Ranking the Offensive Units
May 18, 2012

Thearon W. Henderson/Getty Images
This is the first of a two-part series. Today, I will break down each offensive unit for the San Francisco 49ers and rank them from best to worst—based on a recipe combining past production and 2012 projections. 
Tight Ends
Who: Vernon Davis, Delanie Walker and Nate Byham
Why: Davis is one of the best in the entire game, hands down, and will use last year's playoff success (10 catches for 292 yards and four touchdowns in two games) as a launchpad into this season. Though an exceptional blocker, Davis—with the return of a healthy Byham—can now focus on what he does best: catching the ball and outrunning everybody else on the field. 
Backing him up is Walker, who is no slouch himself. A converted receiver, Walker has the speed and versatility to line up in multiple positions in multiple formations. He is also in a contract year, so expect big things. 
Running Backs
Who: Frank Gore, Kendall Hunter, LaMichael James and Brandon Jacobs or Anthony Dixon
Why: It all starts with Gore, the franchise's all-time leader in rushing yards (7,625). He has lost a step since entering the league, but still has the ability and vision to grind out yards between the tackles. Gore is also known for picking up blitzes and sneaking out of the backfield for screen passes.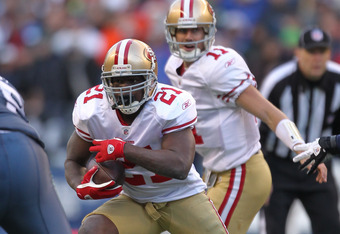 Otto Greule Jr/Getty Images
It doesn't end there, though, as the 49ers have plenty of depth at the position. Hunter and rookie James provide the burst to bounce it outside, escape tackles in the open field and are dangerous in the passing game. Jacobs and Dixon will likely battle it out for the final spot. They must emerge as reliable options in short-yardage and goal-line situations. 
Wide Receivers
Who: Michael Crabtree, Randy Moss, Mario Manningham, A.J. Jenkins, Kyle Williams, Ted Ginn Jr. and Chris Owusu
Why: Not all will make the active roster, but it's good to finally see the 49ers with some firepower. A weak link last season—yes, we all remember the one catch for three yards performance in the NFC Championship—the receiving corps has experienced an extreme makeover since then.
The additions of Super Bowl hero Manningham, veteran Moss and first-rounder Jenkins will keep defenses honest (and scared) at all times. No more stacking the box. The speed will stretch the field vertically and subsequently open things up underneath. Now they need Alex Smith to step up and deliver the deep ball. 
Quarterbacks
Jed Jacobsohn/Getty Images
Who: Alex Smith, Colin Kaepernick and Josh Johnson
Why: As forecast in a recent article, Smith should easily repeat last year's success. Really, with all the playmakers surrounding him, his numbers should drastically increase. He is far more comfortable in the pocket, confident in himself and finally has some continuity. Barring any injuries or a major relapse, Smith is the clear starter.
But Kaepernick and Johnson are both waiting for their chance to shine. Both are intelligent quarterbacks with mobility and strong arms. The 49ers appear to be in good hands here for the present and the future. 
Offensive Line
Who: Joe Staley, Jonathan Goodwin, Mike Iupati, Anthony Davis, Alex Boone, Daniel Kilgore, Mike Person and Joe Looney
Why: The number 44—total amount of sacks surrendered last season—makes this an easy choice. Despite making strides as a unit, the o-line remains the biggest question mark heading into 2012. Adam Snyder is gone (free agency), so Boone, Kilgore and Looney will compete for the vacancy at right guard.
If the line becomes more cohesive, and Iupati and Davis continue their development, the offense will flourish. If not, it could spell trouble for both the passing and run game. My money is on the former.