2012 NBA Playoffs: LeBron James, Chris Paul and the Top 12 Players in Round 2
Marc Serota/Getty Images
Only eight teams are left in the hunt for the 2012 NBA championship, but this next round of the playoffs certainly won't be devoid of star power.
Yes, the Philadelphia 76ers took out reigning MVP Derrick Rose and the top-seeded Chicago Bulls. And sure, we won't have a repeat performance from Dallas' Dirk Nowitzki, thanks to the Oklahoma City Thunder.
But on both sides of the bracket, we're still stacked with superstars.
In the East, we've got Chris Bosh, Dwyane Wade and LeBron James going against Danny Granger, David West and Roy Hibbert in one series, and Boston's Big Three plus Rajon Rondo against Philly's backcourt of Jrue Holiday, Evan Turner and Andre Iguodala in the other.
In the West, it's Tim Duncan, Tony Parker and Manu Ginobili against the two-headed beast of Chris Paul and Blake Griffin, and in the main attraction of the second round, Kobe Bryant, Andrew Bynum and Pau Gasol against James Harden, Russell Westbrook and Kevin Durant.
Please, sir, I want some more!
Here's a ranking of the top players competing in the second round of the 2012 NBA playoffs.
Honorable Mention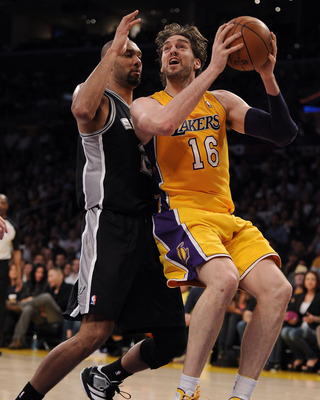 Harry How/Getty Images
Tim Duncan, San Antonio Spurs
Duncan didn't have to play huge minutes in the Spurs' first-round sweep of the Utah Jazz (only averaging just over 30 minutes a night), which should keep him fresh for the Round 2 matchup against the Los Angeles Clippers.
Duncan still averaged over 14 points and nearly nine rebounds per game against the Jazz, proving, at age 36, the Big Fundamental can still make an impact in these playoffs. The Spurs shouldn't need him to uncork many vintage Duncan performances, with help coming from so many other teammates, but Duncan should see a slight uptick in minutes this next round to help combat Blake Griffin and DeAndre Jordan down low.
Pau Gasol, Los Angeles Lakers
Note to Kobe Bryant: Any time Pau doesn't play hard, challenge his intensity. After Bryant did so following the Lakers' Game 6 loss to the Nuggets, Gasol woke up in Game 7 with a 23-point, 17-rebound night, eschewing any doubts about his value to the team.
Gasol still can't shake the "soft" label, and his three-point, three-rebound night in Game 6 was unspeakably bad, but the Lakers need him as a cornerstone in these playoffs if they'll be advancing to the NBA Finals.
Despite consistency issues, Gasol has the potential to be one of the most dominant big men left in the playoffs, night in and night out.
James Harden, Oklahoma City Thunder
This year's Sixth Man of the Year showed exactly what makes him so dangerous in the fourth quarter of the Thunder's Game 4 victory over the Dallas Mavericks. Harden drained 15 of his game-high 29 points in the final quarter, helping the Thunder close the door on the Mavs for good.
Harden averaged 18.3 points, 5.5 rebounds and 4.3 assists in the Thunder's sweep of the Mavericks, which are simply insane numbers for someone averaging only 32 minutes off the bench.
He also happens to rank fourth in the league in PER in these playoffs to this point.
12. Blake Griffin, Los Angeles Clippers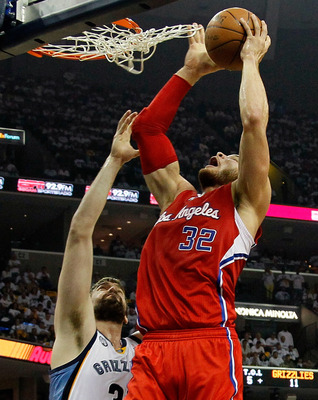 Kevin C. Cox/Getty Images
In just his second (active) season, Blake Griffin quickly proved himself one of the only players in the NBA capable of averaging 20 points and 10 rebounds every game this season.
That's a remarkable accomplishment for a player of any age, much less a 23-year-old.
Griffin's offensive game may still be confined to the paint (he only averaged five shots per game this year outside of 10 feet), but should we really be slamming a guy for knowing his own offensive limitations and playing within them?
His ability to run the floor like a 6-foot-10 gazelle and demoralize his opponent with a single SportsCenter-worthy dunk earns him a spot on this list, despite his weaknesses on both ends of the court. The fact is, not many players could pull out the 30-point, five-rebound, seven-assist night he did in the Clippers' Game 4 win over Memphis, especially in their first playoff-series appearance.
Griffin's poor free-throw shooting still makes him a liability toward the end of games, and he's battling a right knee sprain that's limited his range of motion, but he's still a risk to drive to the rim and draw a foul every time he touches the ball.
Say what you will about Griffin's tendency to flop upon absorbing contact. The fact remains that he's one of the most offensively dominant players left in these playoffs, and it'll be fascinating to see how Gregg Popovich and the San Antonio Spurs try to put a quick end to Lob City in the second round.
11. Paul Pierce, Boston Celtics
Elsa/Getty Images
Paul Pierce, the Celtics' do-it-all small forward, has been hampered by a sprained MCL in his left knee that gets "re-aggravated" if he "turns the knee in a certain position." According to him, the injury likely won't heal until after the playoffs.
For the Celtics to have any chance at making it to the NBA Finals for one last go-around, they'll need Pierce to figure out ways to stay effective, despite the knee injury.
Pierce struggled with his shot in Game 1 against the Sixers, finishing 3-of-11, but he still managed to scrape together 14 points, six rebounds, six assists and two blocks in 40 minutes of action.
Granted, his point guard, Rajon Rondo, happened to drop a triple-double, and Kevin Garnett, who's turning 36 next week, contributed 29 points, 11 rebounds, three blocks, an assist and a steal.
Point is: Rondo likely won't be registering triple-doubles on a nightly basis, and K.G. can't keep turning back the clock for these vintage performances every game. With Ray Allen hobbled by bone spurs in his right ankle, the Celtics need Pierce to Hulk up for a few games each series.
Pierce has proven time and time again that he's got the talent to take over and single-handedly win games at times (think Game 2 against the Hawks in the opening round).
His knee may not heal until the summer, but the Celtics will need him to stand any chance in the Eastern Conference finals, assuming they can subdue the Sixers this round.
10. Rajon Rondo, Boston Celtics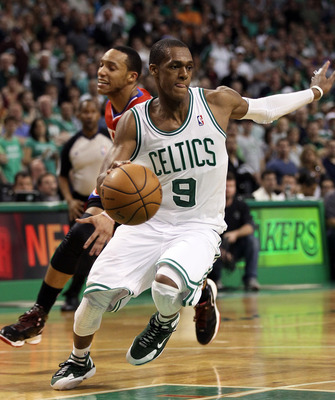 Elsa/Getty Images
Say what you will about Rajon Rondo's jump shot, but with a 13-point, 12-rebound, 17-assist performance in Game 1 against the Sixers, the Celtics will take Rondo as is, warts and all.
When his shot wasn't falling in the first half, Rondo still racked up nearly double-digit assists, routinely feeding Kevin Garnett for his always-deadly mid-range jumpers.
Then, in the fourth quarter, he kicked his offensive game into overdrive, finally rattling home a few jumpers over the outstretched arms of Evan Turner.
Rondo rebounds absurdly well for a point guard, which is an asset that the rebounding-challenged Celtics will desperately need in this series against the Sixers. Both Jrue Holiday and Turner possess the size in the backcourt to give the Celtics fits, unless Rondo steps up.
His streak of games with 10 or more assists may have been snapped recently, but Rondo's versatile talents still make him one of the top players still alive in this year's playoffs.
9. Kevin Garnett, Boston Celtics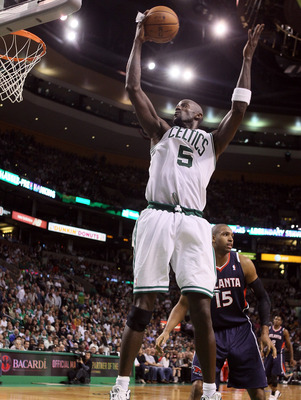 Elsa/Getty Images
Kevin Garnett, at nearly 36 years of age, just posted back-to-back playoff games of 28 points, 14 rebounds and five blocks and 29 points, 11 rebounds and three blocks, helping the Celtics close out the Atlanta Hawks in the opening round and open a 1-0 series lead over the Philadelphia 76ers in Round 2.
No superlative properly describes Garnett's performance over the past two games, as he single-handedly willed his team to victory on both occasions.
A guy who turns 36 next week shouldn't have that much gas left in the tank, especially when both games were only two days apart.
Garnett, who was already going down as one of the all-time greats before his tenure in Boston, has secured his legacy—thanks in no small part to the NBA championship he won with the Celtics back in the 2007-08 season.
Now, despite being limited by a troublesome hip flexor all season, he's shown the ability to take over for the Celtics these past few games.
If he uncorks a few more 25-point, 10-rebound performances, he'll deserve a higher spot on this list, despite his age.
8. Dwyane Wade, Miami Heat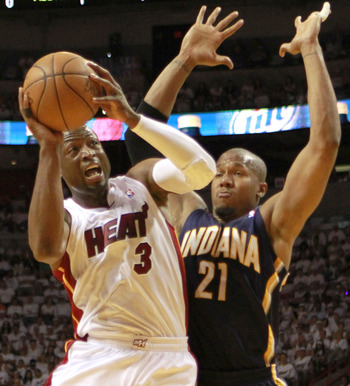 Marc Serota/Getty Images
The fact Dwyane Wade finished third this year in PER despite teaming with the league leader in PER and the league MVP, LeBron James, says it all about this future Hall-of-Famer.
As ESPN's Tom Haberstroh recently noted, Wade's made a case of being the best little-man shot blocker in NBA history, being the only guard to average a block per game throughout his career.
Throw in an average of 22 points, nearly five rebounds and five assists per game—again, despite teaming with James and fellow All-Star Chris Bosh—and it's clear that Wade remains one of the NBA's elite superstars, despite being on the wrong side of 30 years old.
Wade proved his value to the Heat once Bosh went down in Game 1 of the Heat's Eastern Conference semifinals matchup with the Indiana Pacers. Despite a rough shooting night (8-of-23), Wade chipped in 29 points, staving off the Pacers and helping the Heat retain home-court advantage.
Expect Wade, alongside James, to determine the fate of many more playoff games this year, as the Heat continue their rampage through the East.
7. Andrew Bynum, Los Angeles Lakers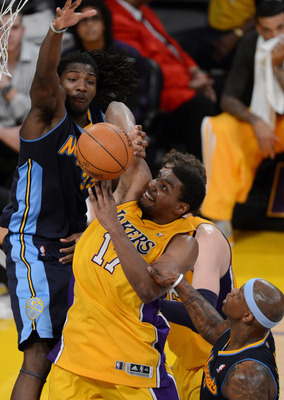 Kevork Djansezian/Getty Images
By any metric, Andrew Bynum thrived in Year 1 of the Mike Brown era, setting career-high numbers in points per game (18.7), rebounds per game (11.8), and field goal attempts per game (13.3).
He carried that momentum into the playoffs, registering a triple-double in Game 1 against the Denver Nuggets (with 10 points, 13 rebounds and 10 blocks), followed up by a 27-point, nine-rebound night in Game 2.
In Games 3 through 6, Bynum posted double-doubles in three of them, but his shot attempts have dramatically dipped in the latter two games, as the Nuggets made a concerted effort to double-team him and frontcourt mate Pau Gasol.
Of course, Bynum didn't help his case by saying close-out games were "actually kind of easy" heading into Game 5.
Think it was any coincidence that he then played his two worst games of the series?
But with 16 points, 18 rebounds and six blocks in the Lakers' Game 7 closeout of the Nuggets, Bynum redeemed himself as one of the league's most dangerous forces and unquestionably the most dominant post presence left in the playoffs.
6. Russell Westbrook, Oklahoma City Thunder
Brett Deering/Getty Images
First, the bad: Russell Westbrook didn't rack up as many assists this year as you'd like to see from a traditional point guard. He only averaged 5.5 assists per game in the regular season, and that dropped to 4.3 per game in the four-game sweep of the Dallas Mavericks.
Now, the good: His scoring ability—and his ability to create instant offense—provides the perfect 1-2 punch with Kevin Durant's silky shooting.
Westbrook has boosted his scoring averages in each of his four NBA seasons, averaging a career-high 23.6 points per game this year. Critically, along with boosting his points per game, Westbrook's increased his shooting percentage every year, from just under 40 percent in his rookie season to nearly 46 percent this year.
That shooting efficiency is what Westbrook needs in order to separate himself from other great point guards. He's going to be teammates with Kevin Durant for the next five years, so he can't afford to shoot in the low 40-percent range and expect to keep getting 20 shots a game.
Assuming Westbrook doesn't fall too much in love with long two-point jumpers in the next round, he'll be a critical factor in determining whether the Thunder can make a repeat appearance in the Western Conference finals.
5. Tony Parker, San Antonio Spurs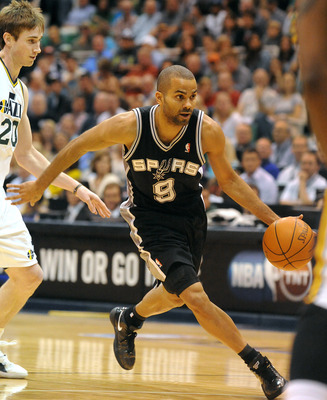 Steve Dykes/Getty Images
The San Antonio Spurs are quietly humming along in the playoffs after a four-game sweep of the Utah Jazz, due in large part to the transcendental play of Tony Parker.
Parker ranks sixth in these playoffs with a PER of 26.1 so far—the second highest playoff PER in his career (behind that of the 2008-09 postseason). He scored a game-high 28 points in Game 1 against the Jazz (along with eight rebounds and four assists), and nearly matched it with another game-high 27 points in Game 3.
By the way, 15 of those 27 points in Game 3 came in the fourth quarter, helping the Spurs fend off a suddenly frisky Jazz team in Utah.
Parker's playoff explosion comes as no surprise, as he posted a career year during the regular season, despite only averaging 32 minutes per game. His efficiency and consistency helped the Spurs bridge the gap between old (Tim Duncan, Manu Ginobili) and new (Kawhi Leonard, Danny Green).
You still may think of Tim Duncan first when you think of the Spurs, but make no mistake: This is Tony Parker's team now, and they'll only go as far in the playoffs as he can take them.
4. Kobe Bryant, Los Angeles Lakers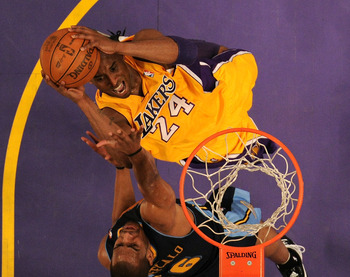 Harry How/Getty Images
At this point, there's no way to properly summarize how Kobe Bryant, 16 years into his NBA career, could finish second in the NBA in scoring this season.
To keep the Lakers together and humming during new coach Mike Brown's first season, Kobe had to play an average of 38.5 minutes a game—this after feeling so much pain in his knees following last year's playoffs that he thought he might be forced to retire.
One experimental surgery in Germany later, Kobe's looked 10 years younger all season, and he kept that show rolling right into the playoffs. He dropped 31 points in Game 1 against the Denver Nuggets, 38 points in Game 2, 43 points in Game 5 and 31 points in Game 6, despite battling gastroenteritis (the stomach flu).
The one knock against Kobe, and the reason he's below the next guy on this list, also holds true in the postseason: his not-so-hot field goal percentage. Kobe only shot 43 percent for the year and is averaging a hair under that in the playoffs.
Still, the Black Mamba can single-handedly erase a seemingly insurmountable lead in a hurry, as he almost proved in Game 5 against the Nuggets. If he's going to go down in his quest to win a sixth ring and match Michael Jordan, it'll be with guns blazing.
3. Kevin Durant, Oklahoma City Thunder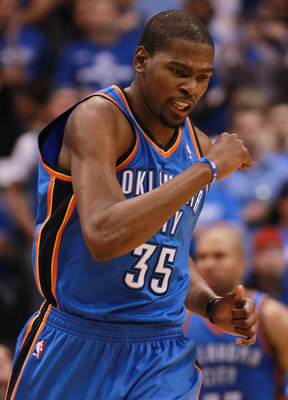 Ronald Martinez/Getty Images
Kevin Durant, at 23, became the youngest three-time scoring champion in NBA history this season. Throughout the season, Durant's name was most frequently mentioned as the only other contender (besides LeBron James) for the league's Most Valuable Player award.
K.D. averaged 28 points per game in the regular season, shooting nearly 50 percent and 39 percent from 3-point range. In these playoffs, those averages have dipped a bit, to 26.5 points per game on 45.5 percent shooting and 34.6 percent from deep.
On the positive side, he averaged nearly two blocks and a steal per game in the Thunder's four-game sweep of the Mavericks. Durant also upped his free throw attempts from 7.6 per game in the regular season to 8.3 a game in the playoffs.
At times in the playoffs, especially on the road, players' shots have a tendency to betray them. Durant's ability to draw contact and get to the line will be a huge asset to the Thunder in late-game situations, when the games tends to grind to a halt and revolve around half-court sets.
And if Durant has the "shooter's bounce" going all through the playoffs like he did against the Mavs in Game 1? Watch out, NBA. The Thunder may end up shocking everyone this year.
2. Chris Paul, Los Angeles Clippers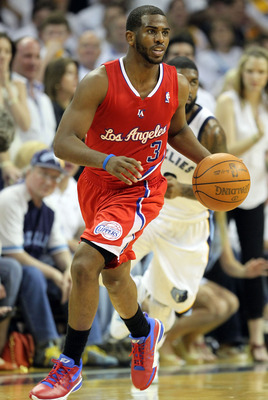 Andy Lyons/Getty Images
The L.A. Clippers diminutive point guard finished second in PER this season (trailing only LeBron James), and managed to outdo that accomplishment in the Clippers first game of the playoffs, keying a 27-point comeback against the Memphis Grizzlies on the road.
Paul's been known to only perform better in critical situations, and he's continued that tradition in this year's playoffs. While most teams bog down in the half court during crunch time, Paul-led teams routinely outperform their peers, as ESPN's Henry Abbott wrote last year.
Despite straining his groin in Game 5 against the Grizzlies, Paul still managed to contribute 30 points, 14 rebounds, 11 assists and five steals in Games 6 and 7, and only showed more confidence in his ability to drive into the lane as Game 7 wore on.
Kevin Durant may be a better pure shooter than Paul (although Paul's no stiff, by any means), but Paul's ability to lead his team, particularly in crunch time, puts him ahead of the three-time scoring champion on this list.
Now comes his toughest task in years: guiding the long-underachieving Clippers into battle against Tim Duncan and the rest of the top-seeded San Antonio Spurs. Paul's got the chance to put himself on the short list for preseason MVP favorite with a strong performance in this series.
1. LeBron James, Miami Heat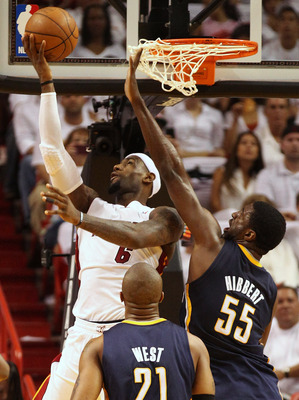 Marc Serota/Getty Images
No matter how much you hated "The Decision," it's impossible to objectively argue against LeBron James being the best player in the NBA.
Say what you will about his fourth-quarter collapses in recent playoff appearances, but James was just presented with his third Most Valuable Player award in the past four years.
Only seven other players in NBA history have won three or more MVPs.
LeBron led the league in PER this season with a 30.8, according to ESPN's John Hollinger, putting him just a hair shy of some of Michael Jordan's most statistically dominant seasons. He finished third in the league in scoring despite teaming with two All-Stars.
This postseason, he's currently second in scoring behind Kobe Bryant, averaging just under 28 points per game during the Heat's five-game series against the New York Knicks. Unlike his series rival, Carmelo Anthony, James has had his well-roundedness on display in these playoffs with 6.2 rebounds, 5.6 assists and 2.2 steals per game.
And, as if there was any doubt, he went out and dropped 32 points and 15 rebounds in Game 1 against the Indiana Pacers after Chris Bosh left the game in the first half with an abdominal injury.
LeBron's not just the best player this year or in these playoffs. He's the best player of his generation.
Austin Link of TeamRankings.com recently made a pretty compelling case of James being the best player since His Airness (that includes you, Kobe Bryant).
He may not be the one you want shooting with the game on the line, but considering all he brings to the table, there's no question he's the best player still in the playoffs.
Keep Reading