Manchester City 3-2 QPR: Tactical Analysis, Review and Diagrams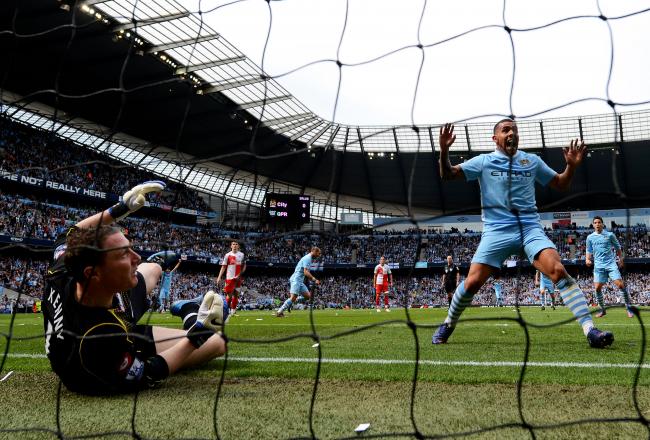 Shaun Botterill/Getty Images
Breathtaking stuff.
Manchester City nearly fluffed their lines in the big show. Someone somewhere forgot to bring the script, and the Citizens made hard work of defeating Queens Park Rangers to secure the English Premier League title.
It was a bizarre game, as when the team sheets were released it seemed Mark Hughes was going for it. "Two strikers? This should be end to end!" we all said.
Well...no. This is how they actually lined up.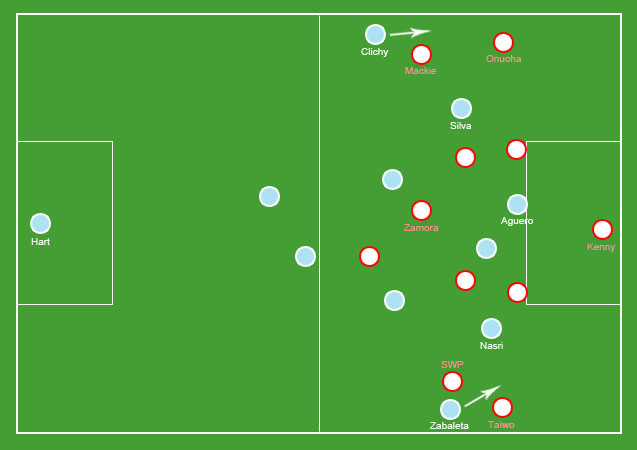 Ambitious huh? Hughes set his team out to stifle, frustrate and annoy the opposition—a dangerous tactic that very nearly paid off.
QPR set out two solid banks of four to patrol the area outside their own penalty box. It was the flattest of fours you're likely to have seen this season with the full-backs not roaming even an inch out of line.
Bobby Zamora dropped deep to help out of his two central midfielders, leaving Djbiril Cisse alone in the centre circle.
Roberto Mancini set out his usual 4-2-3-1, keeping Yaya Toure contained with Gareth Barry in the centre, whilst letting Carlos Tevez, Sergio Aguero, Samir Nasri and David Silva torment the QPR back line.
The basic formation was predictable. The interesting part came when analysing how each team chose to attack. Here are two scenarios—the first being a typical QPR attack and the second being a standard City onslaught.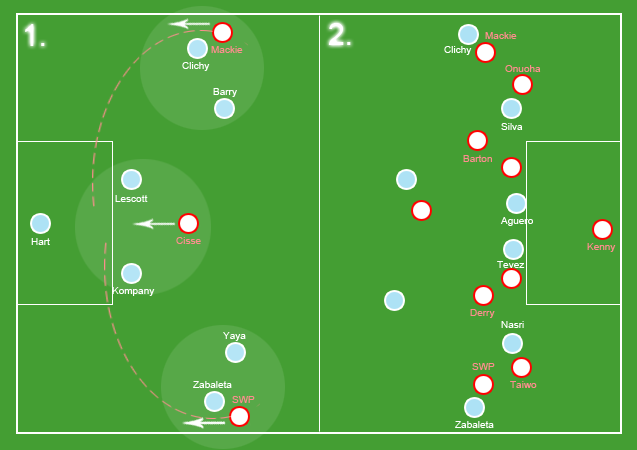 QPR's Attack Plan
We'll start with QPR. They only ever attacked through their two wingers. Shaun Wright-Phillips and Jamie Mackie were relied on heavily to carry the ball from their own half and into the opposition's.
From there, it was up to them to have the legs to find a cross that could find their target man. This meant Zamora would steam up the pitch and try to beat both Vincent Kompany and Joleon Lescott in the air.
The opposite winger also had to make an effort too, and in fact Mackie grabbed a goal in these exact circumstances.
Wright-Phillips recorded five tackles during the game, an impressive statistic for a winger. He was impressive today, especially when tucking in at central midfield due to Joey Barton's red card.
Manchester City's Attack Plan
This could not have been more different to QPR's. It was a 90 minute onslaught in which the Citizens managed 80.7 percent possession and 44 shots.
As you can see from the diagram, it was pretty congested around the Rangers' penalty area. This was partly due to the defensive nature of Hughes' system, but partly Mancini's fault too.
Pablo Zabaleta and Gael Clichy were given free license to roam the sidelines and overlap. While this signals ambition, it also pushed Silva and Nasri inside, meaning even less space for Tevez and Aguero.
It started to become a little bit self-defeating as shot after shot was blocked or, due to the lack of space, through-balls went continually astray.
It was at that point that Mancini threw on Edin Dzeko, which was the right idea (despite his almost clown-like performance). The only way City were going to get a goal was from a cross and a header.
That happened, more or less, as City's umpteenth corner brought the crucial, catalytic goal.
In the end...
Manchester City deserved a win and QPR did not deserve to go down. The Hoops can thank Stoke City for keeping them in the league.
Mancini had four strikers on the pitch by the end of the game, and if that's not going for it, I don't know what it is.
The overloading problems City had today are reminiscent of their 1-0 loss at Villa Park last season. Again, we saw Zabaleta and Clichy push on too much, meaning Adam Johnson had no room to move. Richard Dunne and James Collins ate up the crosses and the boys in blue left with nothing.
Congratulations Manchester City for deservedly winning the title. Enjoy it.
If you enjoyed my tactical run-down, please consider reading the pieces I've done on:
- Atletico Madrid vs. Athletic Bilbao
- Liverpool vs. Chelsea
- Athletic Bilbao vs. Sporting
- Real Madrid vs. Bayern Munich.
This article is
What is the duplicate article?
Why is this article offensive?
Where is this article plagiarized from?
Why is this article poorly edited?

Manchester City: Like this team?