UEFA Europa League Final: Analyzing Atletico Madrid's Shape
May 10, 2012

Michael Regan/Getty Images
Radamel Falcao showed the world how to finish in Romania's National Stadium as Atletico Madrid won their second UEFA Europa League trophy in three years.
Those on board the Athletic Bilbao bandwagon were left disappointed as not even Javi Martinez could orchestrate a win against Diego Simeone's men.
Speaking of Simeone, he worked wonders tonight. He beat Marcelo Bielsa—his former master—all ends up in a tactical battle that took nerves of steel.
While I usually talk about Bilbao's movement or intricate game play, Atletico have earned the focus and will be the focus of this tactical review.
In Defence...
Atletico, on the whole, were strictly disciplined and regimented whilst not in possession.
They took a curious approach to quelling the threat of Fernando Llorente—they actually let him drift between the lines.
Usually, when an offensive player gets in behind the midfield, it spells bad news for the defending team. With Llorente finding himself room to spare, he could only expect the ball to land at his feet like it has all season long.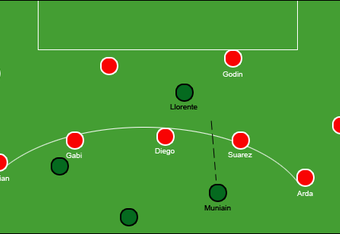 It never happened.
Atletico formed a wall of five in midfield, leaving Falcao up front in a truly lone striker's role to block any attempt to feed a ball through centrally.
The lines were perfect—the shutout proves that much.
In Attack...
They were quick, fearsome and clinical.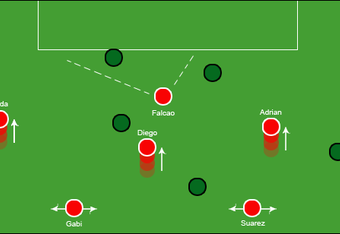 The midfield five were so well drilled they were able to change shape as soon as they pinched the ball. The two anchors, Mario Suarez and Gabi, held their position and moved forward together slowly as a central tandem.
Adrian, Ardan Turan and Diego then freed themselves of defensive responsibility and bombed forward. Falcao, who was already lingering in a dangerous position, terrorised the Bilbao back line with his unpredictable movement and speed.
Fernando Amorbieta and Martinez had serious trouble containing the Colombian and often failed to push him as wide as they should.
For each of Atletico's three goals, only four or five of their players were in the attacking third. When you have this much quality, that's all you need.
So How Do You Beat That?
There few two things Athletic Bilbao could have done to achieve more success or penetration in the final third.
Whilst only getting into their dominant, passing groove late in the second half, the long balls and diagonals Llorente is used to receiving were of poor quality. The Spanish striker may have been marked very tightly by Diego Godin, but he receives attention like that in every game.
Early crosses were key to hitting Atletico where it hurts as their five-man blocking system couldn't even stop those. Most crosses were badly hit though, and the one that got to Llorente in the first half wasn't converted.
The other option was literally dribble the ball through the Atletico midfield. They resorted to this later by using Iker Muniain as a silky battering ram, but they could have been far cleverer with it.
Bilbao needed to draw one of the midfielders into the challenge, play a one-two and surge through the gap. This happened just once.
Conclusion
Diego Simeone and Radamel Falcao deserve the plaudits for this victory.
Marcelo Bielsa got the better of this team in the league, but Los Rojiblancos will take cup final glory every day of the week.
Many have failed to stifle Muniain and co., but Simeone organised his players well and accounted for every eventuality.