NBA Playoffs 2012: Power Ranking the 10 Best Stars Left After First Round
Jeff Zelevansky/Getty Images
We're almost finished with the first round of the 2012 NBA Playoffs, and it's been full of memorable team and individual performances.
From LeBron's 32-point performance on 71.4 percent shooting in Game 1 against the Knicks to Kevin Durant's cold-blooded game winner against the Mavericks, the playoffs certainly haven't disappointed fans.
As the first round draws to a close, it's time to look at all the players left in the playoffs and select the 10 best that are still playing.
Ahead is a power ranking of the 10 best NBA players left in the playoffs.
Honorable Mention: Andre Iguodala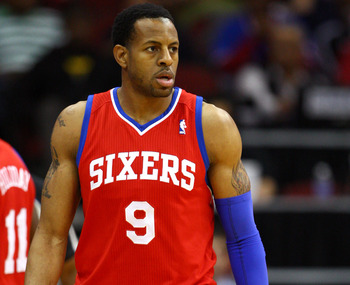 Chris Chambers/Getty Images
Playoff Statistics: 12.0 PPG, 5.8 RPG, 3.5 APG, 1.8 STLPG, 35.1 FG%
While Andre Iguodala's statistical production in the playoffs doesn't set the world on fire, it's the kind of consistent production that a young 76ers team needs.
When Iguodala hit those two free throws to sink the Bulls in Game 6, he made the transition from scapegoat of Philadelphia to being a playoff hero, and that's a major reason why he gets an honorable mention in these rankings.
As the 76ers move on to face the Boston Celtics in the second round of the playoffs, Iguodala will be an integral piece of their success and/or failure. As Iguodala goes, so goes the 76ers.
Honorable Mention: Blake Griffin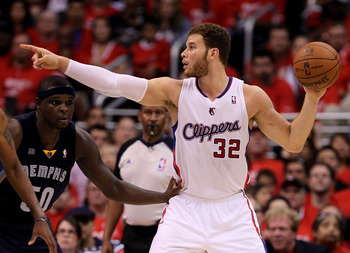 Stephen Dunn/Getty Images
Playoff Statistics: 20.2 PPG, 7.2 RPG, 2.0 STLPG, 56.5 FG%
Blake Griffin gets an honorable mention because his production has helped the Clippers hang with the Grizzlies in their competitive first-round series.
Sure, Griffin might whine a little too much, but there's no doubting that his explosively athletic play has helped the Clippers get to where they are.
If Griffin wants to move up the ranks here, he absolutely must improve his free-throw shooting and his abilities in the post, as he's currently nothing more than an athletic forward who can score when he's wide open or out on the break.
Honorable Mention: Ty Lawson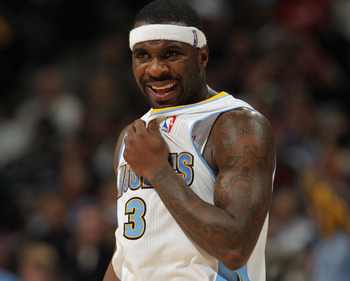 Doug Pensinger/Getty Images
Playoff Statistics: 18.2 PPG, 6.0 APG, 1.2 STLPG, 50.0 FG%
In Nuggets' wins, Ty Lawson's averaged 22 points and seven assists, and he's managed to shoot an impressive 51.6 percent from the field. In losses, Lawson's production is a different story.
The point is that the Nuggets' postseason success hinges on the production and consistency of Lawson, as evidenced by his 32 point, six assist and five rebound performance against the Lakers in Game 6, which included shooting 72.2 percent from the field and 83.3 percent from beyond the arc.
Lawson hasn't produced at a consistent enough level to earn a spot in the top 10 on this list, but he's certainly earned an honorable mention. If Lawson can will the Nuggets to victory against the Lakers in Game 7, he will certainly be able to find his way into the top 10.
Honorable Mention: Andrew Bynum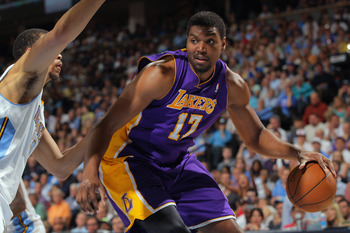 Doug Pensinger/Getty Images
Playoff Statistics: 16.8 PPG, 11.3 RPG, 3.7 BLKPG, 56.5 FG%
Andrew Bynum put together one of the most impressive triple-doubles in NBA playoff history when he accounted for 10 points, 13 rebounds and 10 blocks in Game 1 against the Denver Nuggets.
Unfortunately for the Lakers, Bynum hasn't put together that kind of performance since. In a pivotal Game 6 against the Nuggets, Bynum vanished, shooting just 36.4 percent from the field with only 11 points in the game.
If Bynum can manage to play at the high caliber in Game 7 against the Nuggets, and stop being one of the most immature players in the NBA, he might be able to move out of the honorable mention section in this list.
Honorable Mention: James Harden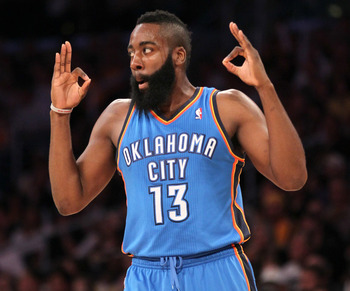 Stephen Dunn/Getty Images
Playoff Statistics: 18.3 PPG, 5.5 RPG, 4.3 APG, 50.0 FG%
Not much needs to be said about James Harden's play for the Oklahoma City Thunder in their series against the Dallas Mavericks, as his production speaks for itself.
In Game 4 alone, Harden accounted for 29 points, five rebounds and five assists, while managing to shoot 68.8 percent from the field and 75.0 percent from beyond the arc.
No matter who the Thunder face in the second round, a large part of their success will hinge on Harden's ability to step up his game and produce on a consistent and productive level.
On a side note, congrats to Harden on winning the NBA's Sixth Man of the Year award.
No. 10 Jrue Holiday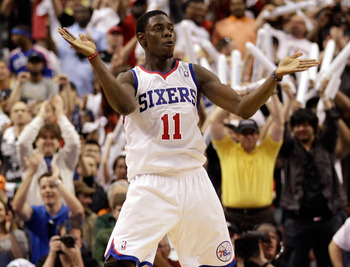 Rob Carr/Getty Images
Playoff Statistics: 18.2 PPG, 5.2 RPG, 4.7 APG, 1.3 STLPG, 0.8 BLKPG, 41.5 FG%
Jrue Holiday has certainly stepped up his game for the Philadelphia 76ers in the playoffs, and his play is a major reason why the 76ers are playing in the second round instead of watching it from home.
While Holiday isn't shooting the ball at an incredibly high level of efficiency, he is still producing at a level that has helped the 76ers become a legitimate contender in the East.
Holiday's play against Rajon Rondo in their series with the Celtics will be a key matchup to watch, as the pressure will be on Holiday to continue to produce at a high level against one of the best point guards in the game. Here's hoping that he's up to the challenge.
No. 9 Dwyane Wade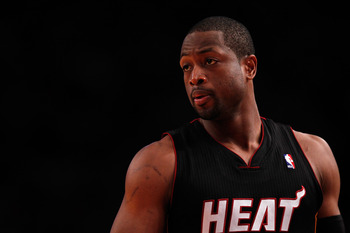 Jeff Zelevansky/Getty Images
Playoff Statistics: 21.5 PPG, 4.3 APG, 3.3 RPG, 3.0 STLPG, 54.5 FG%
It's safe to say that Dwyane Wade has been complementing the play of LeBron James throughout the postseason so far, and that's part of why the Heat are playing at such an impressively high level.
While Wade's average field-goal attempts per game have gone down compared to his regular-season averages, his efficiency has increased by 4.8 percent, which goes to show just how effective he is in his role of playing aside LeBron.
If Wade can keep up his efficient play and continue to excel as the Heat's closer throughout the postseason, the Heat will be an incredibly difficult team to stop.
While Wade might not get as much publicity as LeBron in South Beach, there's no doubt that he's the quiet leader of the team, and that's exactly who the Heat need him to be.
No. 8 Kevin Garnett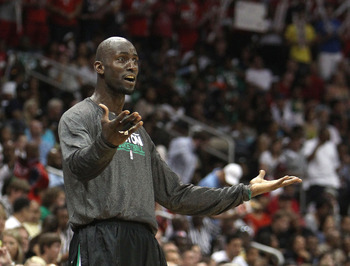 Mike Zarrilli/Getty Images
Playoff Statistics: 18.7 PPG, 10.5 RPG, 1.8 BLKPG, 1.3 STLPG, 50.6 FG%
Kevin Garnett single-handedly carried the Boston Celtics to a Game 6 victory over the Atlanta Hawks, with 28 points, 14 rebounds and five blocks. Oh, he also scored the go-ahead basket for the Celtics against the Hawks.
Anyway, even though Garnett will be 36 years old next week, there's no doubt that he's still one of the best power forwards/centers in the game. Garnett, with an impressive run in the playoffs so far, is proving that he's still got some gas left in the tank.
The Celtics' success in the second round against the 76ers will be deeply rooted in how well Garnett plays. If the first round is any indication of how he'll play against the 76ers, the Celtics are in for a solid second-round series.
No. 7 Rajon Rondo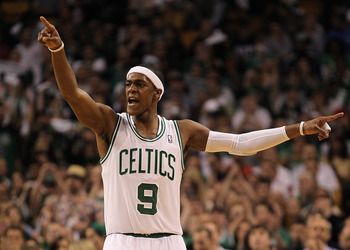 Jim Rogash/Getty Images
Playoff Statistics: 16.8 PPG, 11.8 APG, 5.6 RPG, 3.6 STLPG, 46.3 FG%
Rajon Rondo has sparked the Boston Celtics' offense throughout the playoffs so far, and his production is at the foundation of their moving into the second round of the playoffs to face the Philadelphia 76ers.
Rondo finds open players on the court and creates offensive opportunities for his teammates better than most other point guards in the NBA, including a number of point guards who are in the playoffs this season.
What used to be Rondo's biggest weakness, his jump shot, is now one of his biggest strengths, as he's proven that he's capable of being a legitimate scoring option for the Celtics. That's great news for the Cs as they look forward to facing a deep 76ers' team in the second round.
No. 6 Danny Granger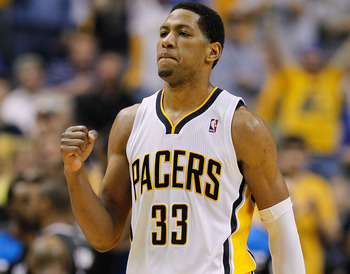 Gregory Shamus/Getty Images
Playoff Statistics: 21.4 PPG, 7.0 RPG, 1.8 APG, 41.2 FG%
While a lot of NBA fans are talking about the Pacers like they're the surprise of the playoffs thus far, the Pacers were actually one of the most consistent teams over the regular season, thanks to the play of Danny Granger.
Granger isn't a bona fide superstar just yet, but the way he led the Pacers to a first-round thumping of the Magic just goes to show that he's ready to take his game to the next level.
The Pacers now have a second-round series with the Miami Heat to look forward to, and while that's not a favorable matchup, it's one the Pacers can win if Granger takes continues to step up his production, and most importantly, his efficiency.
No. 5 Chris Paul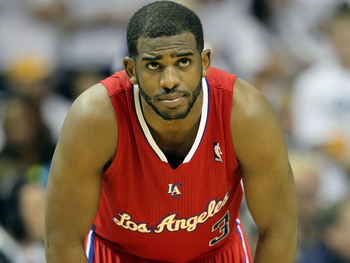 Andy Lyons/Getty Images
Playoff Statistics: 22.6 PPG, 7.8 APG, 5.2 RPG, 2.8 STLPG, 46.9 FG%
Throughout the postseason, Chris Paul has been the most consistent player on a Clippers team that desperately needs consistent production.
While Paul's average of 22.6 points per game has helped the Clippers get out to a 3-2 game lead, his most valuable asset to his team is his ability to find his teammates and create opportunities for them on a consistent basis.
If Paul can cut down on his 3.4 turnovers per game average and help the Clippers move past the Grizzlies and into the second round, he can certainly move up these rankings, as he's one of the most productive point guards in the NBA today.
No. 4 Tony Parker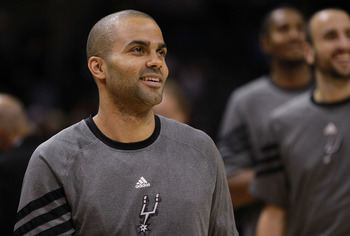 Ronald Martinez/Getty Images
Playoff Statistics: 21.0 PPG, 6.5 APG, 3.0 RPG, 50.0 FG%
I don't think Tony Parker has a solidified nickname yet. If I were to give him one it would be, Mr. Consistent, because all he does for the Spurs is play consistently night in and night out.
With players going down left and right on the Spurs roster throughout the season, Parker solidified the Spurs as the best team in the West, and he's continued to do just that throughout the playoffs thus far.
Parker quietly averaged 21 points and 6.5 assists per game, as he led the Spurs to an absolutely dominating four-game sweep of the Utah Jazz, who appeared ready to put up a fight before the playoffs began.
Here's hoping for a Clippers/Spurs second-round matchup so we can see Parker face off against another top point guards in the game, in Chris Paul.
No. 3 Kobe Bryant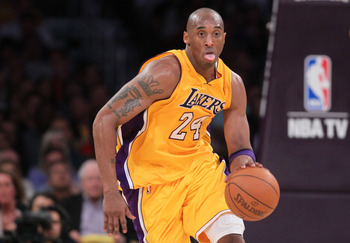 Jeff Gross/Getty Images
Playoff Statistics: 31.2 PPG, 5.2 RPG, 4.5 APG, 44.9 FG%
Kobe Bryant never fails to disappoint in the playoffs, does he? All Kobe's done in the playoffs thus far is silence the haters that say his amount of shot attempts hurt the Lakers and that his age will hold the Lakers back.
While Kobe failed to will his team to victory against the Nuggets in Game 6, Kobe is the only player in the 2012 NBA playoffs that is averaging more than 30.0 points per game, and for a 33-year-old veteran, that is absurdly impressive.
If Kobe can help the Lakers knock off the Nuggets in Game 7 and move on to the second round, we'll get to see an classic showdown between two of the best scorers in the game, in Kobe and Kevin Durant. Talk about epic.
No. 2 Kevin Durant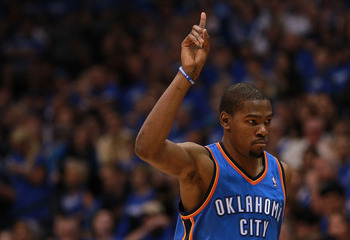 Ronald Martinez/Getty Images
Playoff Statistics: 26.5 PPG, 7.5 RPG, 3.8 APG, 1.8 BLKPG, 45.5 FG%
Kevin Durant led the Oklahoma City Thunder to a first-round sweep of the defending champs, the Dallas Mavericks.
What's most impressive about Durant's performance thus far is that while he didn't necessarily play constantly throughout every game, he showed up when his team needed him.
In Game 1, Durant sank a game-winning floater from the free-throw line to beat the Mavericks. In Game 3, Durant went off for 31 points on 73.3 percent shooting to overwhelm the Mavs.
The point here is that Durant is the player the Thunder need him to be, when they need him to be it, and that's what makes him such a valuable player.
No. 1 LeBron James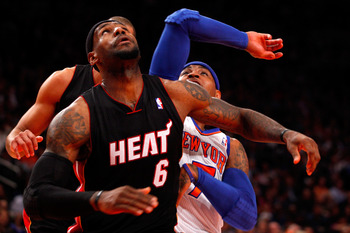 Jeff Zelevansky/Getty Images
Playoff Statistics: 27.5 PPG, 5.8 RPG, 5.3 APG, 2.3 STLPG, 48.6 FG%
LeBron James has definitely proved, through his performance this postseason, that he's ready to become a legitimate leader for the Miami Heat.
Aside from his impressive offensive production listed above, his biggest asset is the defensive tenacity that he brings to the Heat. Against the Knicks, LeBron held Carmelo Anthony to just 39.3 percent shooting from the field on an average of 23.3 field-goal attempts per game.
It seems like LeBron is ready to take the Heat to that next level, which means this year could be the first of many NBA titles for LeBron and Co.
Keep Reading