3 MLB Players Who Have Found the Fountain of Youth
Scott Cunningham/Getty Images
In a recent Bleacher Report article, I wrote that the 2012 MLB season is showing signs of becoming one of the most memorable seasons to date.
Included in this piece were three players who have turned back time and discovered baseball's fountain of youth.
Those three ballplayers are the subject of this slideshow.
Chipper Jones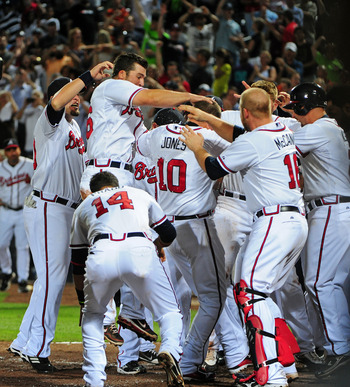 Scott Cunningham/Getty Images
More than 20 years following the release of his now famous (but sadly overproduced) 1991 Topps No. 1 draft pick rookie card, Atlanta Braves third basemen Chipper Jones continues to wow baseball fans.
As a baseball fan, it has been truly an enjoyable experience to watch Jones excel this season.
Coming off of a 2011 campaign in which it looked like Jones was going to hang up his spikes for good, Jones has returned to super-stardom with fury. Saturday's game versus the Colorado Rockies was case in point. At the tender age of 40, Jones went 3-for-6 with a double. More impressively, Jones tied his career high of five RBI.
On the season, Jones is hitting .318 with five home runs and 21 RBI. His OPS is .946.
More impressively, in the first three games this May, Jones is hitting an eye-popping .529 (9-for-17), with two home runs and nine RBI.
While Jones says this is his last season, it would be very hard to walk away from the game of baseball if had a monster year. As it stands now, this lifetime .300 hitter is just 364 hits shy of 3,000. He is also just 41 home runs short of 500. Jones achieving both feats would catapult this sure-fire Hall of Fame ballplayer into a debate regarding who the best third baseman in baseball history is.
Ichiro Suzuki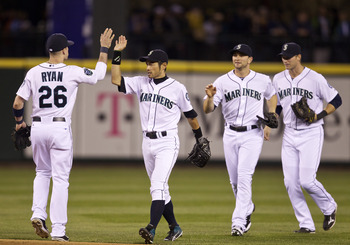 Stephen Brashear/Getty Images
While baseball fans and writers were not willing to write off Seattle Mariners superstar Ichiro Suzuki after a sub-par 2011 campaign, quiet whispers pointed to a right fielder in decline.
In 161 games last year, Suzuki hit just .272 with 184 hits. This followed 10 straight seasons where Suzuki had 200 hits or more.
However, at 38 years old Suzuki has thus far seemed to return to his former state. No longer the Mariners' leadoff hitter, Suzuki has thrived in the third spot in the team's lineup.
Currently, Suzuki is hitting .303 in 29 games for the Mariners. He is tied for fifth place in the big leagues with 36 hits.
With 2,464 hits, Suzuki is two years younger than Jones, which puts him in much better position to top the 3,000-hits plateau in his career. Should Suzuki achieve this feat, he will have amassed a total of 4,278 hits (blending his time with the Orix Blue Wave and Seattle Mariners). That is 18 hits more than Major League Baseball's all-time hits leader Pete Rose (4,256).
Regardless of which side that fans sit on the Pete Rose versus Ichiro Suzuki aisle, this is a great achievement no matter how one categorizes it.
Derek Jeter
Derek Jeter can still fly.
Ed Zurga/Getty Images
Speaking of achievement, how fun has Derek Jeter been to watch this season?
Jeter is the consummate Renaissance man.
Currently, the soon to be 38-year-old shortstop is hitting an astounding .390 with a league leading 46 hits. His OPS is 1.010. And with five home runs, 15 RBI and a .585 slugging percentage, Jeter is also on a bit of a power tear.
With 3,134 hits, Jeter has his sights set on passing San Diego Padres icon Tony Gwynn (3,141) for 17th place on the all-time big league hits chart. Barring injury, Jeter should also pass Robin Yount (3,142 hits), Paul Waner (3,152), George Brett (3,154) and Cal Ripken Jr. (3,184) this season to climb to 13th place.
Should Jeter stay healthy the next few years, he has a great shot to eventually pass Hank Aaron for third place on the all-time hits list (3,771). Just 638 hits shy, Jeter would have to average 212 hits over the next three years or roughly 160 hits over the next four years.
Recent polling suggests that roughly 77 percent of fans think Jeter will eventually break Aaron's record. This alone feat alone is worth watching Jeter the next three to four years.
As a Jeter fan, I hope the baseball gods let this iconic shortstop remain healthy enough to achieve this grand feat.
Keep Reading

Atlanta Braves: Like this team?