Chicago Bulls Overpaid for Carlos Boozer
May 2, 2012

Kevin C. Cox/Getty Images
The Chicago Bulls overpaid for Carlos Boozer and now must seriously re-evaluate what they have in the former All-Star forward.
Everybody knows the guy at work who makes more money than us but doesn't give his best effort when it matters most.
And, like any other profession, there are guys in the NBA who seemingly don't pull their weight.
Carlos Boozer has been one of the Bulls' most disappointing players in recent years. When looking for a running mate to complement Derrick Rose, Chicago knew a scorer would be the best fit for the young point guard. Once LeBron James, Dwyane Wade, and others were off the table, Boozer was the best scoring option available during a frenzied off-season free agency.
Bulls management figured that Boozer would be their 20-10 guy, though—given that he averaged 20 points per game for a season only twice—that thinking was rather optimistic. Just being a double-double guy doesn't justify a huge contract.
When Boozer played with the Cleveland Cavaliers and LeBron James, he was not targeted by shifting defenses. The attention James received provided Boozer more scoring opportunities and allowed him to focus on rebounding.  Hence, better numbers for Boozer.
Then, he was picked up by the Utah Jazz for the 2004-2005 season, receiving $30 million more than what the Cavaliers offered—a deal Cleveland thought had been all but done. Boozer was not on the map until the Jazz drafted Deron Williams before the 2005-2006 season. As it did with James, Boozer's production fed off Williams' playmaking.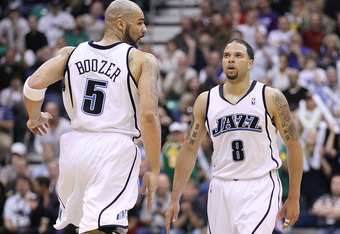 Jed Jacobsohn/Getty Images
While he did have productive seasons, injuries were always an issue with Boozer. He was called out by Jazz owner Larry Miller, who questioned his effort, saying, "Carlos has been terrific some nights; some nights he acted like he didn't care that much. And I like Carlos a lot. He's here because we need a big presence at the power forward, and I just hope he will be playing the way he ought to 82 games a night."
Boozer has never played a full season in his career. In his rookie season (2002-2003), he played 81 games, a number he was unable to equal until the 2007-2008 season. This season he did play in all 66 games, but if you subtract his past three seasons, Boozer has only averaged 58 games a year!
When the Chicago Bulls decided to acquire Boozer, they knew his health was a gamble.
He also had a reputation for being a "soft" player.
After being an assistant with the Boston Celtics, Bulls coach Tom Thibodeau came to Chicago known as a defensive specialist. For a team that thrives on defense, Boozer is probably a liability in critical situations.
You see him many times just holding his arms up, and the pivots and switches just come too late. Some say it is his lack of quickness; others question his effort on the defensive end.
Here's what all Chicago Bulls fans have to agree on: Carlos Boozer isn't the right player for this team.
He is a short 6'9'' and lacks the edginess that a power forward needs to be an elite player. He doesn't step up in the clutch (check out last year's playoff effort against the Miami Heat). Moreover, his contract makes him basically untradeable.    
Let's put his salary into perspective. In 2011, he was paid $14.4 million dollars.
The other NBA free agents in that $14-$16 million dollar range? LeBron James, Chris Paul, and Dwight Howard!
Would the Chicago Bulls rather have put that money into one of those stars than now enjoy the mediocrity of Carlos Boozer?