2012 NFL Mock Draft: Day 2 Thoughts for the Steelers, Browns, Ravens and Bengals
April 27, 2012

Kevin C. Cox/Getty Images
The first day—and the first round—of the NFL Draft has wrapped and, with 19 total trades taking place (three of which extended from last year) it's safe to say that no mock draft has emerged from the fray unscathed.
That's why I don't think it's safe to predict just what will happen on Friday, with rounds two and three. More trades are likely—though I believe they'll trickle off near the end of the second—and more surprises are also guaranteed, considering the glut of first-round-capable talent that has slid to day two.
With that in mind, let's just collect a few thoughts about what the four teams in the AFC North might try to do instead.
The Browns were undeniably aggressive in the first round, trading up one spot with the Minnesota Vikings to assure they landed running back Trent Richardson, and giving up three picks in the process (Nos. 118 in the fourth, 139 in the fifth and 211 in the seventh).
Then, when the Tennessee Titans snagged Baylor wide receiver Kendall Wright at No. 20, the Browns decided to pull the trigger early on Oklahoma State quarterback Brandon Weeden at 22.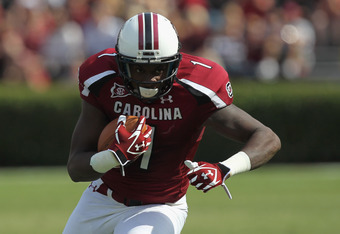 Streeter Lecka/Getty Images
I fully expect this aggressive approach to continue into the second round, however the Browns need to be more mindful of their remaining offensive needs. With Weeden likely under center to start the 2012 season, they might be comfortable with Greg Little as the No. 1 wideout.
However, that doesn't mean they don't need to upgrade their receiving corps. Still on the board are receivers Stephen Hill, Alshon Jeffery, Rueben Randle and Brian Quick, any of whom (especially Hill) could be solid additions for Cleveland with their No. 37 second-round pick.
The Browns still need to address their offensive line issues as well. Luckily, if they choose to do so in the second round, there are some serious options available, including Georgia's Cordy Glenn, Wisconsin's Peter Konz, Stanford's Jonathan Martin and Ohio State's Mike Adams.
In round three, the Browns are likely to take whatever position they didn't in the second. Unless there's a run on offensive linemen in the second round, a player like Kelechi Osemele might be there in the third, freeing them up to take Stephen Hill at 37.
Another, extremely aggressive option, is for the Browns to take a high-production tight end in round three, ideally Lousiana-Layfayette's Ladarius Green.
Based on their two first-round picks alone, the Bengals are hitting a home run with this draft.
Wesley Hitt/Getty Images
They easily landed the best available player still on the board at No. 17 when they picked cornerback Dre Kirkpatrick, and though it may seem baffling they traded down at 21 and allowed David DeCastro to slip through their fingers, Wisconsin guard Kevin Zeitler can hardly be called a consolation prize.
In round two, the Bengals should look to bring on a wide receiver. With the 53rd overall pick, it's not likely they can nab Stephen Hill, but Rueben Randle, Alshon Jeffery, Juron Criner and/or Brian Quick should be more realistic.
There's also a chance that the Bengals wait until round three to pick up a receiver—like Marvin McNutt—and use their second-rounder on a running back. In play could be Cincinnati's Isaiah Pead, Miami's Lamar Miller or Washington's Chris Polk.
Cincinnati has an additional third-round pick (No. 93), which they got in trade from the Patriots. This may be parlayed into more later picks rather than used.
Not surprisingly, the Baltimore Ravens chose to trade out of the first round entirely, swapping their 29th overall pick with the Minnesota Vikings and taking their 35th overall pick and their fourth-round, 98th overall pick in return.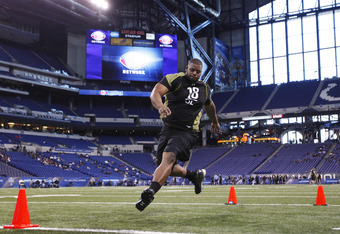 Joe Robbins/Getty Images
The Ravens now have two picks in the second round, and may look to parlay their later one (No. 60) into more selections, but I think standing pat may be the better option here.
At 35, their options are immense. They could go any number of directions, from offensive line (Cordy Glenn, Peter Konz, Kelechi Osemele), wide receiver (I'd love Stephen Hill with this pick) or defense (Jerel Worthy, Zack Brown, Courtney Upshaw or Vinny Curry to name a few).
With an early pick and so much talent still on the board, don't expect a swing-and-a-miss here from the Ravens. Their No. 60 pick will be far more beholden to what happens in the round prior to the selection; look for Baltimore to go best-available here (that may just be OLB Ronnell Lewis of Oklahoma).
In round three (pick 91), the Ravens would most likely try to pick up a solid possession receiver if they haven't done so already. They could also use this selection to add more linebacker depth, bring on a No. 2 running back to spell Ray Rice or to boost their offensive line if that need wasn't addressed in the second.
The Pittsburgh Steelers had the luxury of simply sitting back and watching the draft's best offensive guard, Stanford's David DeCastro, simply fall into their laps at No. 24 in the first round. That kind of passivity, however, won't help them quite as much in the second and third as the weirdness dies down and the grind of the draft really begins in earnest.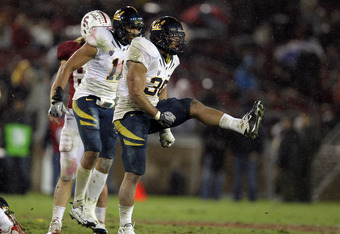 Ezra Shaw/Getty Images
The Steelers got themselves a future Pro Bowler in DeCastro, but that doesn't mean they won't go offensive line again in either the second or third rounds. If another high-level talent slips to them, at either No. 56 in round two or 86 in round three, they'll likely pounce.
Otherwise, Pittsburgh needs to focus on needs on the defensive side of the ball, namely linebacker and defensive/nose tackle. They could luck out and land Alameda Ta'Amu in the third because no other 3-4 team needs a nose tackle quite as badly, or they could take him in the second just to make sure they have him.
There are a number of top defensive talents who the Steelers could wind up with in the second round, like Jerel Worthy, Zack Brown, Vinny Curry or even Courtney Upshaw. I particularly like ILB Mychal Kendricks to the Steelers in the second.
Running back may also be an option in the third round, especially now that the Steelers know they have a talented run-blocking guard in DeCastro on the line. Cincinnati's Isaiah Pead has already caught Pittsburgh's attention and may be the recipient of this pick.