2012 NFL Mock Draft: Trent Richardson and Players Ready to Contribute Right Away
April 23, 2012

Butch Dill/Getty Images
Teams go into the NFL draft knowing full well that a number of the players they select won't contribute immediately.
Sometimes it has to do with the team, other times with the player, but immediate contribution isn't guaranteed—even with first round picks.
Then there are those players who are ready to step on the field Sundays and contribute right away. Often times that group of players is led by running backs, the transition from college to pro is arguably the easiest for them, but they're not the only ones.
Here's a look at the players in the 2012 draft ready to contribute right away.
1. Indianapolis Colts (2-14): Andrew Luck, QB, Stanford
The No. 1 pick is ready to make things happen, but his team is not. Luck can only take the Colts so far in his rookie season.
2. *Washington Redskins (5-11): Robert Griffin III, QB, Baylor
The Heisman Trophy winner will be asked to step in immediately, but he'll have a bit of learning curve. He'll to learn on the run in more ways than one—his NFC East rivals were all in the top seven in sacks last year.
3. Minnesota Vikings (3-13): Matt Kalil, OT, USC
There is a lot of talk going on about Kalil, the Vikes and the No. 3 pick, but ultimately the USC star should be the selection when Commissioner Goodell hits the podium.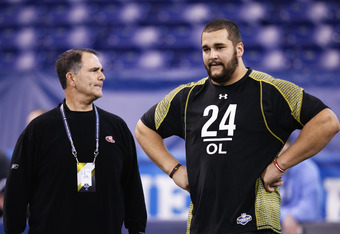 Joe Robbins/Getty Images
Kalil can come in and start at left tackle immediately and helps the Vikes solidify the left side of their line for years to come. 
With Christian Ponder entering his second season and star running back Adrian Peterson coming back from injury, Kalil will be counted on early and often. 
Fortunately he is up to the task.
4. Cleveland Browns (4-12): Trent Richardson, RB, Alabama
The best running back in the class this year is arguably the best player in the class, that is how good Trent Richardson is.
The Browns have needs for playmakers all over the the field and get lucky that the team in front of them has Adrian Peterson in their backfield. 
The Crimson Tide star can do everything including, most importantly, carrying a full load.
He'll be a star immediately with the Browns, or wherever he goes.
5. Tampa Bay Buccaneers (4-12): Morris Claiborne, CB, LSU
Rookie cornerbacks can be good, but they get picked on a lot. Claiborne has elite skills, and will make plays, but it'll take him a bit of time to be as good as he can be.
6. *St. Louis Rams (2-14): Justin Blackmon, WR, Oklahoma State
The Rams are the subject of much debate at No. 6, but it is hard to deny their desperate need for an offensive playmaker not named Steven Jackson.
Argue all you want about Blackmon being an "elite" prospect, he's a football player who'll take to the field immediately and make his presence felt.
Sam Bradford will be very happy if this guy in St. Louis come Friday. 
7. Jacksonville Jaguars (5-11): Stephon Gilmore, CB, South Carolina
Again, rookie corners will get picked on and Gilmore has more work to do than Claiborne.
8. Miami Dolphins (6-10): Ryan Tannehill, QB, Texas A&M
If the Dolphins do things right Tannehill won't see the field in year one.
9. Carolina Panthers (6-10): Fletcher Cox, DT, Mississippi State
One of the more interesting risers in this draft, Cox won't come in and dominate, but he's a versatile guy who'll be able to give the Panthers whatever they're looking for along that defensive line.
10. Buffalo Bills (6-10): Michael Floyd, WR, Notre Dame
The Notre Dame wide receiver will be able to step on the field from day one regardless of where he goes. Floyd has enough speed to get deep and is a gifted playmaker when the ball is in the air. 
Paired up alongside Stevie Johnson he'll see plenty of single coverage and will make a number of teams pay if Ryan Fitzpatrick can make the throws.
11. Kansas City Chiefs (7-9): David DeCastro, OG, Stanford
The only reason a team takes a guard this high is because he can contribute immediately and DeCastro will do just that.
A healthy Jamaal Charles will be very happy with this pick.
12. Seattle Seahawks (7-9): Quinton Coples, DE, UNC
Playing in Carrol's defense will give Coples and opportunity to succeed early, but he needs to buy into the coaching and play where they want him to.
13. Arizona Cardinals (8-8): Luke Kuechly, LB, Boston College
The Cardinals don't jump on Kuechly without expecting to plug him in immediately. The BC linebacker is a tackling machine with unique instincts and will start from day one.
14. Dallas Cowboys (8-7): Mark Barron, S, Alabama
Much of the same goes for Barron except his potential is limited. The Cowboys have a need for a starter at safety and the consensus All-American is the only one worth taking in the top-25 picks.
Don't expect too much from the Crimson Tide safety, but expect him to start for a long time.
15. Philadelphia Eagles (8-8): Michael Brockers, DT, LSU
Brockers has phenomenal potential, but he's not ready to regularly contribute until he gets some coaching.
16. New York Jets (8-8): Courtney Upshaw, DE/OLB, Alabama
Like Barron, Upshaw has limited upside but he's going to come in immediately and help the the team that drafts him from day one. 
He's a better football player than athlete, but he has a knack for making big plays at important times.
That fits perfectly for Rex Ryan.
17. Cincinnati Bengals (via OAK 8-8): Dre Kirkpatrick, CB, Alabama
Dre lacks the ball skills you'd like to see in a star cornerback, but his combination of physicality and athleticism make him a potential superstar in the future.
18. San Diego Chargers (8-8): Melvin Ingram, DE/OLB, South Carolina
The South Carolina pass rusher is a boom-or-bust prospect and we'll find out pretty quickly which one it will be.
19. Chicago Bears (8-8): Cordy Glenn, OG, Georgia
The Bears don't necessarily need Glenn immediately, but his versatility makes him readily available.
20. Tennessee Titans (9-7): Nick Perry, DE, USC
Like Ingram, there is a lot of boom-or-bust with Perry, but he has more potential and could take some time to develop.
21. Cincinnati Bengals (9-7): Kendall Wright, WR, Baylor
There is a ton of potential in Wright, but it will take some time for him to put it all together.
22. Cleveland Browns (via ATL 10-6): Stephen Hill, WR, Georgia Tech
There is arguably even more potential in Hill than Wright, but there is definitely more development needed, too.
23. Detroit Lions (10-6): Riley Reiff, OT, Iowa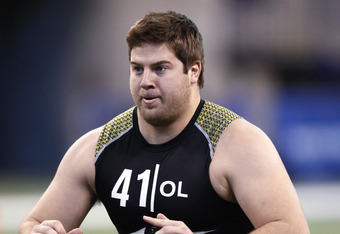 Joe Robbins/Getty Images
Reiff falls down the board, but he'll step on the field and make an immediate impact for the Lions regardless of where they play him.
24. Pittsburgh Steelers (12-4): Dontari Poe, DT, Memphis
Same goes for another falling star in Poe. The Memphis D-Lineman has talent, but he may take some time to put it together.
25. Denver Broncos (8-8): Devon Still, DT, Penn State
Still won't take time to put it together, but his potential is limited. That said, the Broncos need immediate help against the run and we know the 2011 Big Ten Defensive Player of the Year can do just that.
26. Houston Texans (10-6): Reuben Randle, WR, LSU
Playing opposite Andre Johnson will open things up for just about anybody, but Randle, who is a fringe first rounder, still has some learning to do.
27. New England Patriots (via NO 13-3): Shea McClellin, DE/OLB, Boise State
Whether McClellin is ready or not, he'll be put on the field early by a team in need of help in the front seven.
28. Green Bay Packers (15-1): Whitney Mercilus, DE/OLB, Illinois
Mercilus has some learning to do, but like McClellin, he'll be put on the field whether he's completely ready or not.
29. Baltimore Ravens (12-4): Dont'a Hightower, LB, Alabama
Hightower is ready to step in and start immediately, but he'll be groomed as the successor to Ray Lewis for much of the year.
30. San Francisco 49ers (13-3): Kevin Zeitler, OG, Wisconsin
The 'Niners want to get after a playmaker, but Zeitler is an immediate starter for them on the interior of the offensive line and they'll be a better team for it.
He hasn't received a ton of attention thus far, but he's a fringe first round guy who is ready to play right away.
31. New England Patriots (13-3): Kendall Reyes, DT, Connecticut
Any player that lands in New England's front seven is going to be counted on immediately, fortunately Reyes has the tools to make something happen.
32. New York Giants (9-7): Jonathan Martin, OT, Stanford
The Giants could go a number of ways here, but Jonny Martin falling down the board gives them the opportunity to land a kid who could take over at left tackle if he bulks up.
We saw the defending champions go through plenty of lineman a year ago, so adding a value like Martin here makes sense. 
*Rams trade No. 2 overall pick to Redskins for 2012, 2013, 2014 first-round picks and 2012 second-round pick.