NBA Playoffs 2012: 10 Players Who Have to Be Huge X-Factors in Playoffs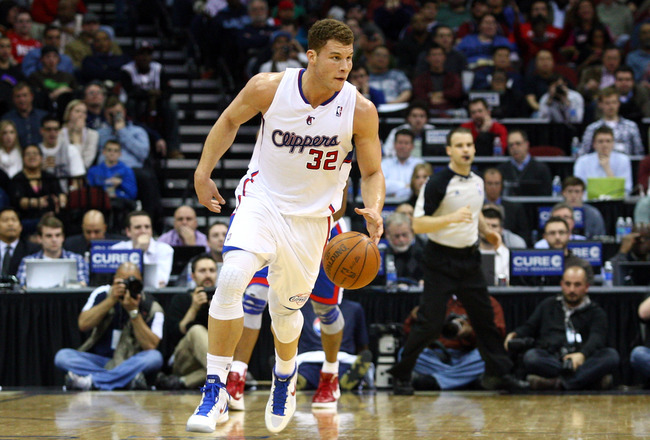 Chris Chambers/Getty Images
For every superstar on a team, there is an X-Factor.
The X-Factor can make a good team into a great team. When the go-to scorer is having an off night, it is the X-Factor who comes in and keeps their team in contention.
The following 10 players are X-Factors for their teams. If these players step up, then their teams will make a deep playoff run.
Chris Bosh-Miami Heat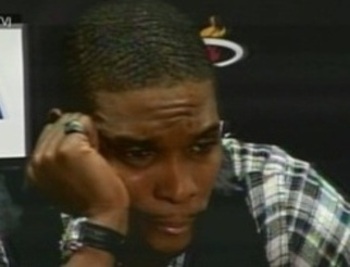 If the the Miami Heat want to shut up all the haters, Chris Bosh is going to have to step up in the playoffs.
Everyone knows Dwayne Wade and LeBron James run the show in Miami, but the Heat need to have that third weapon to take them to that elite level.
When they originally signed "The Big Three," everyone thought the Heat would be unstoppable. However, we have quickly seen that Bosh has not provided the strong presence down low.
The Heat are going to need Bosh more than ever in these playoffs. They can't count on LeBron for the fourth quarter, and Wade cannot carry the team by himself. Bosh is going to have to step up. If he can dominate down low and stretch out defenses by hitting his jump shot, the Heat are going to win the championship.
If not, we will see Bosh crying like a baby again, and the Heat will be one of the most scrutinized teams in all of sports.
Tyson Chandler-New York Knicks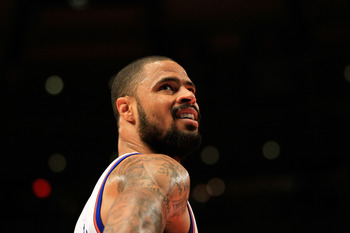 Chris Trotman/Getty Images
Tyson Chandler is going to have to play phenomenal defense for the New York Knicks if they want to make a run in these playoffs.
Chandler showed last year he was capable of this, providing the Dallas Mavericks with a stellar defensive presence down low.
The Knicks have the offense to match any team with Carmelo Anthony and Amare Stoudemire. The difference maker for them in the playoffs is going to be defense.
If Chandler can be the anchor of the defense, he will provide the Knicks with a spark that could lead to a deep playoff run.
Andrew Bynum-Los Angeles Lakers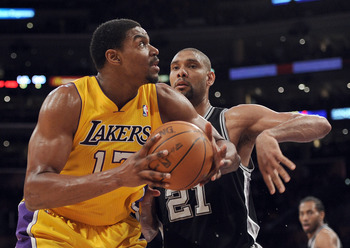 Harry How/Getty Images
Andrew Bynum has been playing like an animal as of late, and he needs to continue this play in the playoffs for the Lakers.
In his last seven games, Bynum has averaged 23 points and 14 rebounds per game. I know Kobe Bryant has been out so Bynum has been getting more looks.
However, Bynum needs to continue to play with this confidence and dominance when Kobe returns for the playoffs if the Lakers plan on making another championship run.
If Bynum is able to put up 20 points and 15 rebounds throughout the playoffs, then there is a very high chance that the Lakers will win the West. They are the only team that has two dominant 7-footers and arguably the best player in the game in Kobe.
Without Bynum, the Lakers are going to struggle. Kobe cannot carry this team by himself on the offensive end. Bynum and his twin tower, Pau Gasol, are going to have to be legit scoring threats to take all the attention off of Kobe.
Bynum is on the verge of becoming the best center in the NBA, and it would provide the Lakers with another Kobe-Shaq like duo.
Luol Deng-Chicago Bulls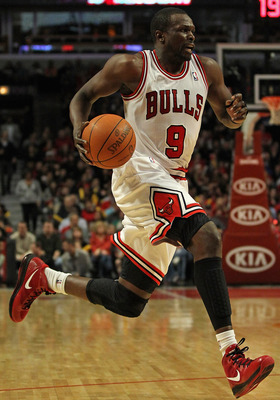 Jonathan Daniel/Getty Images
If Derrick Rose continues to deal with nagging injuries, the Chicago Bulls are going to have to count on Luol Deng to step up.
Deng is one of the most important pieces for the Bulls. He is one of their top scoring options and one of their top defenders. He has great size and athleticism to match up with an opposing teams go-to scorer.
Deng is going to have to cover some of the best players on opposing teams in the Eastern Conference, including Carmelo Anthony and LeBron James.
If Deng can provide a solid second scoring option and shutdown an opposing teams top scorer, the Bulls could very well win the Eastern Conference.
Kendrick Perkins and Serge Ibaka-Oklahoma City Thunder
The Oklahoma City Thunder have the talent on offense to win the championship with Kevin Durant, Russel Westbrook and James Harden.
However, throughout the playoffs the real test is going to be if their big men, Kendrick Perkins and Serge Ibaka can provide the team with toughness down low.
Perkins and Ibaka may have to deal with the Lakers' Andrew Bynum and Pau Gasol. If they can provide the Thunder with an elite defensive presence and dominate the boards, then the Thunder could be the scariest team to go up against in the playoffs.
Blake Griffin-Los Angeles Clippers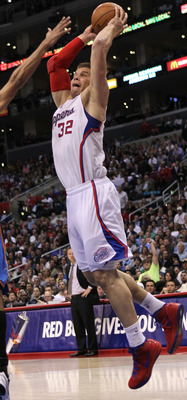 Stephen Dunn/Getty Images
Blake Griffin will be in his first career NBA playoffs, and he needs to shine in them.
I know Griffin is the Los Angeles Clippers' leading scorer, but he has never played in the playoffs. Every team is going to be playing at a whole new level, and Griffin is going to have to step his game up.
Chris Paul has been in this position before and can guide the Clippers. However, it is Griffin that is going to need to provide the spark to the Clippers team and their fans.
We all know he is one of the most exciting players in the league. If he can throw down some of his ferocious dunks, that will ignite the Clippers and could turn the momentum in their favor in any given series.
Rudy Gay-Memphis Grizzlies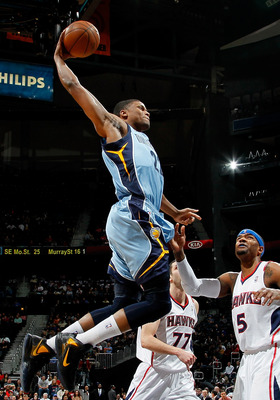 Kevin C. Cox/Getty Images
Rudy Gay is without a doubt the Memphis Grizzlies go-to scorer.
However, if the Grizzlies want to make another impressive postseason run like they did last year, Gay is going to have to take his game to a superstar level.
Gay has all the tools to become an elite player in this league. He can jump out of a gym, and he can hit shots.
In 10 games this year, Gay has scored at least 25 points. In those 10 games, the Grizzlies have gone 9-1.
It's pretty simple. When Gay dominates, the Grizzlies dominate.
The 2012 NBA playoffs need to be Gay's breakout party. He needs to show that killer instinct and take over games like the rest of the elite players
Jason Terry-Dallas Mavericks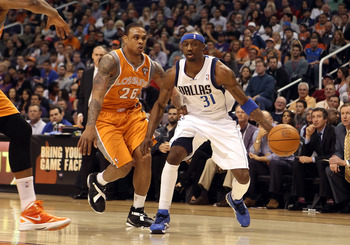 Christian Petersen/Getty Images
Jason Terry was last year's X-Factor for the Dallas Mavericks, and he is going to have to repeat again this year.
Terry provides the Mavericks a legit scoring threat off the bench. The defending champions have struggled a bit this year, but once you are in the playoffs it is a whole new season.
The Mavs are going to need Terry's three-point shooting if they want to make another championship run. Last year in the playoffs Terry was dominant, averaging 17.5 points and shooting over 44 percent from three-point range.
Kevin Garnett-Boston Celtics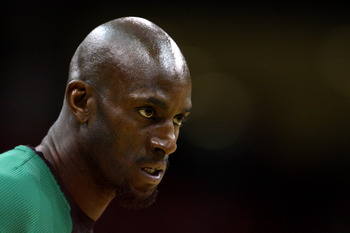 Chris Chambers/Getty Images
Is there a more intense player in the NBA than Kevin Garnett?
Garnett is the emotional leader of the Boston Celtics. Paul Pierce may be the captain, but the players feed off of Garnett's energy.
Garnett is getting up there in age. This may be one of his last playoff runs, and he has to make it count.
Garnett needs to lead by example. If he can play tough defense and provide 15-20 points a game, Garnett will inspire his teammates to step up their game.
The Celtics are a veteran team, and Garnett will provide the mental toughness to help them make a deep playoff run.
Keep Reading