Carolina Panthers: 7 Reasons Cam Newton Will Be an Elite Quarterback in 2012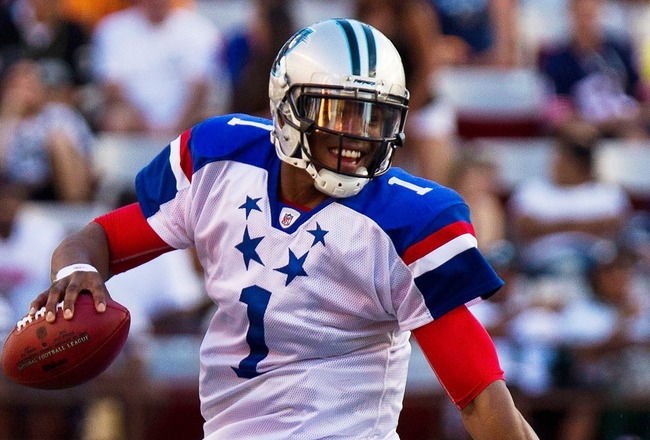 Cam Newton will be better in 2012 than he was in his rookie season.
Kent Nishimura/Getty Images
Cam Newton earned a trip to the Pro Bowl and was named NFL Rookie of the Year in 2012, but the Carolina Panthers quarterback only showed flashes of the potential that will elevate him to elite status in 2012.
Newton made history in 2012 by becoming the first quarterback in NFL history to debut with consecutive 400-yard passing games, setting the NFL rookie passing record with 4,051 yards and becoming the first NFL quarterback in history to rush for 14 touchdowns in a season.
The Panthers quarterback threw for an additional 21 touchdowns in 2011 and led the Panthers to the fifth-highest scoring total in the NFL.
Not bad for a rookie.
Avoiding the Sophomore Slump
Despite the sophomore slumps that have plagued many a second-year quarterback following solid rookie campaigns in recent seasons, including the Atlanta Falcons' Matt Ryan, the Baltimore Ravens' Joe Flacco and the St. Louis Rams' Sam Bradford, no such fate will plague Newton's second act.
He is just too focused and talented to take a step backwards in 2012.
At the NFL coaches breakfast in March, Seattle Seahawks coach Pete Carroll described Newton as "an extraordinarily rare athlete" who grew into the quarterback position as the season progressed and led the Panthers to four wins in a five-game stretch late in the season.
"Look out for those guys. Holy mackerel," Carroll told the Charlotte Observer's Joe Person. "If he can just stay out there, they're going to be a fantastic team."
Ready to Join the Elite
Newton is so talented and gifted that he may even be able to break the Madden curse if he ends up being selected to grace the cover of the popular video game. He is currently one of the final four candidates still in the running to be on the cover of Madden '13.
One thing is certain, though: Newton and the Panthers will be better in 2012.
Much better.
If Newton can cut the 17 interceptions he threw last season in half, the Panthers will be good for over 30 points per game and a potential 12-win season.
And if all the right pieces fall into place and Newton progresses along the parabolic curve that has so far shaped his ascent to becoming a top-flight NFL quarterback, he will become the first second-year quarterback since Dan Marino to join the ranks of elite NFL quarterbacks at such an early stage in his career.
No. 1: Better Defense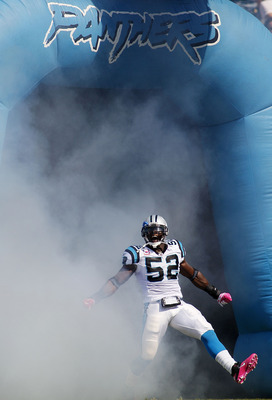 Jon Beason's return is crucial to the Panthers' defense in 2012.
Geoff Burke/Getty Images
There is no way the Panthers defense can get worse, or even be as bad as they were in 2011 when it ranked 28th in the NFL in total defense.
The Panthers' sophomore head coach, Ron Rivera, is a defensive guru known for assembling some of the toughest defenses in the NFL in his previous tenure as the San Diego Chargers' defensive coordinator.
Carolina will address the defensive personnel problems of 2011 in the draft by selecting a big, athletic plugger to shore up the middle of the defensive line at the 3-technique position, though the return of veteran tackle Ron Edwards, who last played in 2010 for the Kansas City Chiefs, will add strength to the defensive front four.
The Panthers are also likely to bring in a talented cornerback from a draft rife with talented defensive backs to compete with Captain Munnerlyn and Brandon Hogan for the second cornerback spot.
Carolina's defense will also be stabilized by the return of their defensive quarterback, middle linebacker Jon Beason and their strong-side linebacker, Thomas Davis, who is attempting to become the first NFL player to return from a third ACL injury to the same knee.
An improved defense will allow Cam Newton and the Panthers offense stay on the field longer, giving their already potent offense more possessions, more plays and subsequently, more points in 2012.
No. 2: Improved Special Teams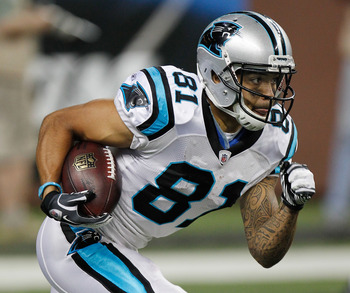 Kealoha Pilares is the Panthers' best returner in the kicking and punting game.
Gregory Shamus/Getty Images
The Panthers special teams were flat out the worst in the NFL in 2011.
They could not cover kicks.
They could not return kicks.
And sometimes, when the game was on the line, they could not even make kicks.
While Olindo Mare did what he was brought in to do by handling both the kickoff and field goal/extra point duties and by kicking an NFL-high 53 touchbacks in 2011, the Panthers allowed three kickoff returns for touchdown and countless other long returns well beyond the 20-yard line.
And Mare, a career 81.2 percent field goal kicker, converted only 78.6 percent of his attempts in 2011, including crucial misses that cost the Panthers opportunities to defeat the Minnesota Vikings and the Atlanta Falcons.
Mare will be back for a second year with Carolina, though he will be on a shorter leash in 2012, but I believe he will be up to the challenge.
As for Carolina's punt return game, the Armanti Edwards experiment should have run its course.
Kealoha Pilares had a solid year returning kickoffs with a 25.7 yard average and a 101-yard return for a touchdown, but his colleague at punt returner, Armanti Edwards, had the lowest punt return average in the NFL last season with 5.5 yards per return on 32 attempts.
Pilares is currently the team's best option at both the kick and punt return positions and should handle all of the return duties unless a dynamic rookie or a veteran with a reduced regular teams role, i.e., Captain Munnerlyn, emerges from the pack to replace Edwards.
Finally, the Panthers must replace long-term punter Jason Baker who was released in the offseason, and they are likely to look at all available options from veterans to recent college grads.
The Panthers signed special teams ace and backup linebacker, Kenny Onatolu, to help bolster the coverage teams, and together with solid returning special teamers Captain Munnerlyn and Jordan Senn, this trio must put the success of the Panthers' coverage teams squarely on their shoulders in 2012.
Like the defense, Carolina's special teams have nowhere to go but up, and improved Panthers field position will result in more possessions starting in or close to the opposition's territory as opposed to their own 20-yard line.
Give Cam Newton a short field to work, and those 70-plus yard field goal drives from 2011 will turn into 50- to 60-yard touchdown drives.
No. 3: Stronger Receiving Corps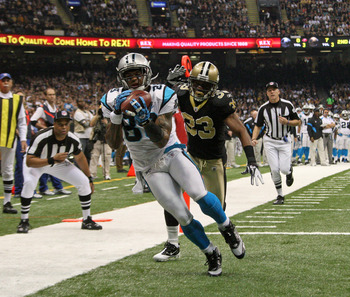 Steve Smith will lead an improved Panthers receiving group in 2012.
Scott Cunningham/Getty Images
Steve Smith, the Carolina Panthers all-time leading receiver, inked a three-year contract extension and will be determined to prove that his Pro Bowl season in his first year with Cam Newton was not a fluke.
He told the Charlotte Observer, "Everybody wants to win the lotto. A lot of people don't want to buy a ticket," said Smith. "We won the lotto with Cam."
Brandon LaFell also emerged as a game-breaker and a viable No. 2 receiver late in the 2011 season and should be ready to become a household name in 2012.
The wildcard among the receivers is David Gettis, who will return to the Panthers in 2012 after missing the 2011 season with a torn ACL suffered in training camp.
Gettis was expected to fill the No. 2 position last season after a strong rookie campaign as Jimmy Clausen's favorite target in 2010.
Though Jeremy Shockey's return to the Panthers is questionable, Carolina's best receiving tight end since Wesley Walls, Greg Olsen, will be back for another 40 to 50 grabs and a handful of touchdowns.
Newton will have plenty of quality targets to air the ball out to in 2012 and the Panthers receiving corps should compete with the New Orleans Saints and the Atlanta Falcons to be the class of the NFC South.
No. 4: More Versatile Backfield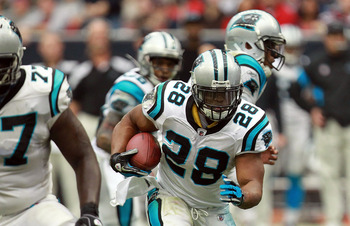 Jonathan Stewart is posed for a big contract year in 2012.
Ronald Martinez/Getty Images
Assuming that nothing happens with the Jonathan Stewart situation, that is, that there is no Jonathan Stewart situation in Carolina besides this being his contract year, the Panthers have arguably the deepest and most versatile backfield in the NFL heading into 2012.
Carolina picked up fullback/running back Mike Tolbert from the San Diego Chargers in March, adding to the depth of the Panthers' backfield already anchored by the "Double Trouble" duo of DeAngelo Williams and the man they call J-Stew.
Given enough carries in a season, Williams and Stewart are 1,000-yard rushers waiting to happen, while Stewart emerged as one of the league's best receivers out of the backfield 2011.
Though Tolbert is not the league's best traditional blocking fullback, he brings toughness and versatility as a running back and as a pass-catching threat out of the backfield.
More versatility means more creative playcalling designed to suit Newton's talents. I also predict lot of play action and a waggle-play or two circa John Elway in the Panthers offense in 2012.
Partnered with Newton's elite running ability and improvement at the receiver position, the Panthers backfield should make the Carolina QB even tougher for opposing defenses to slow Newton down no matter what plays they run.
No. 5: Deeper Offensive Line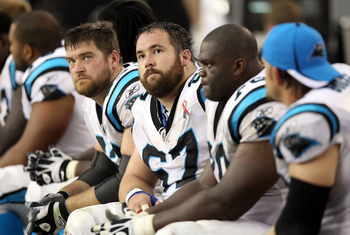 Ryan Kalil (67) anchors the Panthers' offensive line.
Christian Petersen/Getty Images
If Cam Newton is the face and the future of the Carolina Panthers, then his offensive line is the bubble wrap and mascara that will get him to the finish line in one piece and looking pretty.
The Carolina Panthers have already made a few moves this offseason to bolster their depth-deprived offensive line of 2011 by re-signing Geoff Hangartner and by bringing in former Indianapolis Colts guard Mike Pollak and Oakland Raiders tackle Bruce Campbell in a trade for Panthers backup running back, Mike Goodson.
Campbell, an athletic big man who put up freakish numbers in the 2010 NFL Combine, is still a raw talent and relatively inexperienced after two seasons with the Raiders, but at 6'6" and 315 pounds, he could push the oft-injured Jeff Otah for the starting right tackle position.
Last season's starting right tackle out of necessity, then-rookie free agent Byron Bell, could move down to one of the guard spots with the departure of Travell Wharton, and he can also serve as an experienced, if often overmatched backup, at the tackle position.
The Panthers offensive line, which continues to be anchored by a pair of Pro Bowlers in Jordan Gross at left tackle and one of the NFL's best centers in Ryan Kalil, has the potential to be among the NFC's stronger units in 2012 and should provide Cam Newton with plenty of protection to roll out to the edge or to survey the field from the pocket in relative comfort.
No. 6: Chud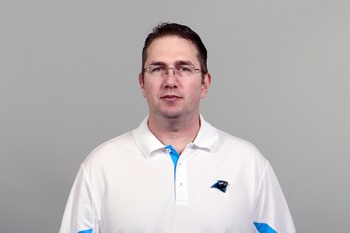 Carolina Panthers' offensive coordinator Rob "Chud" Chudzinski.
Handout/Getty Images
How can you tell when Cam Newton is having fun playing quarterback?
It's easy. Just look for his electric smile below the mask that belies what he does not want his eyes to show.
Carolina Panthers offensive coordinator Rob "Chud" Chudzinski was the man behind the man behind the mask, and he ensured that Newton had plenty of fun in 2011 along the way to earning Rookie of the Year honors.
Chud proved himself to be among the league's most innovative and creative play callers in 2011 when he incorporated aspects of Newton's offense from his legendary season at Auburn en route to guiding the Panthers to the fifth-highest scoring offense in the NFL.
From the run-pass option, to the Statue of Liberty, to a wide receiver-to-quarterback downfield pass in which Legedu Naanee's completed pass to Newton nearly resulted in a 30-yard touchdown play, Chud is not afraid to mix things up from the booth.
However, his bread and butter, and what will take Newton and the Panthers to the next level in 2012, is his mixture of the run and pass in such a way that keeps opposing defenses off balance and on the field.
The Panthers were most successful in 2011 when they ran the ball between 30 to 35 plays and passed about 25 times throughout the course of a game, and the same will be true again in 2012 if Newton gets to tuck it and run by design at least five to eight times per game.
Newton is the Panthers' best playmaker in an offense loaded with talent at the skill positions, and with an entire offseason for Chud to conjure up more ways to use his gifted quarterback, Newton will be even more dangerous in 2012.
No. 7: An Entire NFL Offseason to Prepare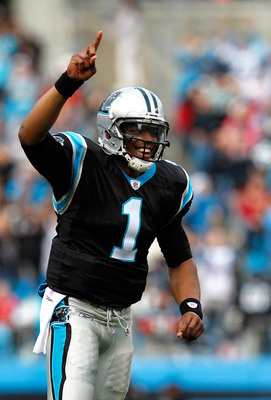 The sky is the limit for Cam Newton in 2012.
Streeter Lecka/Getty Images
The odds were stacked against Cam Newton having a successful rookie season coming out of the 2011 NFL draft as the No. 1 overall pick. His Heisman Trophy and BCS Championship meant little to his prospects as a successful rookie quarterback.
Newton entered the NFL in the midst of a lockout that prohibited NFL mini-camps and official team activities, threatened to delay the start of the season and prevented coaches and players from working together.
However, for just a day on April 29, 2011, the NFL lockout was lifted by court order of a federal judge in Minnesota and Newton was able to visit the Carolina Panthers facility and emerge with a playbook to study on his own.
Of course, Newton did not just study on his own as he took that playbook to former Carolina Panthers quarterback Chris Weinke's IMG Madden Football Academy in Florida to prepare for the NFL season.
Under Weinke's tutelage, Newton worked on every aspect of his game from the gridiron to the classroom and emerged as a player ready to compete at the highest level in professional football.
Newton has been working hard at IMG again this offseason, but this year he will have the added advantage of participating in team mini-camps and organized training activities with his coaches and teammates.
For a man as physically gifted and mentally astute as Newton, there is no ceiling on how good he can be as a quarterback in the NFL, and like NASCAR qualifying in race-crazed Charlotte, NC, his second lap around the track will prove to be faster than the first.
In 2011, Newton was just getting up to speed.
You can follow Jimmy Grappone on Twitter @imapone24. Also, check out Jimmy's new Writer Fan Page on facebook.com and be sure to "like me."
Jimmy welcomes your comments and he has a thick skin, so he can handle your abuse. I am Jimmy.
Recent articles by Jimmy Grappone:
Carolina Panthers 7-Round Mock Draft
Why Cam Will Lead Panthers to NFC South Title in 2012
Keep Reading

Carolina Panthers: Like this team?