2012 NFL Draft: Carolina Panthers Positions That Can Be Improved in Late Rounds
January 25, 2012

J. Meric/Getty Images
They say there are two certainties in life: Death and taxes.
As the Carolina Panthers prepare for the 2012 NFL Draft, there are three certainties: there will be busts, there will be sleepers and Andrew Luck will go No. 1.
While most pundits and fans spend their time analyzing the top of the draft order, there is always value to be found it the later rounds.
Panthers' General Manager Marty Hurney told the Charlotte Observer's Joe Person in a postseason interview that the Panthers want to begin the 2012 NFL Draft with a bang, but the team's philosophy of building through the draft suggests that Hurney and head coach Ron Rivera will look for good value to fill their needs wherever they can find it.
Here are four areas where the Carolina Panthers are looking to improve and can get good value in the later rounds.
Punt Returner:
The Carolina Panthers struggled on special teams in general in 2011, and at the punt returner position in particular.
Armanti Edwards has not shown that he was worthy of a third-round pick in the 2010 NFL draft.
Edwards ranked last in punt return average among regular punt returners in 2011, and his inability to improve the Panthers field position on possession changes doomed the Panthers to a long field on the majority of their offensive possessions.
Unless the Panthers select a dual threat cornerback or receiver who can serve double duty at his primary position and at punt returner, i.e., Arizona Cardinals' rookie Pro Bowler Patrick Peterson, or if they intend to use kick returner Kealoha Pilares to return punts, Carolina would be wise to select Edwards' replacement with a proven college punt returner in the 5th round or later.
Potential Pick: T.Y. Hilton, WR, Florida International
Defensive tackle:
The Carolina Panthers finished the 2011 season ranked 28th in total defense and 25th against the run, giving up 130.8 yards per game on the ground.
The Panthers run defense was doomed from the start when linebackers Thomas Davis and Jon Beason suffered season ending knee and Achilles injuries in Weeks 1 and 2, respectively.
However, Carolina's weakness up the middle of the defensive line was a burden that plagued the defense throughout the season.
Rookie third-round draft picks, Simone Fua and Terrell McClain, were not up to the challenge of shoring up the middle as starters through Week 12 when both players were injured in a road win against the Indianapolis Colts.
The Panthers run defense improved in the last five games of the season with Andre Neblett and Frank Kearse filling in for Fua and McClain, but the Panthers still need depth, size and athleticism in the middle of the defensive line.
Though a B.J. Raji-type player may not be available in the later rounds, the Minnesota Vikings' undrafted former Pro Bowl defensive tackle, Pat Williams, is proof that game changing talent at this position can fall to the bottom of, or completely out of, the draft.
Potential Picks: Mike Martin, DT, Michigan;Tydreke Powell, DT, North Carolina; J.R. Sweezy, DE/DT, N.C. State
Offensive Line:
In a January 19, 2012 radio interview on the "Mac Attack" show on Charlotte's WFNZ The Fan, Panthers' head coach Ron Rivera assessed his team's greatest needs and included the solidification of the offensive line.
The Panthers are solid at every offensive line position when all of their starters are healthy, but Jordan Gross is an aging left tackle entering his 10th season.
Carolina's 2008 first-round draft pick, Jeff Otah, has displayed flashes of brilliance at right tackle, but he has been unable to stay on the field for much of the past two seasons.
Undrafted free agent Byron Bell became the Panthers' starting right tackle against the Washington Redskins in Week 7 after Otah was placed on injured reserve, but the 6'5", 335 pound Bell could be shifted to one of the guard positions in 2012.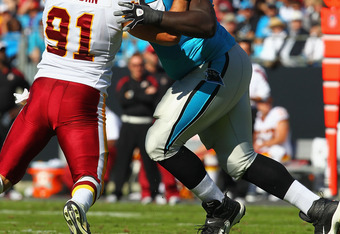 Dilip Vishwanat/Getty Images
The Panthers need more big, athletic offensive lineman to backup the current starters and perhaps play into one of the starting positions, primarily at offensive guard, or at tackle if Otah continues to spend time on injured reserve.
Potential Picks: Josh Oglesby, OT, Wisconsin; Alex Hurst, OT, LSU; Mike Ryan, OT, Connecticut
Backup quarterback:
The Carolina Panthers found their long term starter at quarterback with the top pick of the 2011 NFL Draft, former Heisman winner, rookie Pro Bowler and soon-to-be-named Rookie of the Year, Cam Newton.
The Panthers are building their offense around Newton's unique package of running and passing skills and they would be well served to draft a quarterback with a similar skill set to develop as a solid backup in case Newton is ever injured.
Newton is currently backed up by veteran signal-caller, Derek Anderson, and 2010 NFL Draft mistake, Jimmy Clausen.  
Neither Anderson or Clausen possesses the athleticism or mobility to operate the run-pass option offense in which Newton thrives. 
The 2012 NFL draft is stacked with talented quarterbacks and the Panthers could find a viable backup for the next few years who can develop into a starting quality quarterback in four or five years should Newton ever be traded or to use as trade bait down the road.
Potential Pick: Russell Wilson, QB, Wisconsin/N.C. State; Brock Osweiler, QB, Arizona State

Additional information on each of the "Potential Picks" listed in this article can be found at www.WalterCampFootball.com. I can also be followed on twitter @imapone24.