2010 NFL Combine Results: The Five Top Performers of Day One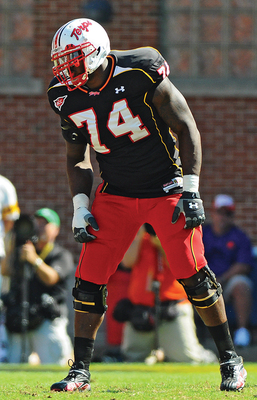 The 2010 NFL Scouting Combine started off with the big guys on offense: linemen and tight ends, and they did not disappoint.
2010 is one of the deepest drafts in both positions, and this group of young men certainty proved that today.
Two offensive linemen ran in the 4.8s, and six tight ends ran under a 4.7. Compare that to last year, where only one offensive lineman ran in 4.8s, and only four tight ends were 4.7.
Still, there were some who stood out above the rest on the first day. This list looks at some of those players, who took advantage of the combine and put up some excellent numbers.
Enjoy!
Bruce Campbell: OT, Maryland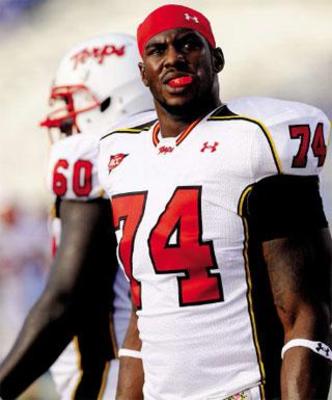 Height: 6'6"
Weight: 314 lbs.
Arm Length: 36 1/2 in.
40 Time: 4.85 s.
Bench Reps: 34
Bruce Campbell was the easy choice of MVP for the first day of the Scouting Combine.
He appeared to be a man among boys walking around the Colt's facility, and he backed up his appearance with great numbers on the drills.
Campbell ran one of the fastest 40 times in the past 10 years for offensive lineman. He ran fluidly and looked more athletic than most of the tight ends. Campbell also turned in top five scores in the bench press, broad jump, and vertical jump.
One of the most pressing issues for Campbell is his form and technique. During the shadowing drills, he looked very comfortable and ready for the NFL.
Campbell's strong performance should definitely effect him come draft day. He has solidified himself as top five linemen, and he could potentially move into the top ten and maybe the top five.
Dorin Dickerson: TE/WR/FB, Pittsburgh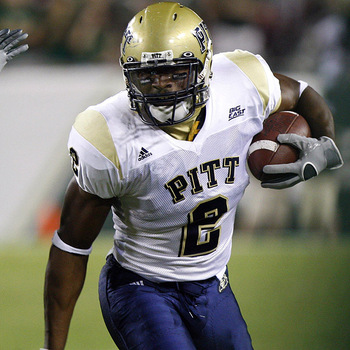 Height: 6'4"
Weight: 226 lbs.
Arm Length: 34 in.
40 Time: 4.40 s.
Bench Reps: 24
Dorin Dickerson came out of the gates with a "boom" in Indianapolis by putting up 24 reps of 225 lbs. This number put him at No. 4 overall, despite being 30 or 40 pounds lighter than most of the other tight ends.
Dickerson then ran an unbelievable 4.40 in the 40—only .6 seconds slower than LSU's Trindon Holliday.
Dickerson then displayed excellent hands and quickness out on the receiving drills. He appeared much quicker than all of the tight ends, and he appeared to have the best hands of the bunch.
After this strong performance, Dickerson has many offensive coordinators salivating over him. He will be able to make many match-up problems receiving, and he is a very underrated and tough blocker.
Dickerson should move up into the second round for sure. Teams like the New England Patriots, Miami Dolphins, and St. Louis Rams would be greatly suited to have a player with his versatility.
Dennis Pitta: TE, BYU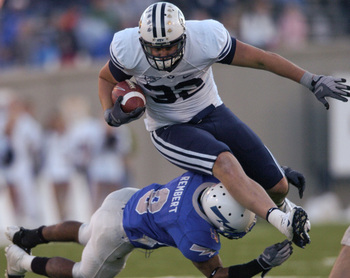 Height: 6'4"
Weight: 245 lbs.
Arm Length: 32 1/4 in.
40 Time: 4.73 s.
Bench Reps: 27
The Ray Romano lookalike from BYU had a huge day at the combine. Pitta is the type of player that greatly benefits from the NFL Combine.
Pitta showed his strength off by putting up the second highest amounts of reps in the bench press. What makes this even more impressive is Pitta is not considered to be a blocking tight end.
Pitta also looked very smooth and athletic running routes and showed nice soft hands when catching the ball.
He appeared to be faster on the field than what his 40 time indicated.
Some teams may find Pitta's old age detrimental, others will see it as an ability to play immediately. Pitta should be able to create match-up problems in the NFL, and he could be an immediate receiving threat next year.
For a guy who was supposed to go in the fourth or fifth round, Pitta may now see himself move into the late second or early third round.
Russell Okung: OT, Oklahoma State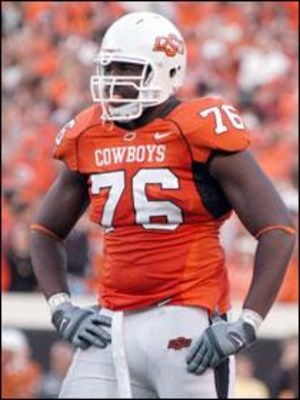 Height: 6'5"
Weight: 307 lbs.
Arm Length: 36 in.
40 Time: 5.17
Bench Reps: 38
Okung did everything right today and proved why he is the No. 1 rated offensive linemen.
Okung put up an impressive 38 bench reps, which ended up as the second highest score—Mitch Petrus had 45.
Okung also appeared to be in great shape. He hardly had a gut on him, and he really looked solid compared to some of the other lineman.
Unlike Bruce Campbell from Maryland, Okung is built more like a traditional offensive lineman. He has tree trunk legs to go along with his massive shoulders and frame.
During the drills, Okung looked very smooth and had the confidence of a No. 1 rated offensive linemen. He moved very quickly and seemed very focused throughout the combine.
Okung registered a very respectable time in the 40—5.17, and he looked very athletic while running it.
Okung most likely sealed his fate as a top five pick. If anything, he was better today than many thought. Okung appears to have the work ethic and athleticism to succeed in the NFL.
Tony Washington: OT, Abilene Christian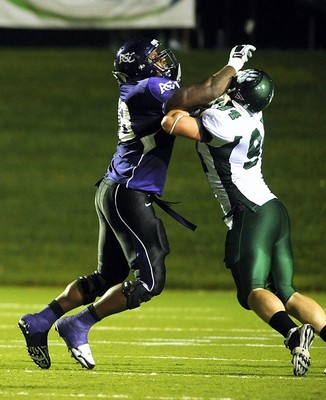 Height: 6'6"
Weight: 311 lbs.
Arm Length: 35 1/2 in.
40 Time: 5.19 s.
Bench Reps: 33
Tony Washington came into the combine with a lot to prove. He has had many off the field issues—cost him a chance to play at LSU—and many scouts thought this would be his real chance to prove himself.
He did.
Washington finished in the top five in almost every drill, and he came to Indianapolis looking in great shape.
It will be interesting to hear feedback from scouts on how the interview portion of Tony Washington's combine went, but so far, it looks like Washington will be shooting up most draft boards.
Washington appeared to be one of the more athletic and explosive tackles at the combine, and he really proved that during the drills. He ran smoothly and looked like he had something to prove every drill.
Washington may now move up into the third round or maybe second round. He still has a lot to prove and a lot of room to grow, but Tony Washington is off to a good start.
Keep Reading

Maryland Terrapins Football: Like this team?