Stanford Football April 7 Open Practice: Some Stars Sit, Others Shine
April 8, 2012

When we last saw Andrew Luck, he was dazzling NFL scouts at Stanford's pro day last month. The Farm's offense is now in the capable hands of Brett Nottingham.
Or Josh Nunes.
Both of the Cardinal's aspiring successors to Luck received plenty of snaps at the April 7 open practice. On a typically sunny Norcal morning, with a number of high school juniors watching intently from the sidelines, coach David Shaw's Cardinal conducted its third open practice of the spring. 
Two of Stanford's biggest stars, All-American OLB Chase Thomas and 2012 Heisman hopeful RB Stepfan Taylor, were mostly uninvolved. Thomas did not participate and Taylor appeared for only a few scrimmage snaps. 
In addition, as reported by the Examiner.com, Coach Shaw stated that backup OLB Blake Lueders (two sacks and 17 tackles in 2011) has an arm injury that could keep him out of action for a while.
WR Ty Montgomery (1,072 all-purpose yards in 2011) played a few snaps during the scrimmage, his first in any of the open practices. 
Here's some other things we saw. 
QB
Both Nottingham and Nunes looked impressive overall. In continuing their spring rotation, Nottingham played with the second unit and did his best Luck imitation, rolling to his left and throwing with authority, notably on an intermediate route to Keanu Nelson, and later on a long scoring toss to Jordan Pratt. More on Pratt later.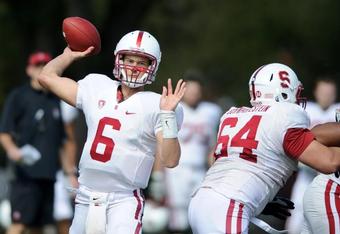 Nunes played with the first unit and connected on a long touchdown to Ty Montgomery near the end of the scrimmage. After missing the 2011 season with a foot injury, Nunes is competing hard for the right to be Luck's successor.
RB
With Taylor largely a spectator, and Tyler Gaffney on the baseball diamond and Anthony Wilkerson still sidelined, the carries went mostly to Ricky Seale, who we identified several weeks ago as a player to watch, and Jackson Cummings. 
Seale runs low and changes direction well. He bounced outside on a power formation run and outran the secondary to the end zone for a 50-yard score. 
WR
Montgomery took part in special teams drills and later lined up in the scrimmage for a few snaps, including his touchdown catch from Nunes. 
The widely heralded Kelsey Young saw lots of action and once again made numerous defenders miss. Once his hands improve to the level of the rest of his body, look out. He can be a blur and has shown moves reminiscent of Darrin Nelson or Glyn Milburn. 
The above-mentioned Jordan Pratt is intriguing. All Stanford fans remember Brandon Weeden from the Fiesta Bowl. Well, Pratt is a bit like Weeden—a 26-year-old "rookie" who spent eight years after high school pitching in the Dodgers minor league system, rising as high as Triple-A.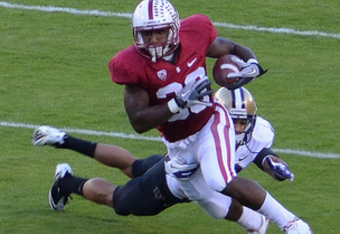 The 6'3" Pratt has the size and stride of former Cardinal great Ed McCaffrey, and he outleaped a defender for the long touchdown from Nottingham.
With Montgomery, Drew Terrell, Jamal-Rashad Patterson and incoming freshmen such as Kodi Whitfield, Pratt will be part of a talented and deep 2012 receiving corps. He is the latest in a long line of Cardinal football players who also pursued baseball.
OL
The O-line continues to be a work in progress, what with the departure of two All-Americans, David DeCastro and Jonathan Martin. 
The returning starters include C Sam Schwartzstein and  OTs David Yankey and Cam Fleming. Other returnees including Khalil Wilkes, Kevin Danser, Cole Underwood and  Brendon Austin, all of whom appeared on both sides of center at the practice. 
Of course, in August they will be joined by one of the most heralded group of OL recruits ever. 
DL/LB
Redshirt junior Ben Gardner (4.5 sacks, 10 tackles for loss in 2011) plays with an edge, and indeed, things got a little chippy between Gardner and an O-lineman midway through the scrimmage.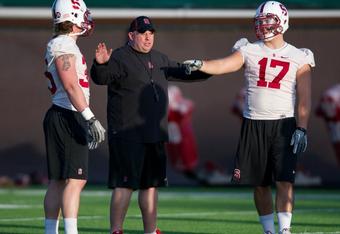 Even if Shayne Skov can't overcome his knee injury and DUI issues, Stanford should have a ferocious pass rush, with the likes of Chase Thomas (8.5 sacks, 17.5 tackles for loss in 2011), Gardner and Trent Murphy (6.5 sacks, 10 tackles for loss in 2011) on the outside. 
The team's two top returning tacklers, Jarek Lancaster and A.J. Tarpley will be on the inside, with James Vaughters (one sack, four tackles for loss in 2011) in any one of the DE/ILB/OLB positions. 
Can you say, embarrassment of riches?
DB
Wayne Lyons again appeared with the second defensive unit. He has NFL size and terrific athleticism. CBs Terrence Brown (Fiesta Bowl interception of Brandon Weeden) and Barry Browning remained in the first unit. Several safeties are vying to replace the graduating Delano Howell and Michael Thomas.
PK
Second-team All-Conference PK Jordan Williamson continued to kick with a vengeance. Late in the scrimmage, he boomed a 42-yard field goal that cleared the goal post by over 10 yards.
As reported by the Examiner.com, Coach Shaw noted afterwards that, "a scrimmage like this is not for Chase Thomas, it is not for Murphy, it is not for guys that have played a lot of football. It is not for Stepfan Taylor. It is for Ricky (Seale), those other guys that can get in and get a chance to play."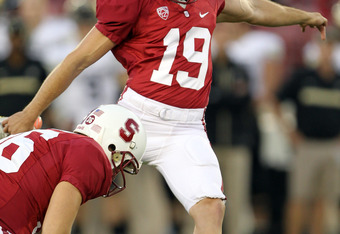 Ezra Shaw/Getty Images
The Cardinal now head into the final week of spring practice, with the annual Cardinal and White spring game set for April 14 at Kezar Stadium in San Francisco.