Grading Stanford's Class of 2016 by Position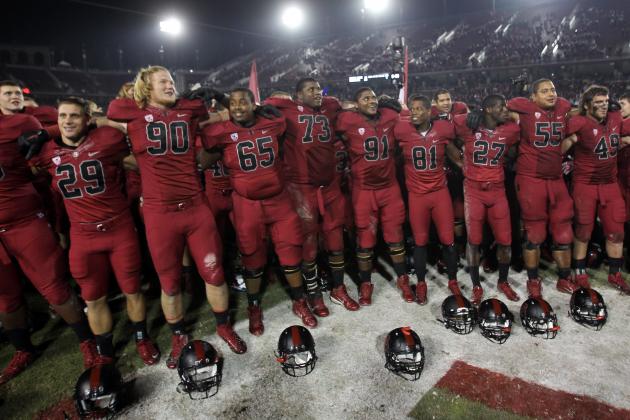 Ezra Shaw/Getty Images
REloaded for 2012 and beyond
Stanford football on Feb. 1 completed its highest ranked recruiting class ever, with a blockbuster trio of 5-star NSD commitments.
Stanford has had a sensational three-year run, with two BCS bowls, three Heisman Trophy runner-ups and top-10 national rankings.
Coach David Shaw's Cardinal begin 2012 spring practice later this month, and for the first time since 2008, Andrew Luck will not be participating. The Cardinal, with plenty of excellent options for replacing Luck, did not land a QB, but the recruiting class was nonetheless ranked fifth by Rivals and sixth by Scout.
Turn the page to check out the final grades by position for the 22 players—seven of whom have fathers with NFL experience—who will be playing football on The Farm starting this fall.
Begin Slideshow

»
Stanford recruited only one RB. But that one was Barry J. Sanders, the 4-star son of the 1988 Heisman Trophy winner and NFL Hall of Famer, Barry Sanders.
Barry J. Sanders was ranked as the second-best RB prospect nationally by PrepStar and was a consensus top-10 RB pick by all of the major scouting services. He is fast and elusive with tackle-breaking power and great vision and balance.
At Stanford, he will join a loaded backfield with three returning tailbacks led by Stepfan Taylor, who had back-to-back 1,000-yard rushing seasons in 2010 and 2011, and two returning fullbacks. The power-running game that has been a hallmark of the Cardinal offense will only get better with Sanders' arrival.
Grade: A
During the Harbaugh-Shaw era, Stanford's offensive line has been the cornerstone of the power-running attack that has overwhelmed defenses from the Pac-12 and Notre Dame, as well as Va Tech and OSU, in BCS bowls.
All-Americans David DeCastro and Jonathan Martin are both moving up to the NFL, but Stanford reloaded, and then some.
The Cardinal's amazing 2012 OL recruiting haul is the best in school history and the best in the nation, and is being hailed by some as the best ever since the advent of the recruiting services in 2001.
On NSD, Stanford scored a pair of 5-star OLs, as Andrus Peat from Arizona and Californian Kyle Murphy both announced their commitments to Stanford. Peat was rated as the top overall recruit in the nation by The Sporting News, and Murphy was ranked as the third-best OT by Rivals.
A few days earlier, fellow 5-star OL Joshua Garnett from Washington state, rated the second-best OG nationally by Rivals, had committed to Stanford.
The 5-star trio joins another threesome of 4-star OLs. Graham Shuler from Tennessee was rated the fourth-best center nationally by Scout. Brandon Fanaika of Utah was the ninth-ranked OG by Rivals. Nick Davidson from Minnesota was ranked 23rd among OTs.
And Johnny Caspers from Illinois, rated by Scout as a top-50 OG, may play with as much or more ferocity than any of his classmates.
The sound you hear is Pac-12 defensive coordinators gnashing their teeth and tearing their hair out at the specter of having to deal with these OLs in the years to come
Grade: A+
With senior WRs Chris Owusu and Griff Whalen graduating, Stanford's 2012 recruiting haul included four high school stars who will join freshman sensation Ty Montgomery and others in the receivers corps.
The group is led by Kodi Whitfield of Loyola HS in Los Angeles. The son of Bob Whitfield, who played OT at Stanford and in the NFL, Kodi was a PrepStar All-American and was ranked 17th nationally by that service. He has shown a great burst and tackle-breaking ability.
Whitfield will be joined by three other promising wideouts: Texans Dontonio Jordan—whose versatility (WR, RB, KR), athleticism and spirit are reminiscent of Stanford star Richard Sherman, now with the Seahawks—and Conner Crane, a rangy 6'4" strider who averaged over 23 yards per catch in high school and bears some resemblance to Cardinal and former Denver Bronco star Ed McCaffrey.
There is also Michael Rector from Washington state, who averaged nearly 17 yards per catch over his high school career and ran sprints and long jumped in track and field.
Stanford's coaches have shown an uncanny ability to mold star WRs out of former walk-ons Griff Whalen and Ryan Whalen (no relation), now with the Cincinnati Bengals. Let's see how they do with this talented group.
Grade: B+
Stanford's rush defense was one of CFB's best in 2011, allowing under 90 yards per game, good for third best nationally.
When stalwart NT Matthew Masifilo (2.5 sacks, 34 tackles) graduates, the 2012 D-Line could be even better, as the Cardinal landed five top DL recruits, four of whom were rated 4-star prospects by at least one recruiting service.
Rivals rated the Stanford DL recruits as the fourth-best group in the country.
They are led by 5-star DE Aziz Shittu, who, along with OLs Peat and Murphy, was an NSD commit. Ranked as the third-best DE and 27th-overall recruit by Rivals, Shittu is fast, powerful and explosive with formidable pass-rush and tackling skills.
Shittu is joined by a pair of 6'6" athletic DLs who also played high school basketball, 4-star DT Jordan Watkins from Georgia and Ikenna Nwafor from Texas.
Another 4-star DE and high school hoopster is Luke Kaumatule from President Obama's alma mater, Punahou School in Honolulu. At a towering 6'8", Kaumatule runs a 5-flat 40 and has a 30-inch vertical leap.
Finally, strongman Nate Lohn from Missouri, a high school wrestler, will bring his relentless motor and power to the Cardinal DL.
Grade: A
Stanford's linebacking corps overachieved in 2011 and could outperform again in 2012 with the arrival of two top recruits.
After the loss of star ILB Shayne Skov to a season-ending ACL injury in September 2011, the Cardinal LBs regrouped and performed admirably, nailing opposing QBs for nearly 30 sacks.
Skov was more than adequately replaced by Jarek Lancaster and A.J. Tarpley. His comeback status for 2012 remains uncertain after his recent arrest on DUI charges.
Not to worry. While the Cardinal recruited only a pair of LBs, Noor Davis and Blake Martinez show great promise. Davis, a 4-star OLB recruit from Florida, was rated among the best OLBs nationally and was pursued by virtually the entire SEC. A ferocious pass rusher off the edge, Davis also adeptly drops back into coverage.
Martinez, an ILB from Arizona, can also rush the passer, stop the run and has a natural knack for making plays, totaling almost 250 tackles in two high school seasons. He also played TE and RB, basketball and volleyball.
Grade: B+
The Cardinal's secondary suffered a series of injuries in 2011, as three starters and five of the top six players were sidelined at one time or another. Without good health and continuity, the DBs surrendered over 250 yards per game and intercepted only six passes.
Help is on the way. A trio of 2012 recruits are led by 4-star Virginian Alex Carter, one of the nation's best high school DBs and rated as a top-5 DB prospect by Rivals. Blessed with size, 4.4 speed and a 35-inch vertical leap, Carter could make an immediate impact on The Farm.
Carter will be joined by uber-athlete Zach Hoffpauir, a last-minute commit from Arizona who switched from Cal to Stanford. Hoffpauir was a two-way football starter and also ran track and played basketball and baseball. He's physical and instinctual.
S Drew Madhu from Tampa had over 260 career tackles, and at 6'1" and nearly 200 lbs., will make his presence felt on Pac-12 WRs.
Grade: A-