Stanford Cardinal Football 2011: 5 Players Who Stepped It Up This Season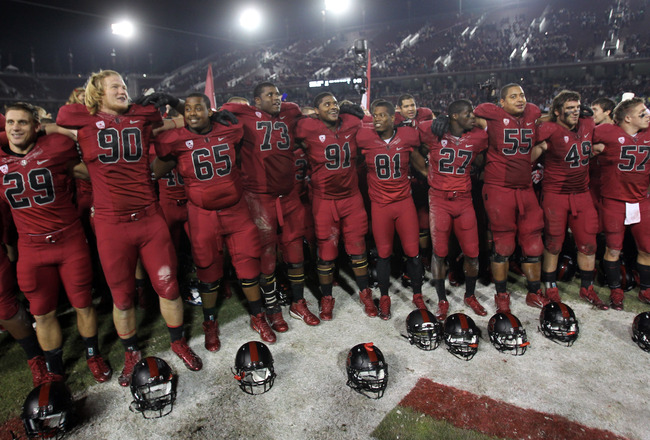 Ezra Shaw/Getty Images
Stanford is headed to the Fiesta Bowl on January 2nd against Oklahoma State.
The Cardinal finished fourth in the final BCS rankings, with an 11-1 record. Meantime, Andrew Luck has been in New York for the Heisman Trophy ceremony, and his teammates are studying for final exams. Finals are no small chore at Stanford, whose undergrads are among the nation's brainiest.
Coach David Shaw, himself a former Cardinal wide receiver, and his staff are preparing for the Cowboys in the Fiesta Bowl.
Amidst all this activity, let's take a look at five Cardinal players who really stepped up during the 11-1 regular season.
Griff Whalen, WR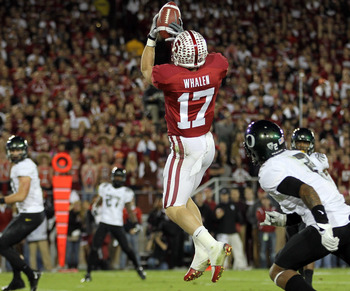 Whalen caught 2 TDs vs. Oregon
Ezra Shaw/Getty Images
Until this fall, senior wideout Griff Whalen's biggest claim to sports fame was his status as grand-nephew of MLB Hall of Fame pitcher Tom Seaver.
Whalen, perhaps generously listed at 6-foot-1, 185 pounds, walked onto the football team at Stanford. He appeared in one game as a freshman. As a sophomore, he caught seven balls for 60 yards. As a junior, he caught 17 passes for 249 yards and one touchdown.
Then, in 2011, he came alive, leading the Cardinal with 49 receptions for 664 yards (13.6 yards per catch) and four touchdowns, surpassing his previous three seasons' combined totals.
Whalen was especially clutch when it counted, with seven catches—six for first downs—and 102 yards in Stanford's biggest win of the season, the 56-48 triple-overtime thriller at USC.
He was then the Cardinal's brightest star in an otherwise tough 53-30 loss to Oregon, hauling in a season-high nine receptions for 107 yards and two touchdowns. His performance was critical to Stanford's overall success, as the other starting wide receiver, Chris Owusu, was slowed in September by leg ailments and missed most of the final four games with concussions.
Whalen, majoring in product design, resembles Wes Welker. He finds space, goes over the middle, stays low, gets open and rarely drops an Andrew Luck pass.
With Owusu's Fiesta Bowl status uncertain, Stanford will again need Whalen to shine.
Corey Gatewood, CB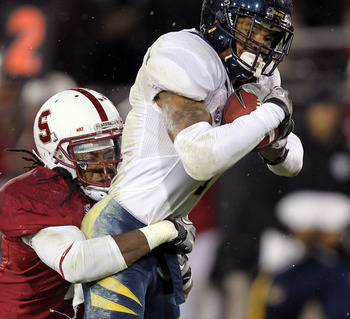 Ezra Shaw/Getty Images
Corey Gatewood is a fifth-year senior cornerback. At least, that is where he played during Stanford's gauntlet of November games against Oregon, Cal and Notre Dame.
Until then, the 5-foot-11, 182-pound human biology major had been listed as a backup wide receiver. He was pressed into service after the Cardinal secondary was decimated by injuries to three of the four starters.
Gatewood came to The Farm as a defensive back but saw limited action during the Jim Harbaugh era. He had four tackles as a freshman in 2007, appeared in only one game as a sophomore in 2008 (which allowed him a fifth year of eligibility) and started six games as a junior.
In 2010, Gatewood was dropped from the starting lineup, made one tackle in spot duty in nine games, and ended the year as a reserve wideout.
Coach Shaw had Gatewood on the receivers depth chart for 2011. Gatewood made one reception all season. As Stanford headed into November, it seemed that Gatewood was destined to mostly watch from the sidelines, as frosh wide receiver Ty Montgomery worked himself into the rotation.
Then the injuries began to mount in the secondary, and Gatewood answered the bell to return to his old cornerback position.
Fast (10.6 for the 100 m in high school) and athletic (22-foot long jumper in high school), he appeared against Oregon, and a week later played a vital role in the 31-28 win over archrival Cal in the Big Game, helping shut down the Bears' star receiver Keenan Allen in the second half, with three tackles and a forced fumble.
In the season finale win over Notre Dame, Gatewood made a key second-quarter interception that led to a Stanford touchdown. He was often in single coverage on Irish wideout Michael Floyd, who had only three first-half catches as Stanford built a 21-0 lead.
With one exception, the Cardinal secondary should be back at full strength in the Fiesta Bowl against Oklahoma State, which features the nation's best wide receiver in Justin Blackmon. Don't be surprised to see Gatewood's number 2 jersey across the line of scrimmage against Blackmon.
Jarek Lancaster, LB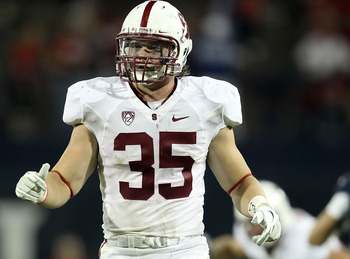 Lancaster: Stanford's leading tackler in 2011
Christian Petersen/Getty Images
Linebacker Shayne Skov was lost for the season in September with an ACL injury. The dynamic and disruptive Skov had a great 2010 season, capped by a 12-tackle, three-sack performance in Stanford's 40-12 win over VaTech in the Orange Bowl.
One of Skov's replacements has been redshirt sophomore linebacker Jarek Lancaster, who's listed at 6-foot-1, 238 pounds. Lancaster arrived at Stanford in 2009 as a 205-pound freshman safety. Prior to 2011, his college resume consisted of 15 tackles during the 2010 season.
With Skov down, all Lancaster did was lead the Cardinal with 63 tackles, including 37 solos, seven for losses, along with 3.5 sacks and a recovered fumble for good measure.
He was at his best in Stanford's biggest win of the season, the 56-48 triple-OT win at USC, where he led the Cardinal with 10 tackles, including one on USC's last drive in regulation and two more in the overtime periods.
A former high school QB and triple jumper, Lancaster is majoring in psychology at Stanford. He and the other linebackers will have their biggest test yet in the Fiesta Bowl against the Cowboys' high octane offense.
A.J. Tarpley, LB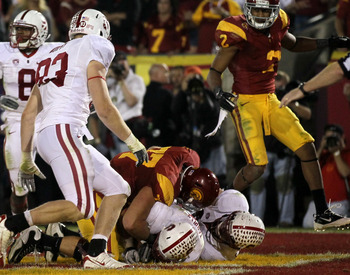 Tarpley's fumble recovery vs. USC
Stephen Dunn/Getty Images
Redshirt freshman linebacker A.J. Tarpley had already made his presence felt on special teams when Shayne Skov suffered a season-ending knee injury at Arizona.
Tarpley, 6-foot-2, 235 pounds, did not see the field in 2010. He's had a breakout 2011, seeing significant action at linebacker along with Jarek Lancaster. Tarpley finished third on the team with 53 tackles, including 26 solos, four for loss, 1.5 sacks and an interception.
Like Lancaster, Tarpley played his best in the victory over USC on October 29. He had nine tackles and, more importantly, the game-clinching recovery of Curtis McNeal's end zone fumble in the third and final overtime period.
Tarpley is aggressive and seemingly always around the ball. He should have another excellent game in the Fiesta Bowl.
Andrew Luck, QB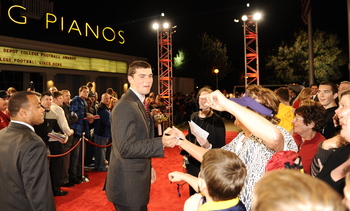 Andrew Luck: 2011 winner of Johnny Unitas, Walter Camp and Maxwell awards
Handout/Getty Images
It should come as no surprise to see Andrew Luck's name on this list. Even with the impossibly high expectations placed on him, Luck did not disappoint.
We've marveled at his talents, highlighted some of his great performances and touted his Heisman hopes.
He will play his last game for Stanford in the Fiesta Bowl. Expect nothing less than a spectacular performance from a truly great college quarterback.
Keep Reading

Stanford Football: Like this team?