Stanford Football: 5 Players Under Spring Practice Spotlight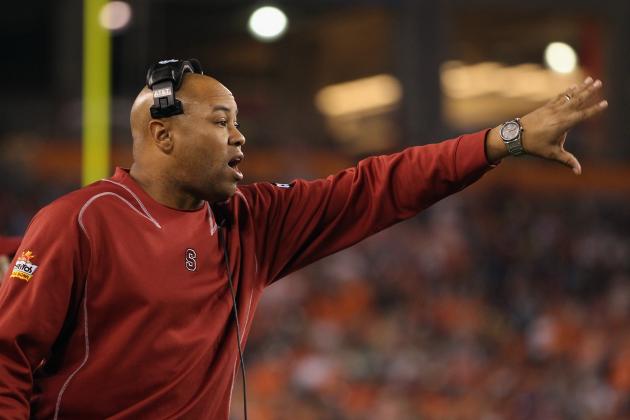 Christian Petersen/Getty Images
Coach Shaw's Second Spring
There are five players who will be under close observation during Stanford football's second spring practice under head coach David Shaw, which started on Feb. 27.
For the first time since 2008, the Cardinal will not have Andrew Luck under center, or David DeCastro and Jonathan Martin on the OL, or Coby Fleener and Chris Owusu at the receiver positions.
Stanford will be welcoming perhaps its best ever class of incoming freshmen in August.
Meanwhile for the spring practice sessions, there are some intriguing questions on an offensive unit that ranked as one of CFB's best in 2011, averaging almost 490 yards and more than 43 points per game. Let's see who may emerge as standouts from spring ball.
Begin Slideshow

»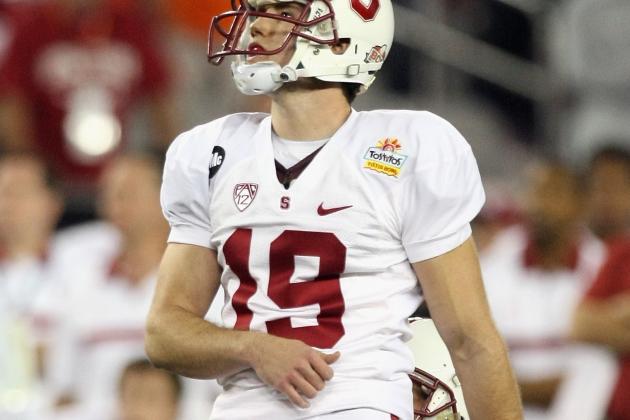 Donald Miralle/Getty Images

Everyone knows what happened to PK Jordan Williamson in the Fiesta Bowl.
Williamson, who was second-team All-Pac-12, must re-establish himself this spring as a lights-out PK. He certainly has the talent, as evidenced by his performance in Stanford's first seven games last September and October when he was 11-of-12 on FGs.
Williamson was not the same after injuring himself in pregame warmups at USC on Oct. 29. He missed the USC game and two more after that, and once he returned to action in late November he was just 2-of-7 on field goal attempts, including the disastrous 1-of-4 night at the Fiesta Bowl.
While the Cardinal enjoyed a huge average margin of victory in 2011, their games stand to be much closer in 2012. That's where a reliably accurate PK will be essential.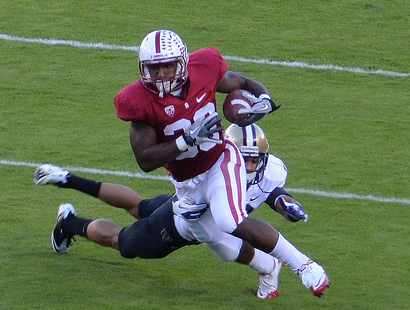 Ricky Seale (Kris Robinson photo)
Stanford's powerhouse backfield suddenly looks a little less loaded.
Fifth-year senior Jeremy Stewart is graduating and junior Tyler Gaffney (453 rushing yards and eight total touchdowns in 2011) is busy playing the outfield this spring for Stanford's top-ranked baseball team.
Worse, according to the San Francisco Chronicle, sophomore Anthony Wilkerson (288 rushing yards and three touchdowns in 2011) will miss the entire spring due to an unspecified leg injury.
While 4-star stud recruit Barry J. Sanders will join the team this fall, for now there are just two tailbacks participating in spring ball—starter Stepfan Taylor and redshirt freshman Ricky Seale—who have toted the pigskin in games that count.
Taylor you know about—he had back-to-back 1,000-yard seasons in 2010 and 2011, scored 10 touchdowns in 2011 and then gashed Oklahoma State for 177 yards and two TDs in the Fiesta Bowl. Taylor should be one of the nation's top RBs in 2012.
As for Seale, he saw action in every game last season, including the Fiesta Bowl, but had only six carries. As a 4-star recruit in high school in Escondido, Calif., Seale was rated the 28th best RB nationally by Scout.
Seale was rated even higher as a CB (23rd nationally by Rivals) and it is not inconceivable he could end up playing in the Cardinal defensive secondary, which loses three starters to graduation.
In which case, the spring will be important for a pair of 5'9" freshman 4-star RBs, Remound Wright from Indiana and Kelsey Young from California. Both were highly touted recruits and both were redshirted last fall.
Ezra Shaw/Getty Images
JRP
The Cardinal lose WRs Chris Owusu and Griff Whalen to graduation. The San Francisco Chronicle has reported that freshman sensation Ty Montgomery will miss all of the spring with an unspecified hand injury.
Who is going to catch the ball at wideout?
Maybe junior WR Jamal-Rashad Patterson.
JRP, as he is known on The Farm, is a legend still waiting to happen.
In high school, he was a 4-star WR in Georgia, rated as high as the eighth best WR nationally in 2008. His high school stats were monstrous—41 touchdown catches in 144 receptions for a staggering 3,100 yards.
Blessed with the speed and agility to run the 110m high hurdles for Stanford's track team, Patterson has NFL size at 6'3"and 208 lbs.
However, despite his obvious physical gifts and incredible production in high school, JRP has caught only nine passes in his three-year college career, including just three receptions in 2011.
If he is ever going to live up to his enormous potential, this spring would be a good time to start.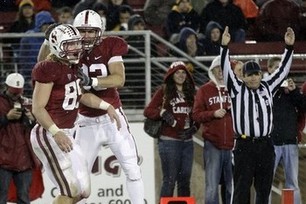 The alliteratively named Davis Dudchock will be the likely replacement for TE Coby Fleener. Those are big shoes to fill, as Fleener had a spectacular Stanford career and may be the first TE chosen in the NFL draft.
Dudchock certainly has the pedigree. At Mountain High School in Birmingham, Ala., he was rated among the top 25 high school TEs in 2009 by Rivals, Scout and ESPNU. He caught 59 passes for an impressive 863 yards in his junior and senior years of high school.
At 6'4", 237 lbs, with 4.67 speed in the 40 and a 30-inch vertical leap, he has Fleener-like size, speed and athleticism.
What he doesn't have yet is a single reception at Stanford.
He'll get his chance beginning in September, assuming that he wins the third TE spot this spring, alongside returning starters Zach Ertz and Levine Toilolo.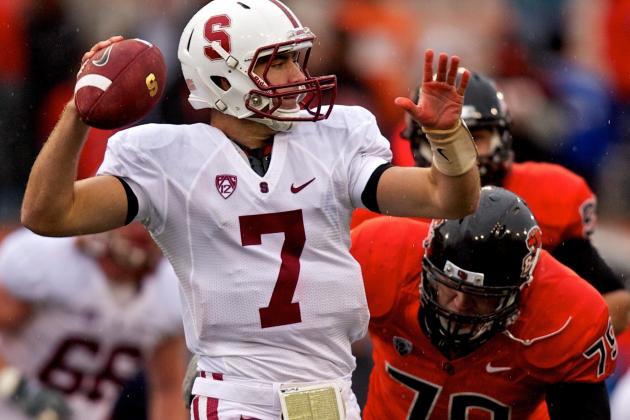 Craig Mitchelldyer/Getty Images
All Eyes on Brett
I know what you've been thinking. Where in heck is the slide about the QB?
Fear not, here it is.
The Sheriff, as QB Brett Nottingham is known in some Stanford circles, would seem to be the presumptive heir to the throne vacated by Andrew Luck.
On the plus side, Nottingham is 6'4", 215 lbs. He played nearly 50 snaps in 2011 and threw a long touchdown pass to Coby Fleener.
Nottingham also has demonstrated chemistry with his high school teammate, Stanford TE Zach Ertz. Nottingham threw 12 touchdown passes to Ertz during their 2008 season at Monte Vista HS in California.
On the minus side, Nottingham attempted only eight passes last season. He played exclusively in games where Stanford had a huge lead. He did not see any action against elite opponents such as USC, Oregon or Notre Dame.
And, in Coach Shaw's official statement as spring ball got underway, he said, "We want to give all five guys a shot this spring," referring to Nottingham, fellow upperclassmen Josh Nunes and Robbie Picazo and freshmen Evan Crower and Kevin Hogan.
Sounds like it's not a done deal yet for Nottingham. Time for him to step up and claim the starting role.