New York Jets
NY Jets 2012 Offseason Report Card: The Good, the Bad and the Tebow

Rick Stewart/Getty Images
March 23, 2012
The free agency market had been officially open for eight full days, and all was still quiet on the Florham Park front. New York Jets fans were growing impatient, as GM Mike Tannenbaum, known for his blockbuster moves during the Rex Ryan era, had not made a splash yet.

And then there was Tebow.

On Wednesday afternoon, the Jets finally made a move for the former Broncos QB. The trade was nullified, and then later accepted (but the contract needs to be rewritten and re-signed on Friday). Tannenbaum finally got his man.

But looking at the Jets biggest positional needs at the present time, was Tebow the best option? Or could the money have been better spent elsewhere?

This move couldn't have come at a worse time, as the Jets front office has been rattling off numerous short-term, one-year contracts in recent weeks. This is a recipe for disaster. Championship teams build through the draft—not free agency. Just look at the Packers and Giants and the success those franchises have had in the last five years because of great management and smart decisions from the top to bottom. And the Jets seem to be doing the opposite.

Let's break down the team's biggest moves since January, as roster improvements in the near future are vital. The team has a new identity on offense and new coordinator, and is trying to move on from a season that many fans would like to erase from memory.
So how has Gang Green fared thus far? Let's take a look.

The Good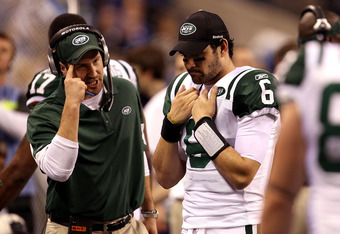 Jonathan Daniel/Getty Images
Former Offensive Coordinator Brian Schottenheimer Fired (Grade: A-)
Reasoning: Offense under 'Schottey' was ultra-conservative and needed a new look, new identity. This move was long overdue.  

Jets fans rejoiced as their prayers were answered with the firing of former OC Brian Schottenheimer—now the Rams offensive coordinator. The conservative, predictable Jets offense some referred to as "Schottey ball" was now gone.

In six years with the Jets, the team ranked 24th, 26th, 16th (Favre), 20th, 12th and 26th in yards per game. Finally, the commitment to mediocrity and lack of creativity on offense was put to rest.

The only reason I gave this move an "A-", is because the Jets waited one season too long to execute it.
  
DT Sione Pouha Re-signed (Grade: B+)

Reasoning: Pouha is one of the most underrated interior defensive linemen in the NFL, and is now one of the longest tenured Jets. The Jets got great value here to lock up one of their most loyal players, a locker room leader.

Look at that—the Jets front office showed some loyalty! The former third-round pick in the 2005 draft is a great fit in the team's 3-4 base and knows Mike Pettine's system better than anyone in the Jets defensive front.

Pouha gets off blocks well and is a great run-stuffer who anchors the interior of the Jets defensive line. He's not a vocal leader, but the team feeds on his positive energy and it's great to see the Jets show some loyalty after cutting some of their locker room veterans over the past two seasons.

The organization gave him a three-year deal worth $15 million, rewarding the loyal player who recently stated he wanted to be a "Jet for life."
The Bad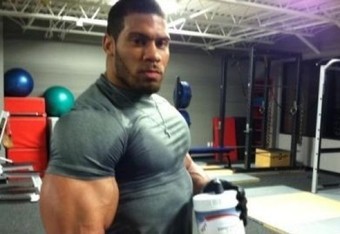 LaRon Landry, ladies and gentlemen. Can you see this guy covering Patriots TEs in space?

SS LaRon Landry Signed (Grade: C-)
Reasoning: The Jets needed speed, youth on defense, and instead got a high-risk, banged-up player who, at times, struggles wrapping up tackles and in coverage. He's a "hitter" more than anything, and lacks ball skills.

If there's one area the Jets have struggled in most over the last two seasons, it's covering tight ends. So what did they do? They chose to acquire a high-risk, poor tackler coming off a serious surgery on his Achilles, who is probably better off  as a SLB than his current position. He recently tweeted out the image above, so to as to show off his freakish arms giant frame.

And his instincts in coverage are poor, which is why he struggles at times. Remember when Eagles WR DeSean Jackson made him his personal whipping boy on the first play from scrimmage on Monday Night Football?

Landry is effective and at his best when he can sit in the box and stuff the run (and when he's healthy). But the Jets needed more speed at the back end, and they're not getting it with Landry. There were better options available (other than Reggie Nelson who the team did submit an offer to).

Tony Sparano Hired As Offensive Coordinator (Grade: C)
Reasoning: Sparano's track record is weak and his system isn't much of a deviation from Schottenheimer's.

The Jets made positive ground via addition by subtraction when they fired Schottenheimer, but followed it up with a hire that wasn't much of an improvement. Sparano's offense in Miami lacked fluidity, and the team went from being run-heavy and failing to score points in the red zone, to looking to QB Matt Moore to move the football through the air, midway through last season.

Dolphins former QB Chad Henne never progressed when Sparano was coaching him up—in fact, he regressed a bit. Yet the Jets are somehow confident he can improve the play of Mark Sanchez and turn him into the franchise QB they drafted him to be.

I like that the Jets are returning to a run-heavy game plan on offense, but I don't think Sparano should be the one calling the shots, as I stated when the Jets first announced the move. Really, there's a lot of bark, but little bite (results) from the former Dolphins OC.

Sparano fans will argue that he's going to simplify the offense, run the football (What does the team plan to do at RB in the future?),  and take the pressure off Mark Sanchez by keeping his reads simple. But I'm not sure this current Jets team is built for it, though. The 2009 and 2010 teams were, but am not sure about this one. Let's reassess one year from now and look at Gang Green's production at that point in time, but the move doesn't look like a smart one at first glance.
QB Drew Stanton Signed ... And Then Traded To Colts  (Grade: D)

Reasoning: The Jets signed him to be the team's backup QB, and traded him just seven days later! 

The Jets screwed Stanton, big-time. The team acquired him and promised he would be the backup—much to his delight after being the No. 3 in Detroit—but that went out the door just one week later with the Tebow trade.

The team had finally acquired the backup QB they hadn't had since Chad Pennington was (stupidly) released to make room for Brett Favre.  I was happy with Stanton as the backup QB for the team this year, to compete with Sanchez if things got bad but as to not put pressure on him. Obviously, the organization felt otherwise and pursued Tebow.
On cue, Stanton asked for a trade on Thursday afternoon, and received one today.  He was dealt, along with the Jets' seventh round draft pick. In exchange, Gang Green received the Colts' sixth round pick.
Just another day at the Florham Park circus.
The Tebow (Grade: D+)

Reasoning: This move was a last-ditch effort for the Jets to make their annual 'splash' in free agency, but the risks outweigh the rewards and this move sends a terrible message to the Jets locker room (and especially Sanchez). 
Sanchez and Tebow simply will not be able coexist in the long-term, and Tebow will, likely, become more of a distraction than a leader.
Since when was quarterback one of the Jets biggest positional needs? They already had three of them. The front office must feel otherwise, as they gave up two draft picks and burned $1.5 million of cap space for 2012 to land Tebow.

Sanchez deserved a fresh start and one full season under a new OC as the Jets franchise QB. The team recently gave him a contact extension, and should protect their investment top-five draft choice that they traded up to acquire.

But he's not going to get one.
With the pressure on him every game, Sanchez is going to be walking on eggshells and scrutinized under a microscope all season. Don't be surprised if fans start chanting "Te-bow" after every interception.

The Jets had a few glaring weaknesses entering free agency, yet haven't addressed any of them. They were only $7.1 million under the salary cap to begin with, but now must burn an additional $1.5 million this season as a compensatory payment to Denver to acquire Tebow.

And we can't overlook the possible effect on the Jets locker room. CB Antonio Cromartie, for one, is not on board with the move! How will the other players with short-term deals react to the Jets comittiment to Tebow for the future?
It's not often that a 'backup' QB comes in to a new team and instantly receives full attention and catered treatment from the organization as well as the media! In fact, it's never happened in the NFL, not to this extent.

This move is purely "boom or bust," and could turn into the worst move Tannenbaum has made in his tenure as Jets GM—yes, even worse than landing Favre. In a year the Jets really needed a new identity (after firing Schottenheimer) and a strong offseason, they have really taken a poor approach to free agency thus far.

My issue here is that rather than filling one of their three glaring weaknesses—RT, DE, S—they put their eggs into a quarterback's basket, when they already had three capable ones.
Speculating, Tebow may receive somewhere around eight to ten snaps per game—and will be used in the Wildcat formation (which the Jets operated out of only 12 times last season), on third down and in the red zone. At least that is the plan at this current time, according to Tebow during a conference call with reporters.
While talking heads such as Skip Bayless will play the "All He Does Is Win" card—as he was 7-4 as Broncos starting QB—I'll present film from the 2011-12 Divisional Round matchup in Foxborough, when the warm-weather QB completed only 9 of 26 passes en route to a blowout loss.

The Jets endured a locker room fiasco which kept them out of the playoffs for the first time in the Ryan era last season, and are now bringing in a big-name media mogul to become the newest member of the circus?
In my opinion, the Tebow trade was money-driven (marketing), and a poor attempt to upstage the Giants after their recent Super Bowl victory. The team, while under Ryan still hasn't learned to keep quiet and come in under the radar.
What does this mean for the team's future?

There's no reason to hit the panic button just yet, Jets fans. It's still just the first wave of free agency and there are roughly five months until the 2012-13 season kicks off. But let's face it: The Jets and Tannenbaum haven't fared well in the two previous drafts, and did better in free agency. Could this year be different?

The Jets must have a good draft this year and bring in more youth on the defensive side of the ball. Unfortunately, they've already given up two picks off the bat to acquire Tebow.

The ball's in the front office's court now. Can they wright this ship and get it headed back in the right direction? Or is this simply the re-emergence of the 'Same Old Jets'?

Only time will tell. And the clock is ticking.
Like the new article format? Send us feedback!