Tony Sparano Hired: Why Jets Made a Huge Mistake in Picking Up Dolphins' Trash
January 11, 2012
Nick Laham/Getty Images
New York Jets fans jumped for joy when they heard the team was parting ways with former OC Brian Schottenheimer. The "Fire Schotty" movement on the Web had finally served its purpose!
The team that ranked No. 25 in total offense this season was now on its way to greener pastures by taking on a new identity.
So who would the team's new offensive mastermind be? Would it be Hue Jackson? Would it be Todd Haley?
It would be neither.
Just five minutes later, fans' highs quickly came crashing down, as reports from NYDN stated the team would likely announce the hiring of (Dolphins castoff) Tony Sparano on Wednesday to fill the void.
This potential hiring would mark the Jets waving goodbye to an offensive coordinator with little experience—for Sparano and his losing resume, who has never won a playoff game, as a coach or coordinator.
That doesn't make much sense.
Schottenheimer was run out of New York by fans who detested his conservative attitude. So what did the Jets do? They hired the only coordinator on the market who was more conservative!
So, buckle up and ready for the return to a run-heavy gameplan: Miami ranked No. 6 in rushes per game (29.3) in 2011.
Sparano is known for his strategy to play it safe and settle for field goals. The Dolphins struggled immensely under their former head coach. The team ranked 21st, 15th, 30th and 20th in total points scored during his four-year tenure.
A team that struggles to score points? This is something Jets fans know about all too well.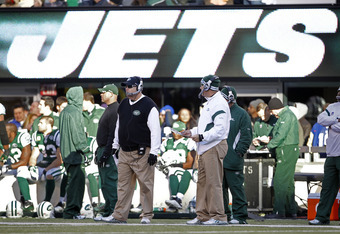 Rich Schultz/Getty Images
Let's read the tea leaves and look at why hiring Sparano would be a huge mistake:
This (alleged) hiring dictates that Jets don't feel confident that Sanchez is the QB to lead them to victory with his arm. They are simply attempting to limit his involvement in the offense by reverting back to a run-heavy gameplan.
But is a game-manager going to lead this team to a Super Bowl? Sanchez finished with 26 touchdowns to 22 turnovers in 2011— which marked another inefficient season for the Jets QB, who finished with a QB rating of only 78.2.
And do they have the tools for a successful run game—to carry the load and move the chains consistently?
Here's something you may not know: Gang Green ranked 30th in rushing yards per carry (3.8) in 2011. A dramatic downgrade from when they used to 'ground and pound' teams to death in '09 and '10 en route to back-to-back AFC championships.
RB Shonn Greene has yet to show he can be consistent as a feature back and lead a run-first offense. And unless Joe McKnight can step up and fill the void, the Jets still have no change-of-pace, speedy scatback to keep defenses honest since trading RB Leon Washington to Seattle two seasons ago.
And the Jets have some serious offensive line issues that aren't going to be fixed overnight.
Gang Green struggled l this season with poor run-blocking from RT Wayne Hunter (unlikely to return in 2012), LG Matt Slauson and TE Matthew Mulligan. And veteran RG Brandon Moore (32 in June), after a great career, is showing signs of wear-and-tear and may not return next season. 2011 was a year Moore would probably like to forget.
But New York does have weapons on offense who are big targets in the passing game.
WR Santonio Holmes, when he is focused and motivated, is always capable of coming up big in the clutch moments of games. And TE Dustin Keller's athleticism is a huge matchup problem for opposing defenses. WR Plaxico Burress is a great red-zone target, and WR Jeremy Kerley looks as if he will be an effective receiver in the slot, effectively replacing Jerricho Cotchery.
But the Jets receivers are known more for their ability to run routes and catch passes—rather than to line up and block for a team that favors run-heavy schemes. The roster is currently comprised of players that are best utilized in the passing game.
And now they're bringing in an offensive coordinator whose schemes are based around pounding the rock, hmm.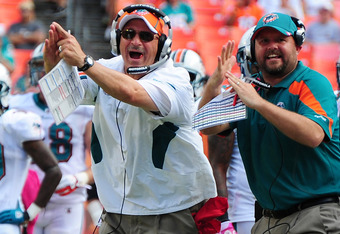 Scott Cunningham/Getty Images
Conclusion:
The Jets elected to part ways with Schotty to appease the fan base and apparently usher in a new style on offense, yet they pursued a coordinator with similar schemes and tendencies.
And this offensive unit just isn't built for run-heavy, conservative playcalling.

This move also (likely) cements Mark Sanchez as the team's QB in 2012, but is Sparano the right candidate to coach him up? He certainly did wonders for Chad Henne, who is no longer the team's starting QB, and may never be for any team in the future, for that matter.
The Jets had the opportunity to bring in a coordinator with a successful track record. If they do elect to go with Sparano, then fans should expect mediocrity and more of the same struggles the team experienced in the Schotty regime.
Although historically, the Jets have never had an offensive guru calling the plays on its coaching staff, so maybe Sparano is just another notch on the bedpost.