Derrick Rose: The Bulls' Recent Success Without Him Proves He Is Overrated
March 22, 2012
Jonathan Daniel/Getty Images
It's tough being a star on a team that at one point employed the greatest player of all time. No matter how many awards you receive or how many games you win, it will never be enough to discard the large shadow cast by the former great.
This is the situation Bulls superstar point guard Derrick Rose finds himself in today. Nevertheless, Rose has begun to make others take notice to his talents by being named league MVP last year in just his third NBA season.
Rose also led the Bulls to the league's best record last season and took the team to the Eastern Conference finals. To many, the success of the team was directly attributed to Rose's play, as he was the team's only elite offensive weapon.
I believe the recent success of the Bulls and his winning last season's MVP has made Derrick Rose into one of the league's most overrated players.
If you ask most NBA fans, they would tell you that Derrick Rose is a top five NBA player. The conventional wisdom is that he is among the league's elite and is as talented and productive as almost any player.
In his MVP season last year, Rose did not finish in the top five in Player Efficiency rating, a statistic similar to quarterback rating that attempts to boil down a player's contributions into one number. Rose finished ninth in the statistic behind fellow point guards Chris Paul and Russell Westbrook.
Rose is known mostly for his scoring ability. Due in large part to his strength and athleticism, he is able to explode to the basket, and convert difficult shots in the paint with ease.
Last season, Rose led all point guards averaging 25 points per game. However, he needed a lot of shots to get there as he averaged 19.7 shots per game which was behind only Kobe Bryant and Monta Ellis, and tied with Kevin Durant. Rose was not an especially efficient scorer, shooting just 44.5 percent from the field, good for 82nd in the NBA.
It is evident that Rose is the Bulls best scorer by a large margin. Still, when your point guard is averaging the third most shots in the NBA, it's not a good sign for your team. An ideal point guard is first and foremost a distributer who focuses on setting up his teammate and getting them easy shots.
In my opinion there is not a huge difference between Rose and Thunder point guard Russell Westbrook. Last season, Westbrook averaged 8.2 assists per game compared to Rose's 7.7. Rose edged Westbrook in points by about four per game, but they shot nearly identical percentages from the field.
Both Rose and Westbrook are scoring point guards, who are ridiculously athletic and explosive, but also aren't especially efficient from the field. Rose is probably a little better at finishing around the rim, and Westbrook is a better jump shooter.
You'd be hard pressed to find an NBA fan outside of Oklahoma City who says that Derrick Rose is not a far superior player than Russell Westbrook. When you look at the numbers and their style of play, I don't see a huge difference between the two.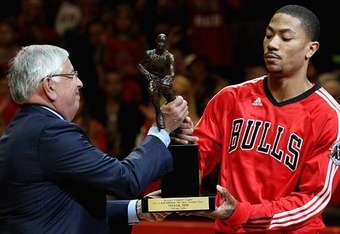 The success of the Bulls this season without Rose demonstrates that the team can perform at a high level without their superstar point guard, and further supports Rose being overrated. The Bulls are 10-4 this season without Rose, and have beat talented teams such as the Heat and the Magic without him.
The Bulls are really a team that relies on their defense to win them games. The Bulls defense ranks second in scoring defense as their opponents average just 88.6 points per game, and their opponents shoot 42.6 percent from the field ranking them fourth in the NBA.
The Bulls also rely a great deal on their rebounding both offensively and defensively, and lead the league in rebounds per game.
The perception that the Bulls can't win without Rose is just not true. They have a strong team defense which doesn't take a big hit when Rose is gone because he is not an especially great defender.
The coaching and defensive philosophy of Tom Thibodeau is just as important to the Bulls success as the play of Derrick Rose. Players like Joakim Noah, Luol Deng and Carlos Boozer are solid offensively, but thrive on the defensive end and through their rebounding ability.
Wasn't the belief that Rose was the major cause for the Bulls' success last season the only reason he was named MVP? He didn't lead the league in scoring or assists, and he put up far inferior numbers to players such as LeBron James and Dwight Howard. There is no other reason for him winning the award other than the fact that the Bulls had the league's best record and everyone attributed it to Rose. The fact that the Bulls are performing so well without their star this season has to diminish his value.
Derrick Rose is one of the NBA's most talented players. However, the recent success of the Chicago Bulls without Rose is evidence that the team can succeed without him and that he is slightly overrated.