Tebow Trade Is Just Another Power Grab by Jets in the Battle for New York
March 22, 2012

Doug Pensinger/Getty Images
A cold wind blew across my face. My throat was clogged with turkey leg as my numb hands struggled to maintain their fierce grip on my phone. 
I was making the two-mile hike back from the North Carolina vs. Virginia Tech football game on a cold Thursday night. The town of Blacksburg was filled with joy as Tech won the game handily—except for me. I was the most stressed-out, nervous person in the town, because my New York Jets were on the brink of getting Tebowed.
Still a good mile from my apartment, my phone flashed "Tim Tebow rush, 28 yards. TOUCHDOWN."
My heart sank, I fell to me knees in the middle of the sidewalk, threw my hat, and said nothing. There was nothing to say. My beloved Jets were defeated by the one man I have doubted over and over. 
Since then, I have been able to put the painful loss behind me, mostly because the Jets turned out to be a fatally flawed team anyway—beating the Broncos was not going to change anything. Everything I have written about the man has been completely objective, but I would be lying if I said I was rooting for the guy to do well. 
Today the Jets have turned around and have traded for the one player I dislike more than Tom Brady. Immediately, I received several texts and tweets asking how I feel about the trade. Honestly, I don't feel anything. I am numb. 
We have survived the Favre spectacle, Hard Knocks, the Revis holdout, Rex Ryan's foot fetish, his guarantees and the general hatred of every other fan base in the NFL. 
This has gone too far. 
Being the "Little Brother"
I grew up as the only Jet fan in my immediate family. I thrived being alone as a fan, going against the grain and still finding ways to be successful. Unfortunately, those moments of success were few and far between, until Rex came along. 
Rex was the first coach to fully embrace what it means to be a Jet. Yeah, we were the "other" team, but Rex didn't care, and Jet fans didn't care, because we were coming with everything we had, whether you were ready for it or not. 
They will never admit it, but the Giants were very uncomfortable during the Jets' 2009 and 2010 playoff runs. Had the Jets won a championship during that time, the bashful Rex Ryan and the Jets would have had a stranglehold on the city for how they go about doing their business in a unique way and making it work. 
Just ask Giants co-owner Steve Tisch whether or not the Jets were getting on the Giants' nerves,
"It was kind of like a mini Super Bowl and it was a very important game," Tisch told reporters "There was a lot more at stake than just a regular-season game against the Jets. New York City, pride, Jets fans, Giants fans, two different cultures, two different mythologies" 
Exactly—two different cultures battling in the biggest city in the world for football supremacy.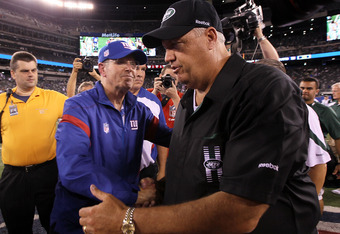 Jim McIsaac/Getty Images
Battle for New York Intensifies
If you take away the name on the back of the jersey, the trade seems unusual, but there is some value. The Jets get a former first-round pick quarterback with upside, someone who can play the Wildcat and a good leader in the locker room. For a fourth-round pick, you can do worse. 
But putting in the name "Tebow" creates a stench surrounding this trade that reeks of jealousy and greed. 
As much as the Jets hated to see the Patriots in the Super Bowl, watching the Giants win it was exponentially worse. 
As the Giants paraded through the streets of New York and the media gushed over their heroism and ability to defy the odds, the Jets had to sit and watch. They had a celebration in the same stadium they both "collaborated" to build. It's not like the Jets are an awful team—under Rex Ryan, the Jets have won 32 games in three years, including four road playoff games, and were a few plays away from a trip to a Super Bowl.
But "almost" winning a championship does not fly in New York. Winners are immortal, losers are scorned. Mediocrity is not tolerated. 
At first, it seemed like the Jets were approaching this offseason with common sense and patience. They did not overpay for big names. They signed receiver Chaz Schilens, quarterback Drew Stanton, and safety LaRon Landry. All of these signings are solid players with upside who will fill roster holes, which is a logical way to go about building a team.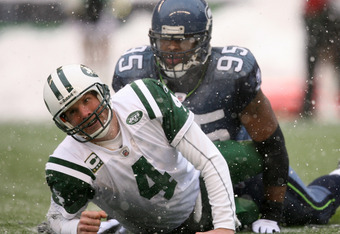 Otto Greule Jr/Getty Images
It seemed unnatural, but it was a breath of fresh air for a team that has been on the back pages for so long. 
But the Jets just could not help themselves. They watched while the Broncos made news by getting Peyton Manning. Even the Bills were getting buzz after landing Mario Williams. When Tebow went on the trading block, the instinctual organs of the Jets brass took over. 
Brett Favre. Santonio Holmes. Plaxico Burress. LaDainian Tomlinson. The Jets have some kind of fetish of seeing their name on the ESPN bottom line. This is not about ticket sales; the Jets sell out every home game. They are not going to sell more PSLs because of their backup quarterback. Tebow sells tickets and jerseys, but not $10,000 investments. 
If the Jets wanted a Brad Smith-esque Wildcat quarterback, there are ways to get one. College football is littered with guys who can run, but not really throw. They didn't have to get Tebow. 
But they did, and it was no mistake. Woody Johnson can't stand being an afterthought in the news. After watching Eli Manning and Jeremy Lin take over the city, Johnson had to let them know who really controls the witty headlines and back pages of the New York Post—the Jets.
The Jets have now succeeded in becoming a bigger story than their Super Bowl-winning counterparts. They have made "Linsanity" nothing but an afterthought. 
This is a move that was made by the owner, Woody Johnson. The Jets will tell you that they want to use him in Wildcat packages and love his intangibles, which may be true. But this move was, without a doubt, an attention grab by an owner that feeds off spring headlines.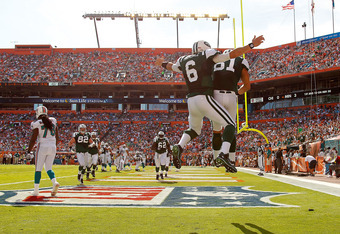 Mike Ehrmann/Getty Images
If there is one lesson the Jets need to learn, it is that these kinds of stories give you a short window to capitalize on before they blow up in your face. Just ask A.J Burnett, Carmelo Anthony, Amar'e Stoudemire, Tiki Barber and Chad Pennington about how long honeymoons last in this town.   
The Jets had better start to win early and often, or this Tebow trade will be exposed as nothing but a weak attempt to steal just a little bit of limelight away from the Giants, who earned their praise the hard way. 
Leadership Is Not a Part-Time Job
Presumably, Tebow will take the role of a Wildcat quarterback, only seeing the field a few snaps a game. From a football standpoint, this makes perfect sense. Tebow is good enough as a combined runner/thrower to be effective. 
We also know the Jets think Tebow can save their alleged locker room issues. Unless Tebow truly is a miracle worker, having a part-time player assume a leadership role never works. In some cases, established veterans like Hines Ward can be leaders without seeing the field all the time, but Tebow is a new face in a locker room that has grown weary of media attention. 
Bottom line, Tebow has an up-field battle in terms of winning over his teammates, who have seen and heard more scrutiny in the media than any other team. These guys were so sick and tired of getting torn apart on the back pages that Bart Scott "couldn't wait" to tell them how he really felt. 
The Jets should have learned that leadership is earned, not appointed. Rex Ryan tried to give out captaincy to select members on the team, which went over about as well as Rex on a Mexican-free diet. Holmes abused his captaincy to the point where he was kicked out of the huddle on the last series of the season.
I'm sure Tebow is as nice of a guy as they come. By all accounts, he caused no major problems in Denver with his religious views.
Sanchez Is the Key
If the Jets plan on making it out of this foxhole alive, they need to hope the quarterback they extended two weeks ago has the stones to rise above these distractions. 
I can see it now—the Jets go 3-0 on their first series of the year, and Tebow chants commence. For a quarterback that played with a turnstile at wide receiver that had the maturity of a seven-year-old, dealing with a backup quarterback that literally has a cult of followers that are committed to him on a religious level is something no New York athlete has ever had to deal with. Ever.
The good news is, Sanchez has been through the worst and back again. He practically went into hiding after the season ended, absorbing the hate and negativity thrown in his direction. 
If the Jets are intent on doing everything they can to make Sanchez successful as a Jet, they sure have a funny way of going about it. Not only are they giving him an enormous distraction that will breathe down his back every time he throws an incompletion, but I can promise you that no quarterback likes to be taken off the field. Sanchez is now in year four, and you just gave him a big contract extension—the time for the cute Wildcat stuff has got to go. 
However, if Sanchez can rise up amidst the ashes, it would truly be one of the great sports stories in New York history.
As of this writing, the trade is still in limbo and may very well not happen. But whether or not the trade actually goes though is almost irrelevant at this point, because the Jets are still doing everything they can to make it happen. 
Just maybe, their inability to see the entire picture may save them from themselves.