New York Giants: As Expected, Free-Agent Signings Moving Slowly
March 20, 2012

Rob Carr/Getty Images
For the New York Giants, this year's free agency period has been, well, free—of excitement, drama and headline-grabbing signings.
But no one is surprised by that.
Typically, a 9-7 season would be cause for an action-packed offseason, but an out-of-nowhere Super Bowl victory against the New England Patriots and a stifling NFL salary cap can temper even the most aggressive front office.
And we're not talking about the Washington Redskins here. We're talking about the G-Men and general manager Jerry Reese, who believes in the draft and mistrusts free agency.
So, two weeks in and the Giants free agency period has been unremarkable, and that is a compliment of sorts.
A quick glance shows that the Giants have had some luck in re-signing their important free agents, but have done little beyond that.
The Giants still need a big running back to complement Ahmad Bradshaw, a backup quarterback, depth and speed for the linebacking corps and a guard and/or a tackle on the offensive line.
The Giants have, at best, up to $10 million in cap room for additions to the 2012 roster, with the NFL salary cap set at $120.6 million.
Restructuring Eli Manning's contract freed up $6.75 million, and releasing running back Brandon Jacobs saved the team $4.9 million for 2012.
The Giants have made some progress in keeping their own free agents.
They signed wideout Domenik Hixon, who is coming back from a torn ACL, for $615,000. They also signed all-world punter Steve Weatherford for approximately $2.6 million.
Arguably the most important signing to date—at least among those in doubt—is the re-signing of cornerback Terrell Thomas, who had a stellar 2010 before being lost to (have you heard this before?) a torn ACL. Thomas signed a four-year deal with the Giants last week, reportedly worth up to $28 million.
Here's a quick glance at the Giants' remaining needs.
Quarterback
The Giants should still be in the market for a backup quarterback to spell Manning and the number of solid ones is dwindling every day. David Garrard signed with the Miami Dolphins on Monday and Jason Campbell signed with the Chicago Bears last week. Tim Tebow is on the market, but no word yet from Giants brass if they have any interest in him.
Cornerback
Going into 2012, the Giants secondary was arguably the team's biggest weakness beyond its offensive line, but the return of cornerback Terrell Thomas is expected to improve matters dramatically. The Giants signed Thomas to a four-year deal worth reportedly $28 million.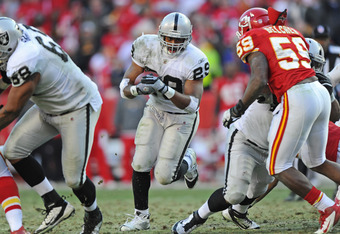 Peter Aiken/Getty Images
Thomas, by far Big Blue's best corner in 2010, was a "must sign." He led the secondary with 81 tackles, five interceptions and two fumble recoveries.
Running Back
The Giants backfield questions also have yet to be answered.
Michael Bush has yet to sign with a team. Bush seems like a great fit for the Giants. He has good hands—only three fumbles in four years with the Oakland Raiders.
Bush hauled in nearly 3,000 yards the past four years in Oakland as a backup and would be an asset in pass protection. Mike Tolbert and Peyton Hillis have both signed with other teams already.
Tight End
New York signed former Dallas Cowboys tight end Martellus Bennett last week for $2.5 million in 2012, shoring up a unit that is missing two players until midseason with injuries.
Bennett tweeted that he was "officially a New York Giant!" last week and the Giants confirmed that days later. Martellus, at 25, could prove a long-term answer if he performs consistently.
Offensive Line
The Giants have done little to tackle one of their biggest needs—help on the offensive line—but a lot of talent remains on the free-agent table for the picking.
The top four free-agent guards and tackles have all signed with other teams—Carl Nicks, Chris Myers, Jared Gaither and Ben Grubbs. But Demetrius Bell has yet to sign with a team, and George Schwartz remains on the market.
There is still plenty of time for the Giants to surprise people, but it's unlikely that will happen.