Tim Tebow Trade Rumors: Is the Bronco QB a Good Fit in New Orleans?
March 20, 2012

Jeff Gross/Getty Images
When it was announced Monday that Peyton Manning had chosen and signed with the Denver Broncos, the buzz opened to where Tebow mania would continue going forward. Instantly he was viewed as past product of success in Denver. 
More importantly he was no longer part of that team's plans. As such a trade appears imminent. But to whom? 
With Matt Flynn the future in Seattle, Kevin Kolb in Arizona and Miami grabbing David Garrard Monday it appears every team between free agency and the upcoming draft has become set with their QB plan for 2012. 
Before we become flabbergasted that a "winner" such as Tebow could be thrown out the door faster than compact disks in this digital age, we must remember the Broncos were never really convinced even as Tebow was remarkably winning football games. 
The Broncos' head of football operations John Elway refused to ever give Tebow the credit many thought he deserved. So it should come as no surprise that when a future Hall of Famer came available Elway was all in. 
Any team who considers Tebow going forward is going to hate the same things Elway hated. He's a 50 percent passer on average, he has horrible throwing technique and he lacks elite arm strength. 
Every team is going to love the same things the Broncos learned to love.
Tebow is a "winner."
He can play 58 minutes terribly, then get it going for two minutes at the end and look awfully similar to Manning. 
The reason Denver selected Tebow was because the head coach at the time—Josh McDaniels—was a brilliant quarterbacks coach and thought he could take the winner and turn him into an actual NFL QB.
That coach is now the offensive coordinator in New England. I'm 99 percent sure the Patriots become the preeminent favorite to make a play for Tebow. McDaniels likely still believes in the kid and it was well known that Bill Belichick loved Tebow come draft time as well.
There have also been some early rumors that Andy Reid and the Eagles could take a chance on the guy who fits the Philadelphia offense very well. The Eagles were not one of my initial thoughts, but I get the point of such an argument.
I also think some other teams such as the Packers, Niners and Cowboys could be dark-horse favorites.
But let's get to the main point here. The New Orleans Saints are as likely as any team not named the New England Patriots to make a run at acquiring Tebow. No Tebow isn't going to take over for Drew Brees. And Tebow's signing would not be cause for concern that the Saints have no desire to re-sign Brees past 2012.
But here's a couple factors very much in play.
First, the Saints under Payton have carried at least one left-handed quarterback every year I can remember. First it was Tyler Palko, then Mark Brunell and now Sean Canfield.
Unlike many franchises the Saints are not afraid of southpaw deliverers. And most of those guys have been relatively mobile athletic quarterbacks.
Second, the Saints have a triumvirate of quarterback teachers. If any organization was realistically in a place to take on a project such as Tebow it would figure to be the Saints. From Sean Payton to Pete Carmichael to Joe Lombardi, and you could add a fourth in Drew Brees himself. It is a quartet of experts on the position that no other team can boast of.
Why would the Saints want Tebow?
The same reason any other team would—he wins! He instantly makes the team better because he'll be the best backup any team could imagine. He will not complain and he will do anything and everything to make the team better.
Though Chase Daniel has been the backup for two years now, no one knows how he would respond should he be put into a stressful moment of a regular season game. With Tebow you would know exactly how he's going to respond.
Perhaps finally think of the impact Tebow would have on New Orleans.
Think of the impact Tebow and Brees together could have on the city of New Orleans.
Together you would have two of the most philanthropic men in all of sports working to make the city of New Orleans a much better place.
And Tebow would give the Saints a good name. He would help overcome the negative press created by the Bounty Fund scandal.
In other words there are a ton of benefits to bringing in Tebow.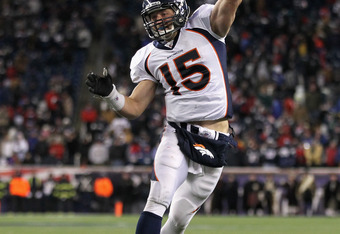 Jim Rogash/Getty Images
What would it take?
Here's where it all becomes a little –iffy. Who really knows? There's no way the Broncos are getting a first-rounder back for Tebow. But a third rounder? That seems more realistic.
The Saints have to decide if a backup QB is worth a third-round pick. And decide if he's better than the alternative selection they could make in the 2012 NFL Draft—both in the third round and a late round QB prospect.
It's a tough call. It's one I'm glad I don't have to make.
And I'm glad Josh McDaniels and Bill Belichick are probably already working to make sure no one in New Orleans has to make that call.