Food City 500 2012 Results: Reaction, Leaders and Post-Race Analysis
March 18, 2012

Chris Trotman/Getty Images
As unbelievable as it seems, NASCAR's first trip to Bristol Motor Speedway for the Food City 500 is already the fourth race of the young season. It looks like time really does fly when you're having fun.
If you are just a casual NASCAR fan and don't know what Bristol is all about, prepare for the wildest action you may ever see on a race track. At .5 miles long, the short track packs 43 cars into one place.
Let's just say, chaos ensues! We'll see if I'm right when all the dust settles this afternoon.
UPDATE: Sunday, March 18, 5:00 p.m. ET by Donald Wood
After one of the wildest Food City 500s in recent memory, it was the No. 2 Miller Lite Dodge and Brad Keselowski that walked away on top.
Something about the No. 2 Miller Lite car winning at Bristol just feels right.
While there was fighting all day, Matt Kenseth couldn't catch the leader and finished second. Martin Truex Jr., Clint Bowyer and Brian Vickers rounded out the top five.
2012 Food City 500 at Bristol Motor Speedway Finishing Order
1. Brad Keselowski
2. Matt Kenseth
3. Martin Truex Jr.
4. Clint Bowyer
5. Brian Vickers
6. Jeff Burton
7. Jamie McMurray
8. Juan Montoya        
9. Jimmie Johnson
10. Paul Menard
11. Kevin Harvick
12. Ryan Newman     
13. Greg Biffle
14. Tony Stewart
16. Joey Logano
17. A.J. Allmendinger
18. Kurt Busch
19. Aric Almirola
20. Denny Hamlin
21. David Reutimann
22 Brendan Gaughan
23. David Ragan
24. Regan Smith        
25 Casey Mears
26 David Gilliland     
27 Travis Kvapil         
28. Bobby Labonte
29. Landon Cassill
30. J.J. Yeley
31. Michael McDowell
32. Kyle Busch
33. Ken Schrader
34. Dave Blaney
35. Jeff Gordon
36. Marcos Ambrose
37. Kasey Kahne
38. David Stremme
39. Carl Edwards
40. Joe Nemechek
41. Scott Riggs
42. Reed Sorenson
43. Josh Wise
--------------------------------------------------------------------------
Where: Bristol Motor Speedway, Bristol, TN
When: Sunday, March 18, 12:30 p.m. EST
Watch: FOX
Listen: Performance Racing Network
Starting Lineup
Greg Biffle
A.J. Allmendinger
Ryan Newman
Jeff Gordon
Brad Keselowski
Regan Smith
Aric Almirola
Carl Edwards
Joey Logano
Kasey Kahne
Paul Menard
Marcos Ambrose
Kyle Busch
Kevin Harvick
Martin Truex Jr.
Clint Bowyer
Jamie McMurray
Dale Earnhardt Jr.
David Reutimann
Denny Hamlin
Matt Kenseth
Jimmie Johnson
Tony Stewart
Casey Mears
Brian Vickers
David Gilliland
Kurt Busch
David Stremme
Landon Cassill
Juan Pablo Montoya
David Ragan
Brendan Gaughan
Jeff Burton
Travis Kvapil
Dave Blaney
Bobby Labonte
Josh Wise
Reed Sorenson
Michael McDowell
J.J. Yeley
Joe Nemechek
Ken Schrader
Scott Riggs
Favorites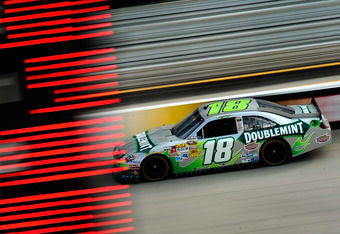 Jared C. Tilton/Getty Images
Kyle Busch
The youngest of the Busch brothers has raced on the wildest half mile in auto sports 14 times over his career. With a pension for racing hard, you'd assume that making around Bristol 500 times wouldn't be the easiest feat for the impatient driver to overcome.
In his career, Busch has won five Sprint Cup Series races at Bristol and has come in second twice as well. For those not so good at math, that means Bush finishes in first or second half the time he races at Bristol. That's impressive.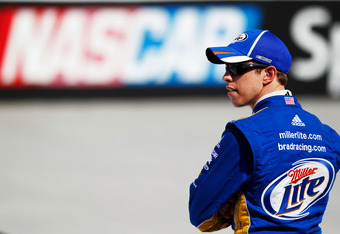 Geoff Burke/Getty Images
Brad Keselowski
If there were ever a car that deserved to return to Victory Lane of Bristol Motor Speed, it is the blue No. 2 Bud Light Dodge that used to be driven by Rusty Wallace and is now driven by Brad Keselowski.
While Wallace had nine wins when he was dominating this course over his career, Keselowski will only be racing on the short track for the fifth time. With that said, the No. 2 Dodge is super fast, and its young driver won the last NASCAR race held at the track in 2011. Keep an eye on the blue deuce.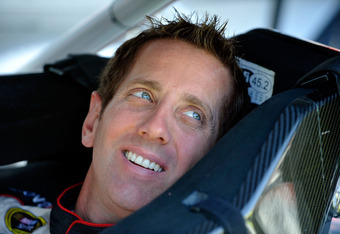 Rainier Ehrhardt/Getty Images
Greg Biffle
While Greg Biffle has been unable to steer his car to Victory Lane at Bristol during his 18 career starts at the track, the man is a perennial top-10 finisher at the course.
Not only did the Biff win the pole for this week's race, the NASCAR star has finished in the top 10 in 11 of his 18 career Bristol starts. While there is no win on the resume, Biffle's consistency at this track will pay off at some point. Why not now?
Check back for more on NASCAR as it comes, and check out Bleacher Report's NASCAR Page to get your fill of all things motorsports.