Tim Tebow: Buffalo Bills May Be Team of Destiny for Broncos QB
March 13, 2012
When the frenzy of free agency began at 4 pm EST on Tuesday, NFL fans waited anxiously to learn of quarterback's Peyton Manning's next destination.  But as the day progressed, the only news to report was speculation that Denver was the newest front-runner for Manning's services.  If the rumor proves to be true, current Broncos' starter Tim Tebow will not be jumping for joy.
Competitors for Manning must not be too excited either, after some of their most clever proposals fizzled out.  According to NFL Network, wide receivers Pierre Garcon and Reggie Wayne have come to terms on new contracts and will not be part of a package deal with their former Indianapolis teammate.  Garcon signed with the Washington Redskins and Wayne re-signed to stay in Indy.  
So, as of late Tuesday, Arizona remained in the running for Manning, Tennessee made plans to meet with him on Wednesday, and Miami began to slip, after trading away star receiver Brandon Marshall to Chicago.  That leaves Denver, as an intriguing option for the future Hall of Famer.
If Manning chooses the Mile High City, Tebow's days under center with the Broncos will come to an immediate halt and questions about his future with the organization will run rampant.
So, what are the chances that the Buffalo Bills will consider Tebow, whom they reportedly coveted in the 2010 draft?  And would they have an interest in signing Tebow to a long-term deal, if he becomes available or is released?  
A surprise acquisition of Tebow is conceivable because the Bills may not be enamored with Tyler Thigpen as the backup to starter Ryan Fitzpatrick.  Denver also could choose to re-sign unrestricted free agent Brady Quinn as a backup to Manning.  Quinn's chances of returning are not very good right now because he has never started a game in two years in Denver.  He also drew negative headlines in February, when he made harsh comments about Tebow in an interview with GQ magazine.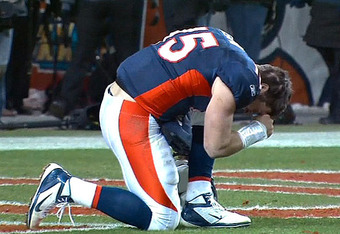 Listed below are the reasons why the Bills could make a play on Tebow, as well as arguments against such a move, if the former Heisman Trophy winner becomes available.
Tebow to Buffalo?  It could happen for a franchise that could use a "double boost" in publicity and ticket sales. Many fans questioned the timing of the the Bills new deal last year with Fitzpatrick.  The Harvard grad is popular with head coach Chan Gailey, who likes his intelligence and moxie.  But in the NFL, truth is in numbers, and Fitzpatrick did not deliver them after cashing in on a six-year, $59 million contract to remain Buffalo's starter.  
After starting 2011 at 5-2, the Bills collapsed in the season's second half, with just one win in the last nine games.  Fitzpatrick sustained a bruised sternum and cracked ribs in a shutout win over Washington, but his career record as a starter in Buffalo, Cincinnati and St. Louis is just 18-31-1.  Fourteen of those wins have come with the Bills, but the sixth-year veteran has been on the losing end of 23 other starts as Buffalo's field general.     
The Bills could actually allow Fitzpatrick to become an unrestricted free agent if they do not pay him a $5 million bonus by March 19.  But if Denver lands Manning and Tebow becomes available, Buffalo could keep Fitzpatrick, make the move and let Tebow serve as his understudy.  
Former Bills star Jim Kelly, who is considered by most to be the team's last true franchise quarterback, could be a proponent for Tebow.  Before the draft two years ago, the Hall of Famer dined with the Florida quarterback and urged the club to select Tebow.  Kelly spent is college career in Florida too, at the University of Miami.  
Buffalo's fan base was at odds over Tebow in 2010, but there is little doubt that he brings excitement and intrigue to every place he plays.  Tebow is a winner and that cannot be denied.  He helped lead the Gators to two National Championships and stunned the NFL the past two seasons, with six fourth quarter comebacks and seven game-winning drives.  Perhaps his most memorable pass came on the first play of overtime in last year's AFC Wild-Card Game against Pittsburgh.  At home, in front of a national television audience, Tebow threw an 80-yard touchdown strike to Demaryius Thomas to eliminate the mighty Steelers.    
Tebow's leadership, athleticism and drive are his best assets and they would fit in well in a blue-collared city like Buffalo.  Kelly was often praised for being "a quarterback who played with the mentality of a linebacker."  Tebow would certainly bring a similar attitude and head coach Chan Gailey would benefit from his unique skills.  Gailey is most famous for creating the phenom known as "Slash," when he served as offensive coordinator in Pittsburgh in the 1990's.  Quarterback Kordell Stewart took on the role at the time and played spectacularly, as a running and passing threat.
Tebow certainly would make sense for Buffalo as a back-up and possibly a long-term starter.  But there are many reasons for the Bills to pass on him, if Denver makes him expendable.
First and foremost, Buffalo never seriously wanted Tebow in 2010, despite numerous reports on the contrary.  In a post-draft interview with Bills lead journalist Chris Brown, general manager Buddy Nix clearly stated that fact at approximately 1:05 into the video.  Denver of course, traded up into the first round to select the mobile quarterback.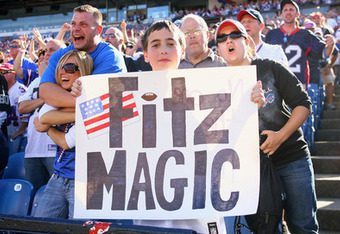 Although he won in Denver, Tebow achieved most of it in a wildcat, option-style offense.  Tebow is simply not accurate enough and does not possess a strong enough arm to be successful in a cold and windy environment.  In Buffalo, Fitzpatrick's arm strength is average, but he has proven that he can make the quick, accurate throws that are a necessity in Gailey's spread offense.  The elements in upstate New York are similar to those in Colorado and would be a detriment to Tebow, whose arm strength and precision are clearly below average among NFL quarterbacks.
Other teams that could have an interest in Tebow include Cleveland, Seattle and Jacksonville, who may not be sold on last year's first-round pick Blaine Gabbert.  Even the Dallas Cowboys could consider Tebow as a backup to Tony Romo.  At the very least, it would serve as a big media splash for owner Jerry Jones.  
Finally, there is a chance that Tebow would simply remain in Denver and learn behind one of the greatest quarterbacks of all time.  Like Tebow, Peyton Manning is well known for his penchant for working out and being meticulous in those workouts.  His superior mechanics and ability to read defenses would be things that Tebow could soak in and improve upon, as he continues to develop.
And let's not forget the wisdom of another NFL Hall of Famer, who is also in the conversation for greatest quarterback of all time.  As the Broncos Executive Vice President of Football Operations, John Elway has gone on record to say that Tebow is willing to do the work to be a successful NFL quarterback.  Many media observers believe that Elway has never envisioned Tebow as Denver's long-term answer, but he has never indicated that he is not willing to give the young quarterback a shot. 
Tebow's best chance at future success may not come from being another team's savior.  Instead, his odds would increase by staying right where he is.  Aaron Rodgers patiently did it in Green Bay, behind the legendary Brett Favre, and Tebow could do the same, if Denver pulls the trigger on Manning.  
Tim Tebow has always been a student of the game.  He may just have the good fortune of continuing the learning process, with the NFL's all-time best by his side.
Joe Versage is a NFL Correspondent at Bleacher Report.  He previously covered the Buffalo Bills, Washington Redskins and Baltimore Ravens as a television beat reporter.  Follow him on Twitter at: @dcjoev.