Chicago Bulls Should Pursue Deron Williams in Free Agency
March 11, 2012

Jonathan Daniel/Getty Images
With the Chicago Bulls thin at the starting shooting guard position due to Richard Hamilton's unreliability, they should pursue the New Jersey Nets' Deron Williams if the star point guard hits the free-agent market this offseason.
There is a good chance D-Will will decide to hit the open market, especially if the Nets don't land Orlando Magic center Dwight Howard in a trade.
Not only that, but the Nets have been really bad this year. New Jersey center Brook Lopez has missed significant time with an injury, a huge reason why the Nets have a horrid record and preventing the franchise from acquiring Howard.
Williams has expressed interest in teaming up with Howard with the Dallas Mavericks or Los Angeles Lakers, but if Dwight stays with the Magic, Williams needs to look to a team that would be the best fit for him.
The Mavericks are an aging franchise with significant money coming off the books, but Dallas star Dirk Nowitzki (33) is entering the twilight of his career and Mark Cuban needs a roster overhaul. The Lakers are an extremely thin squad outside of Kobe Bryant, Pau Gasol and Andrew Bynum and need more than Williams to compete for a title.
Another team on Williams' wish list is the New York Knicks, but New York has loads of money committed to Amar'e Stoudemire, Carmelo Anthony and Tyson Chandler.
With that said, the Bulls present D-Will  a complete team that is still relatively young who would be competitive for years to come.
Williams would be teamed up with Derrick Rose, who is one of the NBA's best young talents. Both players are great point guards and could take turns facilitating the offense.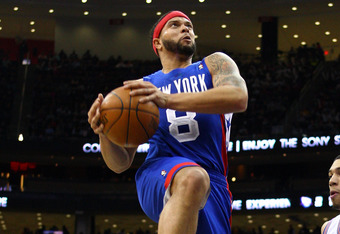 Chris Chambers/Getty Images
The Bulls would play an offensive system similar to the Golden State Warriors, where Stephen Curry and Monta Ellis share duties between the 1- and 2-guard positions. The Warriors have been really successful with this setup, and the Bulls would be as well.
Both Rose and Williams are more talented and complete players than Curry and Ellis. Plus, they would have a more complete roster around them to continue winning at a high rate.
To salary cap room for Williams, the Bulls would have to use the amnesty clause on power forward Carlos Boozer or center Joakim Noah. Boozer has been playing better of late, but Williams is a better player. 
One reason to use the clause on Noah instead of Boozer is Carlos was a good teammate with Williams for five years with the Utah Jazz. Boozer was really effective with D-Will manning the point, averaging 19.5 points a night with him.
Before people panic on using the amnesty clause on either Boozer or Noah, the Bulls still have Taj Gibson and Omer Asik as their big men and the 6'10" Nikola Mirotic waiting in the wings.
Chicago could also sign a serviceable big man like Brian Cook or Robin Lopez in the offseason to fill in for Boozer or Noah before Mirotic comes to the Windy City.
Williams (27) would be the perfect backcourt mate with Rose for years to come. He is a strong guard (6'3", 209 pounds) who is an efficient shooter who can take over a game offensively. Earlier this year, D-Will dropped 57 points on the Charlotte Bobcats.
Having someone of Williams' caliber with Rose will provide the Bulls with a dynamic one-two punch in the backcourt. Hamilton then could come off the bench as the Bulls' sixth man as he is still valuable to Chicago, but he shouldn't be relied upon to be the Bulls starting 2-guard anymore.
While Williams or Rose would be out of position playing as the 2-guard, Williams would be a great addition.
Other possibilities for the Bulls to improve their shooting guard position include the Washington Wizards' Nick Young (restricted free agent who is a streaky volume shooter), the New Orleans Hornets' Eric Gordon (severely injury-prone), O.J. Mayo (restricted free agent who hasn't started in two years), the New York Knicks' J.R. Smith (prima donna volume-shooter) and the Houston Rockets' Courtney Lee (restricted free agent; he isn't a big scorer).
Both Williams and Rose are both capable to having 20 points and eight assists a night. Having a dynamic, offensively oriented backcourt while retaining most of the team's core would make Chicago a title contender for years to come.
The Bulls need to do something drastic to provide Rose with a great backcourt mate, and while landing Williams is a long shot, the Bulls need to pursue this option if he becomes a free agent.
Bob Bajek is a featured columnist for the Chicago Bulls. He is also a freelance reporter and can be followed on Patch.com and Twitter.