5 Ways Richard Hamilton Has Improved the Chicago Bulls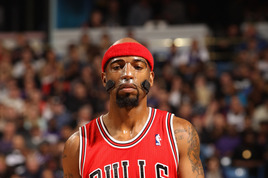 Looking at off-season pickups, Chicago Bulls shooting guard Richard Hamilton is perhaps the biggest acquisition.
The Bulls really needed an off-guard and they got a dandy in the 33-year-old Hamilton.
When he's on the court and not battling his troublesome left groin, Hamilton definitely makes the Bulls a better team.
Here are five ways the savvy Hamilton improves the Bulls.
Begin Slideshow

»
Jonathan Daniel/Getty Images

Having Richard Hamilton on the team has greatly improved the Chicago Bulls' ball movement.
Last year, former Bull Keith Bogans was more of a defensive player and needed to have his shot set up for him as he struggled to earn 4.4 points a game. This isn't the case for Hamilton.
Hamilton is a natural two-guard, so he is used to moving off the ball. He creates his own shots by making good lane and baseline cuts for easy layups.
Not only can Hamilton move well, his passing is severely underrated.
No. 32 has great court vision and knows how to find Derrick Rose, Carlos Boozer or any driving teammate who has a defensive mismatch. So far, Hamilton has averaged 3.6 dimes a game while dishing out 10 assists on Jan. 23 against the New Jersey Nets.
This improved ball movement from Hamilton's position and the other players creates an effective uptempo offensive style.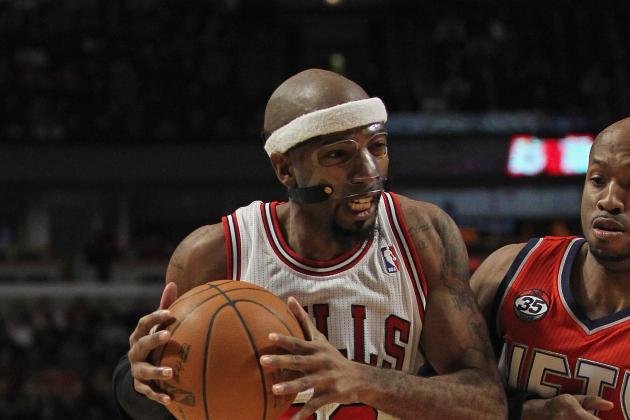 Jonathan Daniel/Getty Images

With a blazing point guard in Derrick Rose, the Chicago Bulls need to be off and running on a fast break.
Richard Hamilton is the perfect complement to Rose in the fast break.
In his first preseason game with the Bulls against the Indiana Pacers, Hamilton kept up with Rose down the court and was able to score or pass the ball for easy buckets.
Former Bulls Keith Bogans wasn't a speed guy and wasn't effective off the fast break. However, Hamilton's game is predicated on speed and precision.
Hamilton is the type of offensive talent who defenders have to wonder if he will score or make an effective pass upcourt. Hamilton's offensive duality spaces makes the transitional defense not as aggressive, giving the Bulls a higher probability of finishing.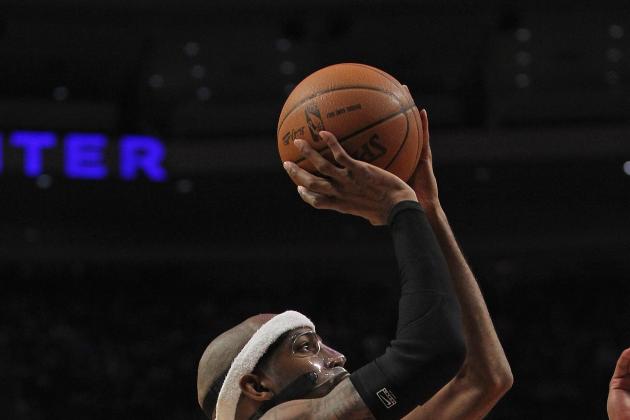 Jonathan Daniel/Getty Images

Not only does Richard Hamilton provide the Chicago Bulls with offensive intangibles, those intangibles translate into a higher scoring output.
Hamilton is an strong force that gives the Bulls a reliable offensive option. He has averaged 14.2 points on 45.3 shooting with 3.6 assists. That's a big jump from Keith Bogan's 4.4 points and 1.2 assists.
In the 11 games Hamilton has played, the Bulls have averaged 101.8 points. In the 13 games Hamilton has missed with his troublesome left groin, Chicago has managed 91.5 points a night, including scoring under 80 points three times.
Part of this difference is Hamilton's scoring output, but the other is his presence that allows Derrick Rose and his teammates to have more opportunities.
With Hamilton in the lineup, the Bulls are a much more dangerous offense. Without him, they still struggle.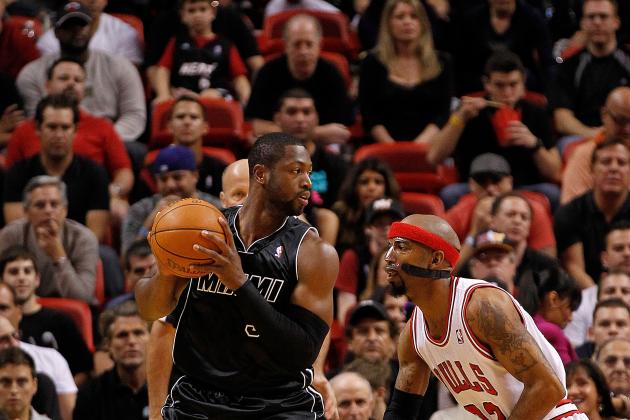 Mike Ehrmann/Getty Images

While Richard Hamilton's offensive exploits are well-known, he is also a savvy defender.
Many tend to forget how Hamilton was a part of strong Detroit Pistons' team whose stellar defense helped them to six consecutive Eastern Conference Finals appearances.
Hamilton provides significant length (6'7") to defend shorter shooting guards. His length and defensive fundamentals were on display Jan. 29 against the Miami Heat.
No. 32 draws the always-difficult defensive assignment known as Dwyane Wade. However, Hamilton used his length, stayed in front of Wade and made D-Wade earn every shot. Hamilton was a big reason why Wade only scored 15 points on 4-of-16 shooting.
If Hamilton could contain great scorer like Wade in the playoffs, the Bulls will be in good shape.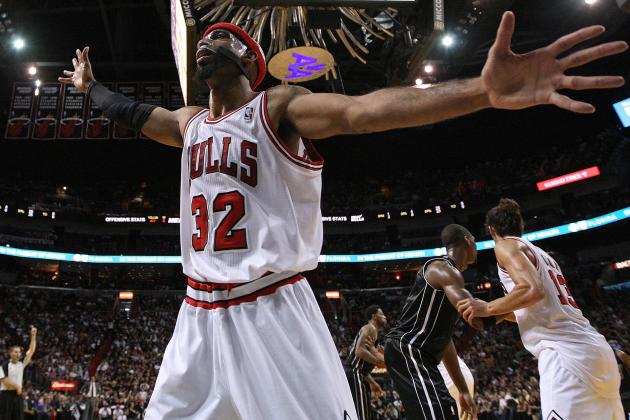 Mike Ehrmann/Getty Images

Richard Hamilton is a confident player, and it shows in his play.
Whether it's dribbling on a fast break, setting a hard screen, playing off the ball or shooting, Hamilton has a swagger about him.
He doesn't care if the Bulls are winning or losing, or if he is having a good or bad night, he calmly only cares about the current play and how he could help his team in the present.
This confidence also helps the Bulls energy, as they score more points a game with him on the court.
Derrick Rose also plays with more confidence, scoring 22.5 points and 7.6 assists on just 17 shots a game.
The confidence Hamilton gives the Bulls will be invaluable come playoff time, but Rip needs to be on the court for that to happen.
Bob Bajek is a featured columnist for the Chicago Bulls. He is also a freelance reporter and can be followed on Patch.com and Twitter.