Why Oakland Raiders Will Build Through Draft, Not Free Agency
March 11, 2012

Justin Sullivan/Getty Images
New Oakland Raiders general manager Reggie McKenzie has made it darn clear that he plans on building his team through the draft.
This isn't a new thing for McKenzie, he has been a member of the Green Bay Packers front office for the last 19 years. The Packers are a team that has done it the right way, building through the draft and supplementing in free agency.
This is going to be the modus operandi of the Oakland Raiders moving forward.
Previous Regime Handcuffed McKenzie
It isn't that acquiring the likes of Carson Palmer and Aaron Curry was a bad idea. In fact, both promise to be important parts of the team moving forward. Give Palmer an entire offseason to learn the nuances of the Raiders offense and you will be surprised with his performance. I am looking for a breakout 2012 season from him.
With that said, Oakland did give up a bounty to acquire Palmer, a first- and second-round pick. That is a lot to give up for a veteran starting quarterback that hasn't had a great season in about five years.
This means that the Raiders are going to be without a pick in each of the first four rounds next month. While they will probably get a couple compensatory selections in the mid-rounds, this isn't an ideal situation for McKenzie.
The Plan
At the most, Oakland is going to have four picks in April's NFL draft. This will enable them to add depth to an already talented roster. You are probably looking at additions along both lines, in the secondary and maybe even at running back.
This draft isn't going to make or break the Raiders in the future. They already have those picks on the roster in the form of the aforementioned Palmer and Curry. What it will do is give them a few players that could pay dividends in 2012 and beyond.
Moving forward, the Raiders plan is going to be to build through the draft. This means that big money free-agent acquisitions are going to be few and far between. You will not hear Oakland going after individuals like Randy Moss and Richard Seymour in trades either. Instead, the Raiders are going to keep their picks and build a strong foundation.
Why not? The other plan didn't exactly work out too well for this franchise, did it?
Not Completely Void of Free-Agent Signings
The Raiders will not completely avoid the free-agent market. After all, that would be a foolish strategy. Instead, they are going to supplement the draft through the open market.
This means that you can expect Oakland to be extremely picky about who they choose in free agency. They will look for veteran bargains that fill a specific need, individuals that have had a down season, unproven players with some upside and others who are not highly sought after.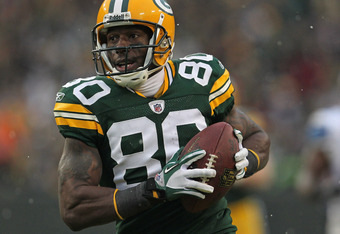 Jonathan Daniel/Getty Images
The plan is clear. Pick and choose who fits your specific scheme and run with it. This will be the case when free agency starts next week. Oakland will look for that veteran running back behind Darren McFadden. They are going to attempt to find upgrades along the interior of the line and probably go after a veteran corner.
You just won't see Oakland be players for individuals such as Mario Williams, Vincent Jackson or even Michael Bush. In this, they will have come to the rightful conclusion that building through the draft is the best path to take.
The McKenzie Factor
The Oakland Raiders couldn't have put their faith in a better man. In short, McKenzie is the man to fix these front office woes in the Bay. After all, he was a major reason for the Packers success in the draft over the course of the last two decades.
In large part due to McKenzie's scouting ability, the Packers acquired the core of their Super Bowl team via the draft. I am not talking about the first-round picks that are supposed to be immediate contributors. Rather, I am talking about the mid-round picks that make up the core of a team.
Just take a quick look at his track record, these following players were all selected in the latter rounds of the NFL draft by the Packers during McKenzie's tenure in Green Bay:
Donald Driver, Mark Tauscher, Corey Williams, Scott Wells, Johnny Jolly, Desmond Bishop, Mason Crosby, Matt Flynn, Josh Sitton, T.J. Lang and James Starks.
Conclusion
As I have preached to San Francisco 49ers fans across the bay, patience is a virtue that few have. While the Raiders are not going to be making a great amount of noise in free agency over the course of the next few seasons, they are going to be better off for it.
The Washington Redskins model of consistently remaking and reshaping their roster via free agency just doesn't seem to work. Instead, it is the Green Bay Packers and Pittsburgh Steelers that continue to have success on a yearly basis.
You can expect the Raiders to become contenders in the AFC within the near future utilizing the model that I have indicated above. They will find talent in the draft, no matter where they are picking. They will use McKenzie's success with the Packers as the foundation to become a better run organization.
In short, they will be the Raiders that many of you grew to love.