Cincinnati Bengals: 5 Signs That Andy Dalton Is the Best QB in the AFC North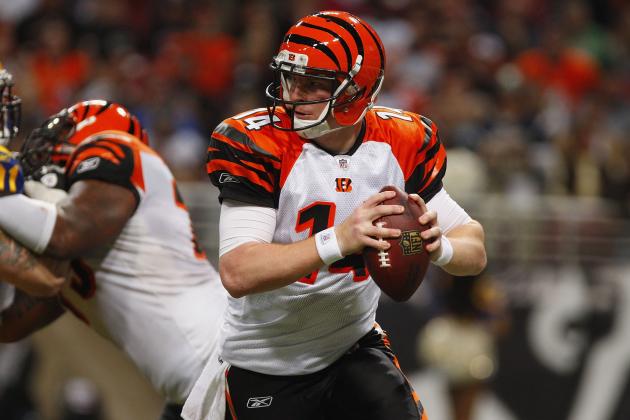 Whitney Curtis/Getty Images

The Cincinnati Bengals surprised almost every NFL fan when they made the playoffs. Much of it came down to quarterback Andy Dalton.
The Bengals in general have been a team that seemed to welcome off-field issues, but this past offseason was particularly noteworthy.
There had been speculation that the coach wouldn't be returning, the previous quarterback had preferred retirement over playing for Cincinnati and the two best receivers (Terrell Owens and Chad Ochocinco) had left.
The previous season, Cincinnati fans had been thinking that a run to the Super Bowl was a possibility.
Instead, the team went 4-12. It was a massive step back for a team that had gone 10-6 and won the AFC North in 2010.
It wasn't exactly the perfect situation for a rookie quarterback to arrive in.
Despite it all, Dalton helped guide Cincinnati to the playoffs.
It's too early to consider Dalton an elite quarterback in the NFL, but he has to be considered one of the best in his division.
It's doubtful that either Joe Flacco or Ben Roethlisberger could have stepped in and performed as well as Dalton.
With that in mind, here's five reasons why Andy Dalton is the best quarterback in the AFC North.
Begin Slideshow

»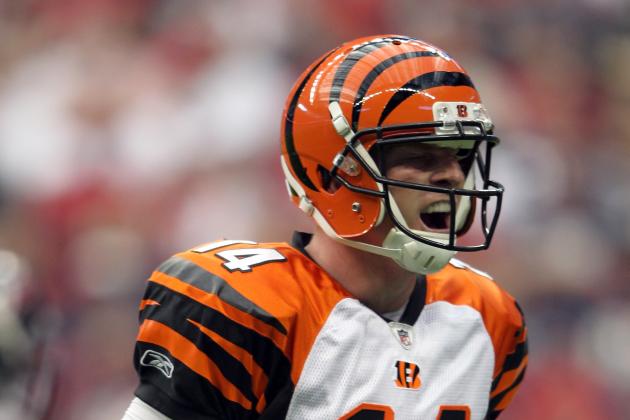 Jamie Squire/Getty Images

No one could have expected Dalton to have the kind of success he did in 2011.
With all the turmoil surrounding Carson Palmer, it wasn't exactly an ideal situation for a rookie quarterback.
It's not as if this is a Bengals team that was just one piece away from success. They had finished 4-12 the year prior, and there was much speculation over whether Marvin Lewis would return as coach.
Plus add in the fact that Bengals owner Mike Brown is one of the worst owners in professional sports, and you have a great scenario for a rookie quarterback to enter.
Yet, Dalton helped lead Cincinnati to a 9-7 record and a Wild Card berth in the playoffs.
And it wasn't a situation like Mark Sanchez and the New York Jets where the quarterback really struggled and the defense carried the team.
Obviously Dalton didn't do it himself, but his 3,398 yards, 20 TDs and a QB rating of 80.4 are pretty darn good.
Few quarterbacks could have done what Dalton did in his rookie season.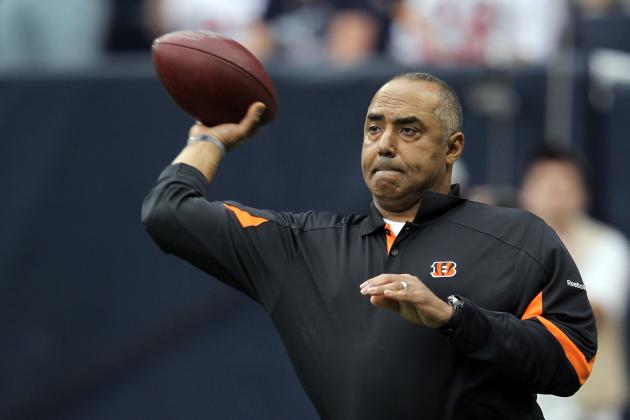 Jamie Squire/Getty Images

Prior to arriving in Cincinnati, Marvin Lewis had received the reputation as a defensive guru. However, one of the biggest successes he's had in Cincinnati is with quarterbacks.
He and quarterbacks coach Ken Zampese have done a wonderful job of getting consistent play from the Bengals' signal-callers.
It started with Jon Kitna in 2003. He had career-highs in almost every statistical category. It was both Lewis and Zampese's first year in Cincinnati.
Despite his success that year, he was only really warming the seat for Carson Palmer.
Palmer came in and in his third year passed for 3,836 yards, 32 TD and only 12 INT while completing almost 68 percent of his passes.
It's hard to say what Palmer could have accomplished had he not gotten hurt in the 2005 playoffs and then picked up subsequent injuries after that.
Even Ryan Fitzpatrick played OK when called upon in 2008.
Cincinnati has never really struggled much at the position since Lewis and Zampese came on board.
Dalton definitely seems to be on the path that has been previously laid down by Bengals quarterbacks before him.
Jared Wickerham/Getty Images

Sure, Ben Roethlisberger is a two-time Super Bowl winner and three-time AFC champion.
And of course Joe Flacco has led the Ravens to two AFC title games.
Really, though, the AFC North is not known for its prolific quarterbacks and high-flying offenses. The division is all about defense and hard-nosed football predicated on the running game.
The Ravens are so successful because they have such great defenses.
Roethlisberger and Flacco are consistently good, but in terms of numbers, they aren't spectacular. No one is going to confuse them with Dan Marino, Tom Brady, Drew Brees or Peyton Manning.
Granted Dalton's numbers were surpassed by both Flacco and Big Ben, but you can't expect a quarterback to light it up in only his first year.
Dalton is only going to get better, and you might see him have the best numbers of any quarterback in the division in 2012.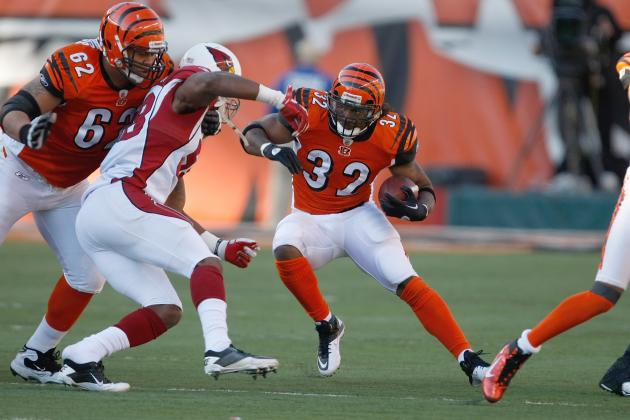 Scott Boehm/Getty Images

Carson Palmer really benefited from the play of running back Rudi Johnson and being able to throw to Chad Ochocinco and T.J. Houshmandzadeh.
Unfortunately for Andy Dalton, he didn't exactly have those luxuries in his first season.
Before the season started, when you looked at the Bengals offense on paper, you would have never expected them to be successful at all.
No one really knew how good A.J. Green would be in his first season and, after him, the receiving corps really dropped off in terms of quality. Guys like Jerome Simpson, Andre Caldwell and Andrew Hawkins don't exactly strike fear in the hearts of opposing secondaries.
Cedric Benson was good, but could he really be relied upon again?
Despite all of these question marks, the Cincinnati offense was able to produce.
The offense has already undergone some significant changes already this offseason.
Benson and Simpson are both gone, so in all likelihood the Bengals are going to be looking at a new starting running back and a new second receiver.
The onus is going to be on Dalton even more this year to make significant improvements from his form of last year.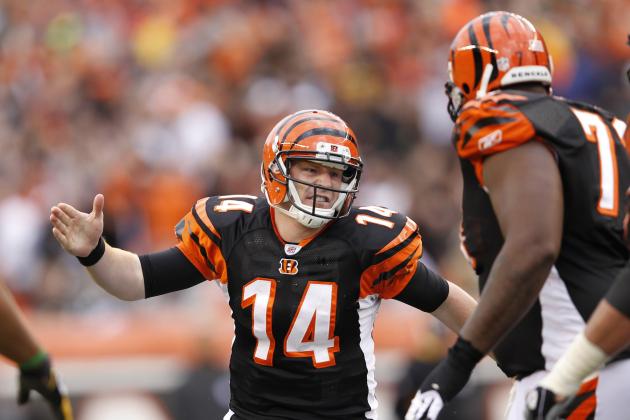 Joe Robbins/Getty Images

Some rookie quarterbacks can depend on veterans around them to help lead the way. That was not a luxury afforded to Andy Dalton.
Many people look to the quarterback to be the leader of the offense, but that's a big task for a quarterback coming into his rookie season.
Then you have to consider the fact that training camp was shortened because of the lockout.
As if it's enough for him to simply become the starter, Dalton had even less time to work with the team and get to know the players around him.
He also had the specter of Carson Palmer looming over every snap he could in training camp.
Yet Dalton really became a leader of that offense.
His teammates really looked to him to steady the ship, and he did that. Dalton's numbers weren't prolific, but you can't go back and say there were too many games where his inexperience really cost the team.
Dalton didn't shy away when it came to the playoffs either. Although he threw three interceptions, he was arguably their best performer in their Wild Card game against the Texans.
Almost since Day 1, Andy Dalton has been the leader of this Cincinnati Bengals offense.