Baltimore Ravens 'Wizard of Oz" Is Top General Manager in NFL
March 7, 2012

Mitchell Layton/Getty Images
Whether or not former Cleveland Browns and Baltimore Ravens Owner Art Modell belongs in the Pro Football Hall Of Fame depends on which city you live in. The fans in Cleveland feel Modell deserves the Hall about as much as Charlie Sheen deserves to be a priest in the Catholic church.
In Baltimore, it is an entirely different story. If the great fans in the Charm City were given a collective vote, Modell would be on his way to Canton tomorrow. Now while that's an article for another day, there is one decision Modell made that fans in both cities can agree was a great one.
His teams selection of Ozzie Newsome during the first round (23rd overall) of the 1978 NFL Draft has benefited both cities greatly. Currently one of the top—if not the top—general managers in the NFL for the Baltimore Ravens, Newsome also resides in the Cleveland Browns Ring of Honor and was one of the first 16 former Browns players to be inducted during the inaugural ceremony in 2010.
Following his retirement as a player in the NFL, Newsome's first position in the Browns' front office was as a special assignment scout. Two years later (1993), Newsome was promoted to an assistant to the head coach (Bill Belichick)/offense/pro personnel. In 1994, the Hall of Fame tight end was named the Browns' director of pro personnel and it was then that Ozzie Newsome began to really flourish as a top notch talent evaluator. Although he continued to help on the field, Newsome provided detailed studies on other NFL players and recommended which players the Browns should try to acquire during the offseason.
Modell invited Newsome to join him when the Browns moved from Cleveland to Baltimore in 1996 and named Newsome the team's vice president of player personnel. Newsome was considered the architect of the Ravens first draft in Baltimore, which turned out to be the best in franchise history to date.
The Browns finished 5-11 during their final season in Cleveland and as a result, the Ravens had the fourth overall pick in April's draft. The second first-round pick for 1996 came as a result of a multiple-team trade, in which the Ravens received the San Francisco 49ers' 26th overall pick and the Cleveland Browns received the 49ers' first, third and fourth round picks in exchange for the Browns' 1995 first-round selection.
What Newsome and company did with those picks would become history and help set the tone for a front office that would excel in almost every offseason since. It should be no surprise that "The Wizard," as Newsome is known, would succeed as an NFL front office executive. He had been more than successful in everything else he did to that point in life.
His ability in the front office led to him becoming the first African-American general manager in NFL history when Modell promoted him to that post officially in 2002.
Born on March 16, 1956, in Muscle Shoals, Alabama, Newsome was a talented high school athlete. At Colbert County High School in Leighton, Alabama, he was a three-sport star in baseball, football and basketball, winning high school All-America honors in football and basketball.
He was a great receiver, and also played defense as a linebacker for one year and safety for two. Newsome wasn't just the best at everything he did; he "blazed the trail" in almost everything he did as the Ravens media guide so eloquently describes his career accomplishments. Newsome always dreamed of playing at the University of Alabama and after graduating high school, realized his dream.
Newsome, as he did in high school, excelled at Bama, and the Tide rolled. Under head coach Paul "Bear" Bryant, who wasn't known for throwing the football much, Newsome had 102 receptions for 2,070 yards and 16 touchdowns during his four-year career. He helped Alabama capture three SEC Championships, and as a senior in 1977, he was named team captain and the SEC Lineman of the Year. Newsome also earned All-America honors at WR, and was eventually inducted into the College Football Hall of Fame (South Bend, IN) in 1994. The legendary Bama head coach once said of Newsome, "Ozzie was the best end I ever coached," said Bear Bryant. Not only was he a great receiver, but he had exceptional concentration, fine speed and great hands. 
From there, it was on to the NFL where he didn't disappoint as first round pick of the Browns. Newsome's trailblazing continued as he revolutionized the position of tight end in the league much the same way Mike Ditka had done before him.
Newsome was tough during an era when concussions were frowned upon and he was as skilled as any wide receiver in the league. He played in 198 consecutive games, missing just three games during his career. Seven times he was named either a first or second-team All-Pro and he was named to the AlI-Decade Team of the 1980s.
Former Cleveland coach Sam Rutigliano once said of Newsome, "Ozzie was the prototype because he could play tight end,and he threatened the defense just like a wide receiver. When he came into the NFL, what was vogue at the time was defenses playing what they called 'double zone,' where two safeties would each cover half the field."
"Ozzie drove that defense out of football because of his ability as a tight end to run like a wide receiver and attack the middle of it," Rutigliano said.
During a great 13-year career in Cleveland, Newsome finished with the best stats of any tight end in the history of the NFL. He was selected to three Pro Bowls, and his 662 receptions for 7,980 and 47 TDs stood as NFL records by a tight end until former Ravens tight end Shannon Sharpe surpassed those marks in 2001 as a member of Newsome's Ravens (Tony Gonzalez has since broken those records). Newsome is very respected by his players and coaches because he is truly a man that can say I've been there and in most cases done that better.
As a member of the Browns, Newsome was named the Browns' Offensive Player of the Year his rookie season, the first time in 25 years that a rookie had received that honor. He caught at least one pass in 150 games, the second longest streak in the NFL during that time.
He would go on to set team records with 50 or more receptions in a season six times, most 1,000-yard receiving seasons (2), most receptions in a game (14), and the single-game receiving yardage mark (191). Always dependable, Newsome had three or more receptions in 112 games and eight or more catches in a game 13 times.
Newsome was a first ballot Hall of Fame selection and was inducted into the Canton, Ohio shrine in 1999. In fact, Newsome is a member of five Hall of Fames.  Besides the pro (1999) and college (1994) football halls, Newsome has been inducted into the NCAA Hall of Fame (1994), the State of Alabama Hall of Fame (1995) and the Little League Baseball Hall of Fame (2008).
His experience will never allow for even the best Ravens player to say that the front office is not in touch with the pulse of the locker room. He can be seen daily on the practice field, and in the team's workout rooms. Newsome feels it is important to still be involved on the field level as much as possible.
According to a quote in the Ravens media guide this past season, Ozzie says his workouts are just another way he "tracks the pulse of the team. By being around the coaches and players out at practice and being in that weight room around those players, I think I get a chance to build some things in my mind of how I'd like the makeup of our football team."
Selecting two sure Hall of Famers with those two first round picks back in 1996 simply continued a legacy of success for Newsome. The selection of left tackle Jonathan Ogden (4th overall) and middle linebacker Ray Lewis (26th overall) was just the start for a franchise that oddly isn't mentioned amongst the top run clubs in the sport, but it should be. In fact, why Newsome, director of player personnel Eric DeCosta, and club president Dick Cass aren't talked about as a model franchise is mind boggling at times. 
When model franchises are mentioned on the national talk shows, the Steelers, Patriots, Giants and Packers are always mentioned, as they should be. But so should the Baltimore Ravens, and Ozzie Newsome. Prior to this season, former Indianapolis Colts GM Bill Polian was always mentioned as the man that sets the standard. But he was shown to be less than a genius when, without QB Peyton Manning, the Colts lost 14 straight games to start the season. As a result, Polian is no longer the man in charge in Indy.
In 2010, the Sporting News ranked Newsome first amongst NFL executives, Polian was second. However, Newsome fell to ninth in 2011 behind such "greats" as Mike Tannenbaum of the Jets and Scott Pioli of the Chiefs. There's consistency for you. 
ESPN football analyst John Clayton once said, "As a player, he was known as the Wizard of Oz, a Hall of Fame tight end who was hard to stop. As a drafter, he's a master of finding the right players."
Don Banks of Sports Illustrated once wrote this about Baltimore and the NFL draft, "The Ravens are the NFL's gold standard on draft day, consistently making choices that stand the test of time." That quote appeared back in a 2005 article, but nothing has changed since then.
All Newsome does every year is succeed when the season ends so his players can succeed when it starts again. The selection of Ogden and Lewis began a stretch that saw the Ravens win the Super Bowl just four seasons later.
They were whispers of criticism when Newsome selected Ogden as many in Baltimore wanted running back Lawrence Phillips from Nebraska. Newsome never wavered and as Ogden gets ready to prepare his Hall of Fame speech in August 2013, Phillips will be serving the fourth year of a 31-year prison sentence. Newsome has consistently drafted top notch talent for the Ravens. Talent suited for the style of football Newsome wants his teams to play.
Since moving to Baltimore in 1996, the Ravens, led by Newsome, have had 16 drafts and selected 17 players in the first round (including 2011 choice CB Jimmy Smith). These picks have earned an amazing 50 combined Pro Bowls and several All-Rookie honors.  In the team's first 15 drafts (1996-2010), Baltimore selected 16 first-rounder who have earned a total of 46 Pro Bowl honors. Newsome and his staff have never squandered a top pick—okay maybe Travis Taylor—but usually they don't miss.
Of the seven players chosen in the top 10 by Baltimore, five (Ogden, LB Peter Boulware, CB Chris McAlister, RB Jamal Lewis and LB Terrell Suggs) have earned Pro Bowl accolades. Suggs was recently named the team's third player, and fourth time overall, to win defensive player of the year honors. They don't do too badly in the lower half of the first round either. Picks 15 through 32 are sometimes considered as much a hit or miss as many chosen in the second or high third round.
The Ravens have made that bottom of the first round pick count in a big way through the team's brief history. Lewis has twice been named the NFL Defensive Player of the Year, and won Super Bowl XXXV MVP honors; TE Todd Heap, chosen 31st, went to two Pro Bowls, and safety Ed Reed, the 24th pick, has been to eight Pro-Bowls and also earned NFL Defensive Player of the Year in 2004. Let's also not forget about Haloti Ngata, who was selected 12th in the first round, and was recently named to his third Pro-Bowl team
Amazingly, in the Ravens' brief history, Newsome and his staff have drafted 13 players who have earned Pro Bowl honors and, including 2006 Pro Bowl linebacker Bart Scott who signed as a rookie free agent in 2002, Baltimore has produced 14 homegrown Pro Bowl players in just 15 NFL seasons. Including free agents, the Ravens have had 28 different players earn Pro Bowl honors since the team's inception in 1996.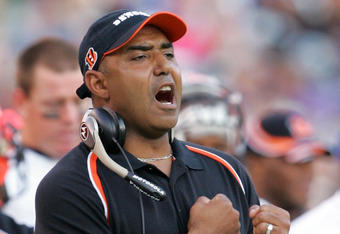 Jamie Squire/Getty Images
The Ravens do not belong to the National Football Scouting group, which provides teams a log of reports on players eligible for the draft. Instead, they make their own list, and that means involving every scout at every level. The Ravens compile a report looking at every player on a collegiate roster every season.
Newsome, perhaps more than any other GM in football, trusts his people and that once again comes from his background as a successful football player. To be successful in the NFL, you must trust your teammates and Newsome most certainly trusts his scouts.
While head coaches usually get the credit for producing a coordinator or position coach that goes onto to become head coach somewhere else, Newsome has been the one constant in Baltimore as assistants and coordinators continually get a chance to become head coaches in the NFL and college.
During Newsome's tenure, many of them have gone on to head coaching jobs, and while not all of them directly from Baltimore, many of them not long after being here. The list includes, Jack Del Rio (Jaguars), Kirk Ferentz (Iowa), Pat Hill (Fresno State), Marvin Lewis (Bengals), Eric Mangini (Browns/Jets), Rick Neuheisel (UCLA), Mike Nolan (49ers), Rex Ryan (Jets), Jim Schwartz (Lions), Mike Singletary (49ers), Mike Smith (Falcons), Ken Whisenhunt (Cardinals) and most recently Chuck Pagano, named head coach of the Indianapolis Colts this offseason.
Newsome is responsible for the "Raven Way," which is a brand of football that can only come from loving to play the game. While it is true that Newsome will take the best player available while ignoring needs at times, it always works out. He never chooses a player that would be a bad fit for the Raven way and you can bet the player selected loves playing football.You can also bet he has two elements that cannot be measured at the scouting combine or during a pro day workout. The one element Newsome is perhaps the best in the league at judging is a player's heart and will. He also has a pretty good finger on a player's work ethic as well.
Two recent examples of this are Ngata and Jimmy Smith. Many questioned Ngata's work ethic coming out of college, and did the same last season when the Ravens drafted Smith with their first round pick. Smith, when healthy this past season, was great when he knew his assignment, and Ngata is considered one of the best two D-lineman in the game.
Newsome is a great judge of talent. I feel the best in the league. If you don't believe me then click here to see what some others in and close to the game think of his ability. Newsome knows the competitive edge a player needs to be successful in the NFL. That's why, and this is not a knock on offensive players, the Ravens are always so successful on the defensive side of the ball.
Defensive players tend to have more of killer instinct and the hunters' mentality Newsome and his staff have become so good at finding. Just when you think Newsome is going to take a running back, he chose an offensive lineman or just when you thought he was going to pick a wide receiver, along comes Peter Boulware.
Newsome is a rare bird in that former great players aren't always great executives, or even decent judges of talent. Just ask Michael Jordan and Matt Millen. He's found success on the offensive side of the ball in recent years. He selected Joe Flacco and Ray Rice in the first and second round back in 2008 and in last year's draft, Newsome selected Torrey Smith. He's found it in later rounds such as fifth round pick Jermaine Lewis back in that storied 1996 draft.
It's also why Newsome has such an uncanny ability to cut a player, or sign a veteran at just the right time. He can see the "Raven Way" is either gone from an aging players game or exists in a player not quite ready to hang it up. Having played the game, Newsome knows what the desire and fire should like in a players eyes.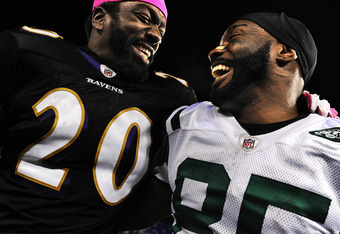 Patrick Smith/Getty Images
Think back to Rod Woodson and Shannon Sharpe. Remember Sam Adams and Tony Siragusa. More recent examples would be Steve McNair, who led the Ravens to their best record (13-3) in franchise history, and "washed up" defensive end Trevor Pryce, who Newsome still believed in when he came to Baltimore. Pryce registered 26-sacks during his four-year stay in Baltimore and matched his career high with 13 in 2006 after the Broncos told him he couldn't play at a high level anymore.
Let us also not forget the Ravens who may have lost the desire to play with the Raven way like Todd Heap and Derrick Mason last year. Cornerback Chris McAlister before them lost it. 
Newsome had great vision as a pass catcher when he played and he has it in the Ravens front office. While it's true Mason and Heap were salary cap causalities, he had other options in players to cut last offseason when the lockout ended. The Ravens have a pretty good "capology" department; they just felt like it was time to part ways with the franchises top two all-time pass catchers. Newsome wasn't criticized for cutting the Heap and Mason, but the move was most certainly questioned in the media and by the fans on talk radio.
Mason played for two teams (Jets and Texans) last season and had just 19 receptions for 179 yards. Heap played in just nine games, as he suffered another injury filled season with 283 yards and one touchdown in Arizona. The Ravens were 4-0 vs. the teams Heap and Mason played for last season, and the reason both became expendable was because their replacements were recent Newsome draft day finds.This brings me to another philosophy Newsome whole heartedly believes in, "Next Man Up." When a starter goes down or is cut, the Ravens organization has always believed that the next man should be ready to step in and perform at a high level. If history tells us anything, that next man has almost always been ready, and has performed well in Baltimore.
The proof may be when that next man goes to play somewhere else. Like Heap and Mason other players such as Kim Herring, Duane Starks, Ed Hartwell and many say Bart Scott didn't and aren't enjoying as much success away from the Raven Way of football. Scott has averaged just 56 tackles in his first two seasons with the New York Jets after averaging 63 in his previous three seasons in Baltimore.
Heaps replacements, Dennis Pitta (4th round), and Ed Dickson (3rd round) combined for 94 catches, 933 yards and eight touchdowns. Each by themselves surpassed Heap's production in Arizona. Mason's replacement, which was actually Lee Evans backup, Torrey Smith, set Ravens rookie records in receptions (50), receiving yards (841) and TDs (7).
Despite all of his success, Newsome has his hands full this offseason, but Ravens fans can rest comfortably knowing that it is almost a sure thing their GM and his staff will once again prevail.
He has already cut wide receiver Lee Evans, as well as defensive backs Domonique Foxworth and Chris Carr. He placed the franchise tag on Ray Rice Friday, and knows that getting a deal done for Rice won't be easy. The NFL's leader in yards from scrimmage during the 2011 season is reportedly seeking Adrian Peterson money.
Franchise quarterback Joe Flacco wants a contract extension, and his agent recently said he feels Flacco deserves top-five quarterback money. Cornerbacks Lardarius Webb, and Carey Williams are restricted free agents that will bring a lot of attention, and one ridiculous offer from a team that doesn't have to give up as much under the terms of last year's collective bargaining agreement could cost Newsome and the Ravens one or even both of them.
You can believe that Newsome has a plan A, B, C and D if necessary. The Ravens, with Newsome, DeCosta and Cass in charge, will never get caught with their pants down. There is a reason that starting in 2008, with a rookie head coach and quarterback, the Ravens have gone to the playoffs every season since, which is the longest current active playoff streak in the NFL.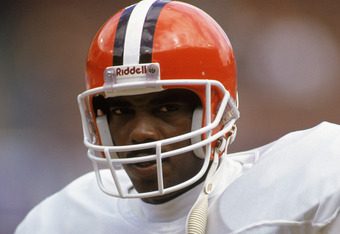 Rick Stewart/Getty Images
They rarely make mistakes in the front office. Men as great as Newsome at their craft can still have many defining moments, as the greatest always find a way to "wow" you one more time. There was Favre's last season with the Vikings, Babe Ruth's three home runs as a player/ coach with the Boston Braves at the end of his career and Dale Earnhardt finally winning the Daytona 500 in 1998.
The greats always want to be great all the time. There is a competitiveness that separates them from the other greats in their field. The former Alabama and Cleveland Browns great doesn't need that moment. Newsome could already stand on his current resume to be considered the best.
But if he could somehow sign both Rice and Flacco, keep Webb and Williams, while signing a key free agent to upgrade the Ravens offensive line and have another great draft, Ozzie Newsome will indeed become the Wizard of the front office football world. In other words, this offseason will undoubtedly become Newsome's Sistine Chapel.
Of course, after everything you just read, will it actually surprise you when he pulls it off?