Restructuring the Title Situation: WWE Overhaul Part 6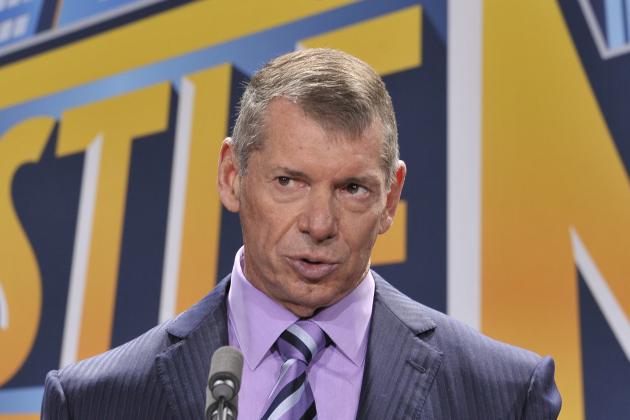 Michael N. Todaro/Getty Images

Welcome back to WWE: Overhaul!
In this installment, we go over the situation with the titles in the WWE right now.
Head back to the home of WWE: Overhaul if you need to find out what's going on.
The title situation in WWE is a bit prickly.
Some are saying that there are too many titles for the number of people on the roster.
Others want abandoned titles returned.
There are too many "main-event ready" guys who aren't getting shots at the big titles.
Some champions never have to defend their titles.
Other titles are handed away on a whim.
Beyond all that, there is little rhyme or reason behind the naming of the various titles.
The unification of the WCW and WWF titles created a strange batch with no connection.
And whether there are too many titles or too few, it's clear that there is no balance in which titles get defended and how many challengers each gets.
Let's look at some of the different kinds of belts and discuss how we could structure things with the new network.
Or head back and catch up on previous installments!
Part 1: Revamping the Wrestling Shows
Part 2: Injuries and the Offseason
Part 3: Non-Wrestling Prime Time Shows
Part 4: Scheduling a Week of Prime Time
Part 5: Filling the 24-Hour Schedule
Begin Slideshow

»
One concept is to structure titles into weight classes.
This is how boxing, MMA and martial arts break down their competitors, with champions of each weight class awarded by a global governing body, sometimes with champions of particular countries or regions also noted within the same weight class.
Titles by weight in WWE history include Heavyweight, Junior Heavyweight, Light Heavyweight and Cruiserweight.
If you wanted to organize the WWE in this manner, you could break it down like so, allowing the whole company to compete based on weight classes:
Super Heavyweight (300-plus)
Heavyweight (200-plus)
Cruiserweight (<215)
New Title? (<185?)
Another common basis for titles is for the champion to hold dominion over a particular region or territory.
Theoretically, there might be several lesser titles belonging to smaller sub-regions within the greater region and that the title holder is considered to be elevated above.
The WWE has used several of these:
United States
Canadian
North American
European
International
Intercontinental
World
And yet, the regions have nothing to do with who competes for or holds these titles.
First, World and Intercontinental are essentially the same thing (as is International).
Certainly, keeping any of these titles in the hands of WWE wrestlers demands that there be enough representatives of a particular region to keep its holder in question, with multiple possible challengers available.
The only other option is to have other bodies and competitors (real or imagined) that might periodically take certain titles off of WWE hands at times. For example, if Great Khali was "Indian Champion" and fought Jinder Mahal for it, then went off TV for a couple weeks to "go defend his title in India" (or have some jobber appear on WWE to fight for it) and then maybe "lose" the title to some other faceless Indian wrestler.
Quickly running over the current Superstars, I come up with these rough numbers:
U.S.: 30
Canada: Three
Mexico: Six
Europe: Six
Plus two from Africa, two from India, some unlisted and one each from "parts unknown," South America and Planet Funk.
Surprisingly, though, there used to be many Canadian superstars, or at least it seemed that way; there certainly aren't enough to have that be competitive.
And really, does anyone want to see a Canadian champion, a Mexican champion and a United States champion, with one of them being the North American champion as well?
Nah.
A North American, or simply American title, and a Eurasian one... nah.
Forget I said anything.
Some titles don't belong to either a weight class or a physical location, but are still tied to a particular concept or group, or a venue.
There is of course the Television Title, plus the championship of a particular company.
Then there are made-up championships like the Million Dollar title and the Internet championship.
So for WWE, there could be three going forward:
The WWE title
A Television Championship
The Internet Championship
I'd actually like to go into those last two for a minute.
Apparently (I never watched WCW), the TV title had a stipulation for a while that matches over it had a 15-minute time limit.
Not that that would affect many matches on WWE TV.
But I feel like there's an angle there for "15 minutes of fame" matches. Whether it's a two-man championship scramble or Iron Man match scored by points, 15 minutes to escape a cage or avoid being pinned in a handicap match, etc.
I also feel like the title should be one that a wrestler can only hold once in his career. Earn it. Defend it. Drop it. Move on.
It should be a low-level title that theoretically anyone can get, and that is a first step for anyone going on to better things, but it should still be an exciting thing, even if not a prestigious one.
As for the Internet Championship, I believe that it should be legitimized by the WWE and placed on Zack Ryder, then quickly lost by him.
It should be defended in actual matches that appear only on WWE.com or WWE's YouTube channel.
But the No. 1 contender should be chosen by most views, or WWE.com poll or some other means via the Internet.
Finally, there are titles based around a special rule set.
Historically, this includes the Women's and Diva's titles (lady parts only, so John Cena is allowed), the Tag titles and the Hardcore title, which featured a 24/7 stipulation for the better part of its existence.
I suggest there be four such titles:
Hardcore Championship
ECW Championship
Women's Championship
Tag Team Championship
Now, I know the ECW Championship didn't have special stipulations, but I feel it should in order to set ECW slightly apart from the other shows.
Specifically, I feel like every title defense should have some special stipulation, but that it can be any stipulation, from ladder to lumberjack to table to four corners to Cole on a Pole.
The question is how to decide on the stipulation. It could be "random" or decided by the GM, or it could be put in the hands of the champion or challenger. Each has its pros and cons.
Personally, I kind of think the stipulation should be put in place by the most recent former champion, when they drop the title, before they know who the next challenger will be.
As for the Hardcore title, I feel like it should be a roving title, and the best, most interesting way to achieve this without the chaos of the 24/7 rule is to make it always "live," that is, in any sanctioned match involving the Hardcore Champion, the title is on the line.
Tag team match? Either opponent gets the title if they pin the champion.
Battle Royal or Elimination match? Whoever eliminates the champion is the new champ.
Triple Threat for a different title? If the defending champ pins him, he becomes a dual champ. If the third competitor pins him, he gets the Hardcore title, but the match ends and the other champion retains.
As you can see, all these circumstances could lead to interesting situations where opponents and teammates might act differently than normal in order to get the Hardcore title.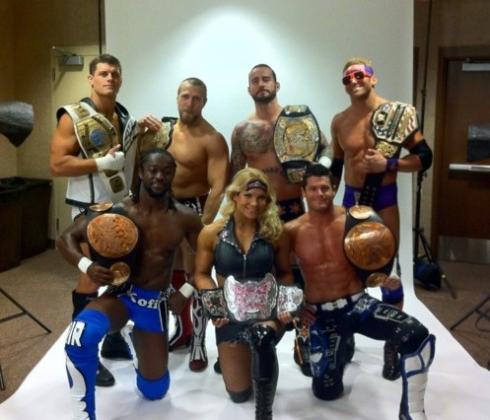 Working on the concept that the WWE will have a network within the next year and will add a couple shows to provide enough new programming, here are my thoughts about title structure.
Weight Classes
To do the whole thing on weight classes would mean a complete restructuring of the entire WWE landscape. It would mean adding a half-dozen weight classes at minimum and would result in dividing the roster too much, limiting who could compete with each other.
Alternatively, having just a Heavyweight, Cruiserweight and maybe one or two other weight class titles, even with Tag and Diva titles, would be too few. Or more to the point, too much of the roster would be competing over the same title.
Regions
With the current WWE roster, you could have a U.S., European, and Mexican champion, a North American champion and a World champion. That seems like enough, but the North American champion would always be either the U.S. or Mexican Champion as well (unless he was one of the two or three Canadians).
Likewise, the World Champion, if he came from North America or Europe, would also be holding one or more of those titles. So when John Cena (or any other U.S. citizen) carried the World title, he'd also have the North American and U.S. belts as well.
Even if you didn't structure things that way, with only six (or fewer) men competing for the Mexican or European titles, it would get farcical. Sure, fewer men than that are currently after the U.S. and Intercontinental titles, but the verisimilitude is that there are a bunch of guys waiting in the wings for their shots.
And I don't see Vince cooperating with any foreign talent or companies (if there are good ones available) to occasionally lose belts overseas (even though they shared belts with NJPW at one time). First of all, WWE is supposed to be the global entity, and second, I just don't see him working well with others.
Tradition
There has been no concrete plan to make the titles in WWE make sense; really, it's just grown organically, and titles have been added and dropped periodically. Tradition is about all we have to go on besides innovation.
Structure
However, I think it's clear that if WWE's network gets legs and there are several shows per week that each show needs its own title (or two). That way, the top two or three healthy performers in each show can be involved in chasing its title, with another few competitors just outside the picture, trying to get in
Titles will be able to be contested by any eligible person, no matter what show they tend to stay on (Raw, in particular, will collect talent from all the shows), but whoever is champion will appear on that show during their reign, even if they are contracted from another show.
Of course, certain titles (like the tag belts) will move from show to show.
In time, if there is enough talent and all the shows are succeeding, then things like Women's or Cruiserweight Tag belts could be added.
Also, replace the spinner belt, the tag team pennies and the Diva monstrosity.
So here is my current plan for the opening run of the Network.
It's very similar to the current situation, but with a few additions and a couple tweaks.
Reading the table:
Titles on the left, shows at the top. (Raw, SmackDown, ECW, NXT, Cruiserweights, Women's, Superstars, Live Shows)
D means a title can be defended on that show. Bold means that show is the title's "home" show and the champion must appear there. X means the title is not defended on that show.
Title
Notes
RAW
SD
ECW
NXT
CW
WW
SS

Live

WWE
Open to all contenders
D
X
X
X
X
X
X
X
Heavyweight
Open to all 200lb-plus
D
D
D
X
X
X
X
X
ECW

Open to all contenders

Matches must have special stipulations

D
D
D
X
D
X
X
X
Intercontinental

Open to all contenders
D
D
D
X
D
X
X
X
United States
Restricted to U.S. Citizens
D
D
D
D
D
X
X
D
Cruiserweight
Open to all 215lb or less
D
D
D
D
D
X
X
D

Women's

Restricted to women
D
D
D
D
D
D
X
D
Hardcore

Open to all contenders

Always on the line

D
D
D
D
D
D
D
D
Tag Team
Open to all contenders
D
D
D
D
D
D
X
D
Television

Open to all contenders

"15 minutes of fame" matches

Can only be held once

D
D
D
D
D
D
D
X
Internet

Challengers decided by poll, page views, or other means from pool of talent that appeared online that week

Defended in matches shown via YouTube or WWE.com

X
X
X
X
X
X
X
D*
*If that live show match is aired online
I feel like this group of titles allows each show to have a major title for its top stars to focus on, plus two singles titles and the tag titles floating around to give the mid-card something to fight over.
Add to that the Hardcore, TV and Internet championships, which can go to anyone that is either showing some promise but isn't over, or is popular but not ready for the real thing.
They're all designed to be regularly up for grabs and have high turnover, while the other titles can have longer reigns.
The different titles with different classes and available contenders opens up things for attempted domination by a new faction or stable should they return.
I'm still not 100 percent on all the details as presented (Raw being the hub of everything only being home to the WWE title, the use of the US title), but I feel it's OK as a starting point.
Continue on to Part 7!
Or, return to the home of WWE: Overhaul and check out the rest of the series.