WWE Network and Slating a Week of Prime-Time: WWE Overhaul Part 4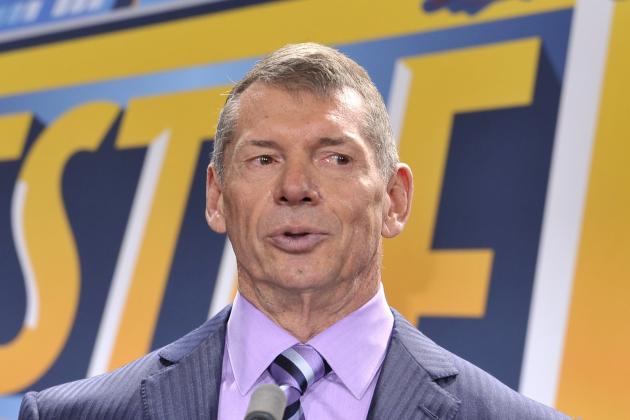 Michael N. Todaro/Getty Images

Welcome back to WWE Overhaul!
Check out the home of WWE Overhaul here if you need to get a sense of what's going on here.
The WWE is attempting to get its own cable network off the ground, and step one is to fill a prime-time schedule for the week, with step 1A being slating a major wrestling show each night of the week.
Step 1B is finding or creating enough new content to fill in around the flagships so each show isn't standing on its own.
Certain nights, like Sunday and Thursday, are bigger TV watching nights but have more competition, while others, like Friday and Saturday, are hard days to draw viewers on, but have weaker competition. Prime-time is generally considered to be 8 to 11 p.m. Eastern or 7 to 10 Central, and to have a viable network, WWE needs to provide new content on prime-time every night (though some of it can have reruns, like normal TV).
So there's a lot to consider when building a schedule, and a lot of it is pretty flexible, but as a starting point for this exercise, let's put together a week of WWE prime-time programming.
Start the slideshow to explore one possible weekly schedule for the network's debut, or check out the earlier entries in the series.
Part 1: Restructuring the Wrestling Shows
Part 2: Injuries and an Offseason
Part 3: Pitching Non-Wrestling Shows
Begin Slideshow

»
So this one's obvious: Monday night is Raw.
Currently airing live at 9 Eastern, 8 Central and running two, and occasionally three, hours, Raw is the flagship of WWE on television.
Until the WWE lands on a sure-fire hour long (or two half hours) show that they can run before Raw, the best bet is to use the time on a couple of recaps, to set up and lead into that night's Raw.
The first I'm calling WWE Plugged In (because it reminds me of electricity and because they're "plugging" their own material, get it? Eh? Eh? I'm terrible). The show will open with a two to three minute high-speed clip recap of big moments and spots on all the WWE shows the previous week set to energetic, hard rock music. Then a host (probably Josh Mathews, but anyone who can deliver with energy and/or personality) leads through the major moments that week, playing short clips (30 seconds to a minute) rather than complete match recaps. Fast, high-energy and intense.
Following that is a new recap program called Raw and Ready (I know, I know), which sets up the coming Raw by going over the significant feuds running and the big events of the previous week's Raw. Other shows would only be included if they directly affected what was happening on RAW. It would be basically like WWE Bottom Line is now, but including only what was important to the coming show. Slightly slower and less energetic than Plugged In, but with a little more gravitas and quiet intensity.
WWE Plugged In (TV-PG, 8-8:30 EST)
Raw and Ready (TV-PG, 8:30-9 EST)
Monday Night Raw (TV 14, Live, 9-11 EST)
Tuesday is the day that SmackDown is taped, but unless they care to go live with that show as well, they'll need to air something else that night.
That could be a cut-together show like Superstars, or it could be something shot separately, like an FCW show, but if it's possible, I think the best choice here would be ECW.
ECW at one time aired live Tuesdays after SmackDown was taped and then was taped before Raw went on air. Either way they do it, they can do it again.
As the more "adult" themed show, its airtime will be later than the others.
Leading in, we have a little "edgy" (and that only relative to the rest of the PG world of WWE) comedy and a first attempt at a Legend-hosted Travel/Discovery/History channel-style show, featuring Road Dogg exploring various locales and venues along the WWE tour, which I'm calling Road Tripp, because I stink at naming things.
Road Tripp (TV-PG, 8-9 EST)
WWE Download (TV-14 D, 9-9:30 EST)
Are You Serious? (TV 14 DLSV, 9:30-10 EST)
ECW (TV 14 DLSV, 10-11:00 EST)
For hump day, a little something different: two new shows featuring neglected performers to air back-to-back.
The intention here is to draw in an audience for the Cruiserweights and then keep that audience around for the women's show.
Following these experimental new shows is Tough Enough, the most pedigreed and established of the non-wrestling programs, to add a little draw through the end of the women's show and strengthen the night overall.
Cruiserweights (TV PG, 8-9 EST)
Women's (TV PG, 9-10 EST)
Tough Enough (TV PG, 10-11 EST)
SmackDown returns to Thursday nights in this lineup.
This is a calculated risk, pitting it against greater competition but providing for a greater possible audience.
If the WWE is going to have its own network, it's got to have its primary shows anchoring it in the strongest slots.
Legends House follows SmackDown to give the new property the best shot at success.
SmackDown (TV PG, 8-10 EST)
Legends House (TV 14 DL,10-11 EST)
WWE Tonight With Mick Foley (TV 14 D, 11-12 EST)
That last one's not technically prime-time, but I figured it better to put it in here than to list it with the "other programming" in an upcoming installment. Mick Foley in a talk show!
Friday night is a weak time slot, so that's a pretty good time for a weaker, new or unproven show.
And that's exactly what NXT is, either in its current state or in a revised format.
Surrounding NXT will be the first attempt by WWE to produce (or more likely air what is produced out of house) a sitcom starring a known WWE talent. Such an undertaking (no pun intended) will likely fall a little flat, and it will probably take a couple tries to get the formula right.
In another situation, you'd want to air the show on Thursday or Sunday in an attempt to give it the best chance to be seen, but with actual wrestling dominating the network's prime time slots and not wanting to place too many eggs in a very shaky basket, doing it quietly like this is probably best.
That will lead into Piper's Pit, a combination trivia and physical activity game show. No, I don't have anything more concrete than that; this is a fictitious schedule for a network that doesn't exist yet. What do you want from me?
Wrapping up the night is the Diva Search, which is great, because the guys who don't go out Friday night get to look at some pretty ladies.
Sitcom (TV PG, 8-8:30 EST)
Piper's Pit (TV PG, 8:30-9 EST)
NXT/FCW show (TV PG, 9-10 EST)
Diva Search (TV PG or TV 14 S, 10-11 EST)
To wrap up the week, we have Superstars, which can cull unaired matches from all the other programs of the week, recap various major storylines and preview any coming PPVs.
In fact, all of Saturday will be essentially a wrap-up of the week that was (and occasionally a setup for the coming PPV).
First is WWE Aftermath, a Best Week Ever or The Soup-style recap/humor program that will include a mix of recap footage from the week, comments by various personalities (preferably a mix of active wrestlers and celebrity WWE fans) and special segments like those from WWE YouTube shows WWE Inbox, Outside the Ring, Backstage Fallout and Foreign Exchange.
Following that would be an hour-long edition of the proposed ESPN/SportsCenter-styled show featuring WWE commentators and Legends covering the week's events as well as historical ones that fit a particular theme, top 10/50/100 lists (Best Damn Sports Show style) and the like. I'm calling it Between the Ropes, which isn't great, but is instantly better than the five names WWE brought up.
Superstars (TV PG, 8-9 EST)
WWE Aftermath (TV PG or TV 14 DL, 9-10 EST)
Between the Ropes (TV PG, 10-11 EST)
And then there's Sunday.
Assuming all PPVs (or whatever they call them if they air on WWE Network) are still on Sunday nights, they can't exactly have a wrestling show at the same time.
No, what they need is a weekly recap and, on PPV weeks, a lead-in show.
On non-PPV weeks, they just need some garbage to fill the missing time.
WWE Bottom Line (TV PG, 8-8:30 EST)
WWE After Burn (TV PG, 8:30-9:00 EST)
PPV or WWE Films (TV PG or TV 14, 9-11 EST)
Well, there you go.
A weekly WWE Network prime-time schedule.
Of course, other than Raw and Smackdown, all the other shows either could, should or must (depending on production constraints) have individual seasons broken by periods of downtime, just like the majority of television programs. This means at some point, they will need to air re-runs or produce or procure other content to air in those time slots. (Not to mention some might fail and would be removed.)
But it's a start, anyway.
And from this starting point, they can fill out the remaining time in the schedule any number of ways.
I'll cover some of those in a future installment.
In the meantime, you can go back to the home of WWE: Overhaul and check out the rest of the series.
Or continue on to Part 5.