WWE Network Programs to Share Prime Time with Wrestling: WWE Overhaul Part 3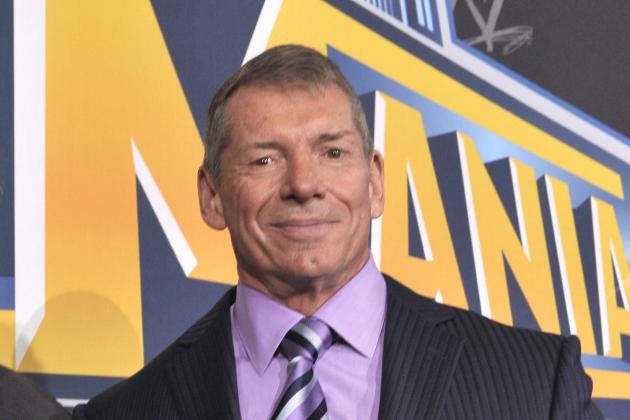 Michael N. Todaro/Getty Images

Welcome back to WWE: Overhaul!
If you don't know what's going on, head back to the home of WWE: Overhaul.
In our first edition, we looked at restructuring the wrestling programs, but there's going to be more going into scheduling a brand-new network than just wrestling programs—even if there's six or seven—and playing archived shows from the WWE vault.
You can play a bunch of historic archival material and rebroadcast the week's shows in the afternoons and mornings, but you need brand new material for prime time.
These shows, once a full season is up, can also be used to eat time during the daytime in various marathons (just like the big boys do!).
Anyway, in this installment of WWE: Overhaul, we're going to look at a laundry list of ideas for either scripted, semi-scripted or reality programs to rotate through the WWE Network's prime-time schedule.
Part 1: Restructuring the Wrestling Shows
Begin Slideshow

»
Here's where we know we're starting off: WWE Legends' House.
That is the only show that the WWE was ready to run with going into 2012. Maybe it wasn't their only idea, but it's the only fully-formed one (or the only one they wanted to reveal).
So it gives us a glimmer of an idea as to what they're thinking of with regards to programming. (Their YouTube channel might give us a slightly better one).
Basically, we know they're OK running reality TV (no surprise) and want to involve former and current talent (also no surprise).
Anyway, Legends' House looks to be a WWE version of The Surreal Life, a WB/VH1 reality show that aired in the mid-2000s and threw varied celebrities into a mansion together and pitted them in group and individual challenges. In essence, the Real World with famous people. It featured Chyna in its fourth season.
Something tells me this show will be like Celebrity Apprentice, but with all Gary Busey and Meat Loaf. In other words, a train wreck.
Another simple step would be to run new seasons of Tough Enough.
Tough Enough was a legitimate competition reality show that originally ran three seasons on MTV from 2001-2003. At the time, it would probably have been likened to Survivor, which premiered in 2000, at the very nascence of the reality TV era.
In this way, WWE was actually way ahead of the curve, putting out multiple seasons before the advent of similar programs like Project Runway and Top Chef, and even debuting before American Idol (and its UK predecessor, Pop Idol).
The original run had a few success stories: Maven famously drop-kicked The Undertaker out of the Royal Rumble and was a three-time Hardcore Champion; Season 1 runners-up Harvard man Chris Nowinski and the diminutive Josh Mathews later caught on as a wrestler and commentator; Shad Gaspard was slated to compete in Season 2 but was replaced; and John Morrison won in Season 3.
Season 4 was combined with SmackDown and featured future WWE champion The Miz, as well as the man who would be known as Skip Sheffield.
Then the show went off the air before reemerging this past year on USA.
The latest season had the most star power among the trainers yet, as it featured host Stone Cold Steve Austin, Booker T and Trish Stratus.
Of that season's competitors, one got squashed on Superstars by a pre-Funkasaurus era Brodus Clay, while another has appeared as one of Clay's backup dancers.
Doing another season of this show would be the easiest way for WWE to have a proven commodity for the premiere of the WWE Network.
If there's one thing you can probably trust the WWE with, it's a formula.
So you can't miss on this one, because you can use three: previous Diva searches, Tough Enough and America's Next Top Model.
So the goal here is to dress up the Diva search and make it its own fully-fledged TV series.
Now, certain decisions have to be made here. One is whether you are trying to find models, actresses or wrestlers.
I'm going to suggest that Tough Enough should still host aspiring female wrestlers who might end up on the all-"Diva" wrestling show, and that the Diva Search should be purely for hot women who can talk and can then end up all over WWE TV as valets, managers, interviewers and general eye candy.
Not because I think that's better, but it may be better for the show. Clearly, they're in demand by WWE, and I'd rather there be a clear delineation between female wrestlers and models in the company. (More on that in an upcoming installment.)
Earlier this year, WWE asked fans to choose between five names for a clearly SportsCenter-themed show—all terrible enough to be my idea—and highlighting the need to self-identify rather than try to directly copy something else.
This would be a perfect situation to get a couple well-spoken WWE Legends to comment on the events of the day or week.
This could be a half-hour program that could air late at night, after the wrestling shows, and be re-aired the following afternoon. Or it could be a full-hour program that could air midweek alongside one of the shorter wrestling programs, and on the weekend.
There is the possibility of combining the commentary on current storylines with discussions on Hall of Famers, top X lists and the sort.
WWE currently has a RAW recap show, WWE Bottom Line, hosted by Scott Stanford, and a SmackDown one, Afterburn, hosted by Matt Striker.
These shows can either continue or be enveloped into the greater "wrestling news" show.
The ESPN analogue show (or shows) can highlight then entire WWE product, but if the WWE decision makers feel secure and confident, there is the opportunity to remark on other products, including other wrestling news, MMA and other sports.
Establishing this, even in a very tertiary way, allows for an easier time establishing feuds and guest appearances by celebrities and sports stars.
Warning: that video, while not containing profanity, has jokes of a mature nature.
People have discussed this idea already, and Mick Foley's name came up early in that discussion.
Foley, a bestselling author, has embarked on a comedy tour, is well respected and affable and could theoretically handle the responsibility.
WWE loves to get celebrities on its programming, and better to have them talking about themselves than awkwardly trying to be general managers or anything of that nature.
These would be different than Tough Enough and Diva Search.
The goal would not be to gain employment with the company.
Basically, there are two main different possibilities: trivia shows and physical contests.
Obviously, the trivia would be wrestling-based.
The physical contest could be something like American Gladiators, where contestants could get brutalized by WWE wrestlers, or possibly something like Ninja Warrior, where they have to contend with an obstacle course.
Alternatively, they could compete in a series of NXT-style contests. Sad and pathetic for wrestlers; fun and pathetic for regular Joes?
There's plenty of opportunity for failure here, but the trivia-based shows would be very cheap to produce, and all of them are things non-WWE producers and creators (who the WWE will likely need to get enough material produced) would have an easy time conceptualizing and executing.
If WWE wants its performers to appear in TV shows and films (specifically its own films), then they could stand to get used to acting on camera. Seems kind of backwards when you consider they perform in front of cameras weekly, but there it is.
Again, this is something simple for experienced TV people to put together.
Cheaply, you could do a version of Who's Line? and bring in a couple experienced comedians to give a little stability and respectability.
Or you could put a little more money in and create something more along the lines of MAD TV.
Either way, it should probably only be half an hour.
These are shows like Dirty Jobs, Man vs. Food, etc. Shows where a host travels the country or the globe and either meets people or visits notable locations, etc.
Again, simple to accomplish, relying on the star power of the host and the novelty of what they're learning about.
Some suggestions:
- The Undertaker tours grave sites, catacombs, tombs, etc. Any place or way people are interred at death.
- Paul Bearer checks out haunted houses.
- Godfather tours strip clubs.
- Big Show finds the biggest of everything.
- AJ checks out nerdy things.
- Road Dogg visits great places to stop on road between cities. "Oh, you didn't know about these meatballs?"
Enough wrestlers have guest starred on various dramas and sitcoms—the WWE needs its own.
Frankly, I'd rather they just recreate Nikki, but whatever.
The premise is really not that important. Get a charismatic, retired or semi-retired Superstar or Legend (Edge, Mick Foley, Roddy Piper) to star, surround him with experienced but low-cost actors and let the WWE roster guest star one at a time.
That said, who's up for a Perfect Strangers remake featuring Ryder and Santino? Eh? Anybody?
I'm not sure if many of the WWE's current YouTube shows could be half-hour weekly shows in their own right. But they would be fine as segments of a larger show.
This would be a clips and commentary package show like VH1's Best Week Ever.
The show would feature Superstars and Divas commenting on various viral videos, pop culture events and the like, mixed in with regular appearances of WWE Inbox and occasional additions of Santino's Foreign Exchange, Superstar Toys and Outside the Ring.
The only current WWE YouTube shows that I think have any legs to stand on their own.
Are You Serious? may need another host or two to fill up the commentary, and the move to a half hour may require a format change to have the group rip on an entire episode of old material, or some serious padding.
WWE Download works OK as is if extended to 22 minutes of content, but it could do with a deep-voiced announcer to go with Ziggler's hosting duties, and dare I suggest a special segment where Mark Henry inducts people into the Hall of Pain?
Of course, the WWE has several "shows" (or at least concepts) that it has aired amid its wrestling programs. Abraham Washington, anybody?
Now, these could continue to be interview shows, if stretched to half an hour, but there is probably a little more that could be done with them.
In fact, they could be combined with several of the previous slides.
Piper's Pit as a game show? Where contestants answer questions or complete challenges to avoid being thrown in the pit, or to escape, or while in the pit and to prevent bad things happening to them (things could be thrown in, etc.)?
Cutting Edge as a show where Edge checks out the latest in technology, fashion, art, etc?
Peep Show as either a show where Christian meets peeps and explores their lives, or as some kind of hidden camera show?
I'm just spit-balling here, WWE. You run with it.
The WWE will have to expand the horizons of its product to make a network a reality.
There are going to be a whole lot of false steps along the way, but that's just the nature of the business. Ask UPN, VH1, heck, anybody. The best they can do is to watch costs and put their most charismatic talent at the forefront.
Hopefully, there will be a few gems in there.
Head back to the home of WWE: Overhaul to catch up on earlier entries.
Or continue on to Part 4: Scheduling a Week of Prime Time