WWE YouTube: Ranking WWEFanNation's New Crop of Shows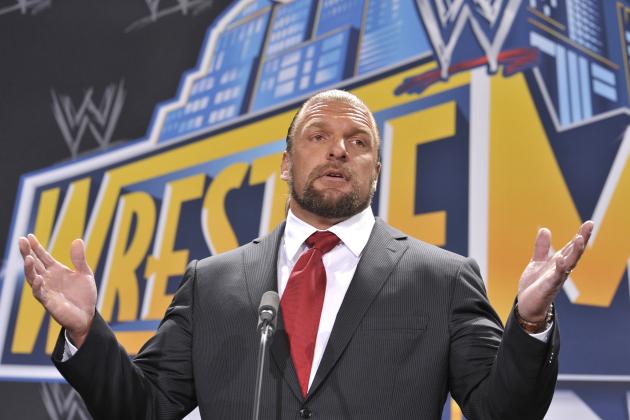 Michael N. Todaro/Getty Images
It's time to play the game
So, WWE has had its batch of new shows on its YouTube channel up for a couple weeks now, and they seem to have settled into their schedule.
Now that they've all had their debuts, I figured I would write up a couple facts, slap some 10-point scale ratings on a couple arbitrary categories, give them each a letter grade with no mathematical connection to those ratings and then throw them in an all-but random order for your reading pleasure.
Each slide will give these vital statistics:
Name, concept, schedule, episodes released, views and what show it reminds me of
The categories I'll be grading are:
Production Value (Camera work, editing, sound)
Creativity (Concept, use of concept, writing, etc)
Fun (Is it enjoyable to watch?)
Overall Execution (How does it all come together?)
Then, after some comments, I'll throw out a grade (A, B, C, D, F)
Begin Slideshow

»
Name: Backstage Fallout
Concept: WWE camera crews catch up with superstars and divas as they hit backstage after matches.
Release Schedule: Tuesdays (Raw) and Fridays (Smackdown)
No. of Episodes: 4
Views of latest episode: 84,000 (previous eps 73,000 124,000 and 48,000)
Reminds me of: Matt Striker or Josh Mathews asking for reactions, but without Striker or Mathews.
This is straightforward. Show a clip of the end of a match to establish what happened, then ask the involved wrestlers how they "feel" about what "happened."
Production Value: 6/10
Creativity: 2/10
Fun: 5/10
Overall Execution: 5/10
From a production standpoint, not much is going on here beyond sticking a clip in front of a live Q&A. Credit the performers for their kayfabe reactions, this is exactly the kind of thing you'd see on TV if these were parts of bigger storylines.
It's good in that it gives them another chance to talk to a camera for an audience, helping them work their mic skills just a bit. It doesn't offer much besides that, and isn't really unpredictable or very entertaining.
Grade: C-
Name: WWE Toyz
Concept: Showing off the fancy stuff the WWE superstars have...wait...really? Really?
Release Schedule: Sporadic
No. of Episodes: 1
Views of latest episode: 61,000
Reminds me of: Lifestyles of the Rich and Famous
So here, we're treated to a short clip show of all of Alberto Del Rio's cars and then watch him window shop at a Mercedes Benz store.
If we assume this is how this series will go, I don't imagine we'll be seeing many episodes. There are only a few kayfabe rich superstars, and most of them don't act like it's a big deal.
Production Value: 8/10
Creativity: 4/10
Fun: 3/10
Overall Execution: 5/10
This clip isn't badly put together; the opening montage is just like the WWE's usual packages that they put together for Superstars, and the rest of the episode was shot and edited well.
Unfortunately, Del Rio wasn't great. He kept his character, but I didn't believe he was actually buying any of these cars. His two "guest stars" were even more uncomfortable.
The whole thing was just an ad, which is fine, if you're going to use product placement to get a little rub of wealth, but it just wasn't very interesting.
What other superstar is going to do these? Ted DiBiase? With another character change, maybe. Guys with the right personality might be The Miz or The Rock. If the Hardy Boyz were around, they could do something with dirt bikes or whatever. Do any Superstars actually have interesting lives outside the WWE?
Grade: C-
Name: WWW Inbox
Concept: WWE Superstars answer fan e-mails
Release Schedule: Wednesdays
No. of Episodes: 3
Views of latest episode: 56,000 (previous eps 130,000 and 185,000)
Reminds me of: Ask the Divas
OK, I guess this one was obvious. Have superstars and divas answer fan mail. Simple enough.
Production Value: 6/10
Creativity: 3/10
Fun: 6/10
Overall Execution: 6/10
Not a lot to say here. The superstars are cornered in various backstage locales and answer random fan questions.
In general, the delivery here is good; there's a couple funny answers, which is good, because otherwise, it's pretty boring. Sadly, some answers are dodged (mostly by heels) or questions misunderstood.
Grade: C
Name: Outside the Ring
Concept: A look into the private lives of WWE superstars
Release Schedule: Thursdays
No. of Episodes: 1
Views of latest episode: 174,000
Reminds me of: MTV Diary
So, there's only one episode of this is show so far, which is problematic, because it will have to feature multiple WWE superstars and divas. We have enough to get a good idea of what they're going for, but there's no way to tell how well they'll keep to their release schedule and how good one episode will be to the next.
Production Value: 8/10
Creativity: 5/10
Fun: 4/10
Overall Execution: 6/10
The name is simple and straightforward, so it works. The camera work and editing are pretty good, which is to be expected, as WWE is used to working without a proper set and lighting. There was some nice, nondescript music playing under to give it a little bump in production quality.
Watching the Usos make food was alright; there's some nice insight to their culture, which I fully support, and it got the guys talking, which I also support.
This show could help superstars that don't have a great presence in WWE TV, assuming they have personality and something to say. My biggest fear is that they'll run out of segment ideas and either scrape the bottom of the barrel or drop it altogether.
Could be a useful show for superstars who are on injury leave or semi-retired legends. The whole thing hinges on the individual superstar's personality, however.
Grade: B-
Name: WWE Presents
Concept: Special videos that don't fit in other shows, including tours of non-WWE facilities.
Release Schedule: Sporadic
No. of Episodes: 1
Views of latest episode: 37,000
Reminds me of: Packages from Tribute to the Troops or Fan Axxess
It's gonna be hard to judge this one, because it's unclear what the bounds of the show will be. With Cena going to NASCAR, will we see a video of the NASCAR experience? Hospital visits with Make-a-Wish? Hard to say right now.
Production Value: 8/10
Creativity: 6/10
Fun: 5/10
Overall Execution: 6/10
So, this was OK. Obviously, the guy they had leading the Bellas around was a trained tour-leader for the West Point campus. The other guy with them didn't say much except to occasionally correct the first guy. I guess the Bellas were chosen to give them something to do.
Grade: B-
Name: WWE Download
Concept: Dolph Ziggler does his best Bob Saget impersonation and rags on YouTube fails.
Release Schedule: Tuesdays
No. of Episodes: 3
Views of latest episode: 22,000 (previous eps 80,000 and 174,000)
Reminds me of: Maximum Exposure
So this is probably the all-around best conceived and produced show so far (not saying a lot here). Simple concept, good choice of talent, easily produced and kind of funny.
Production Value: 7/10
Creativity: 6/10
Fun: 8/10
Overall Execution: 7/10
Ziggler does a solid job here; it's clear he can handle himself with regards to presence and delivery. The guy gets comedy and his timing is good, but sadly, there's not much here to work with, whether he's writing his own jokes or someone else is. Nothing he does here comes close to the delivery he gives in his #Heel moments on Z!TLIS.
But that's understandable. There are limitations here, and Ziggy Showoff has to work within them.
Technically speaking, the show is very simple and succeeds with its sound work and musical underscoring, and also with its simple graphic work. The main mistake was having Ziggler talk into his hands to deliver the fake-announcer voice recounting the dangers of parkour. Getting another voice for that part would have been the right choice.
Still, for a completely overdone concept, it's not bad.
Grade: A-
Name: Are You Serious?
Concept: Josh Mathews and Road Dogg watch awful clips from the WWE vault.
Release Schedule: Sundays
No. of Episodes: 2
Views of latest episode: 77,000 (previous ep 196,000)
Reminds me of: Mystery Science Theater 3000
A show called "Are You Serious?" with no Zack Ryder in it? Really? Really.
And a puppet version of "The Game?" Excuse me?
Road Dogg and Josh Mathews watching crappy WWE vault videos? Now just a minute, playa.
OK, OK.
Are you serious, bro?
Production Value: 7/10
Creativity: 6/10
Fun: 6/10
Overall Execution: 6/10
This one's a bit of a head-scratcher. I guess finding a use for the offal and toxic runoff of the worst of WWE's property is a financially positive move. There is some awful stuff out there, and calling it out for what it was in the name of humor is a good move.
Josh is OK, and Road Dogg is actually funny at times. The writing's not great, but it's OK. MST3K this is not, but clearly, they're not putting in nearly that much effort.
The weirdest part is the muppet-style "The Game," who comes out to give Road Dogg and Josh various challenges. The change-up from the rest of the program is welcome, and the two games so far have been (marginally) different from each other, but they don't win anything and they have no disincentive to lose.
The puppeteer work on "The Game" is not great, as his mouth never fully closes as he speaks. And the voice is clearly not Triple H and doesn't do a great job sounding like him. But maybe that's an intentional choice? There was a pretty good, if obvious, joke on HHH's "Cerebral Assasin" nickname.
Grade: B+
Name: Z! True Long Island Story
Concept: Zack Ryder continues his YouTube sensation.
Release Schedule: Thursdays
No. of Episodes: 1
Views of latest episode: 141,000
Reminds me of... Z!TLIS, are you serious, bro?
For our purposes here, I'm not counting the clip show that was episode No. 51. WWE is walking a tightrope balancing between Zack's homemade version and the glossy finish of some of the other shows. Viewership is down on the WWE channel version, which disallows comments. But some of that may be people not being familiar with the new location, or maybe it has to do with the feeling that Zack sold out. Both matters were addressed (or at least paid lip service to) in the episode above.
Production Value: 7/10
Creativity: 7/10
Fun: 7/10
Overall Execution: 7/10
So, there was a real challenge here about keeping the feel of the original Z! True Long Island Story while updating it slightly for WWE.
Technically, they succeeded. Zack still opened and closed the show in the normal style (though with a new backdrop/poster), and the sound quality then was the same as it normally is. They cut out all the hiss and awkwardly different sound levels (though that had been happening gradually through the original 50-episode run), and the short segments (with the "sold out" joke and with Curt Hawkins) were very much filmed in the original style. The tour, however, was cleanly cut and edited.
The acting is properly terrible, with the random guest stars being wooden and Zack's dad smiling too much. Oh yeah! They kept Zack's dad and the "take care, spike your hair" theme song, as well as the Internet Championship (though it wasn't mentioned). Hawkins name-dropped Chiappetta and Big O, but I get the feeling they'll be exiled to Chi! True Long Island Story. We'll see.
They did a good job of keeping the original feel of the show, and I was surprised they didn't excise all the things that Zack and company had originated. They could really stand to get other superstars involved and even create some kind of feud among the TV-banished low-carders for the Internet Championship.
The main question here is whether Z!TLIS fans will come over to WWE's channel and if new fans can be made.
Grade: B+
Name: Santino's Foreign Exchange
Concept: Santino interviews superstars, divas, fans and others.
Release Schedule: Saturdays
No. of Episodes: 2
Views of latest episode: 90,000 (previous ep 183,000)
Reminds me of: Santino's segments from WWE TV
When I first heard Santino's show would be called Foreign Exchange, I thought it might involve Santino getting to know about the foreign culture of other superstars. Sadly, that's not true, but I guess it's probably better to keep things simple and unconstrained to give the show a better chance to continue long-term.
Production Value: 6/10
Creativity: 7/10
Fun: 9/10
Overall Execution: 8/10
Both conceptually and technically, this show isn't much more involved than many of the others on this list, but it is aided by two things:
First, the show is creative and fun. I'm not sure how much of his marks' reactions are scripted and how much are improvised, but everyone is in a semi-kayfabe backstage mode that works well. People keep their characters, but there (so far) isn't any talk of matches, etc. Santino's interviewees tend to be divas or low-card superstars, i.e., people with time on their hands.
This is good for them, as it lets them work on their segment work and develop their characters in front of an audience outside the realm of cutting promos. And it's good for the show, as it gets Santino plenty of diverse help without going for bigger stars than him that might overshadow him.
Second, it's got Santino. As much as he may be a joke for many as an in-ring competitor, the guy is funny. He's self-deprecating and makes himself the butt of many of his jokes, making all his counterparts look good. When he gets shot down by women, it's funny, as opposed to Zack Ryder, for whom it's just sad.
Grade: A
So here we are.
After a couple weeks, we've got nine programs with 19 total videos for nearly an hour and a half of content.
There's a few obvious inclusions and a couple surprises (though most of the series are either interview shows or clip shows in one form or another).
Some of the shows are actually pretty fun, and hopefully over time, they'll get better.
And yes, I realize I ranked a show I graded at A- below two shows graded at B+.
The grade means I thought the show was put together better, but I'd rather watch the shows placed above it.
Sonamagun...