Dwight Howard: Why He Should Choose to Join Rajon Rondo Not Deron Williams
March 5, 2012

Sorry Orlando fans, Dwight Howard is gone.
There's no way the disgruntled star would publicly throw his teammates under the bus by continually stating teams he would be interested in signing with, and in the end stay with the Magic.
Besides LeBron James, Howard is the NBA's most talented player. This season he has remarkably been able to put up magnificent numbers, while on many occasions appearing disinterested. It's sad to see such a dominating physical and athletic specimen fail to drive himself to get the most out of his potential.
Personally, I think it's despicable what Howard's doing. Dwight's a smart guy and knows he can put up big numbers with ease, so game after game the star center decides to slide by on his talent alone until his wish is granted, and he is either traded or signed by another team.
Let's rewind to yesterday's statistical explosions by two of the NBA's elite point guards. Celtic's star Rajon Rondo put up an absurd triple double consisting of 18 points, 20 assists and a career high 18 rebounds. The last player to put up a triple double with at least 17 in each category was the immortal Magic Johnson way back in 1989.
Deron Williams of the New Jersey Nets had a magnificent game as well. The All-Star guard put up the most points in the NBA since 2009 in a 57 point performance that included him shooting a ridiculous 21 for 21 from the free throw line.
Why mention these two performances in a conversation about Dwight Howard? They play for two of the teams Dwight will have the opportunity to join when he becomes the NBA's premier free agent this offseason.
The Celtics will have loads of cap space next season with the contracts of Kevin Garnett, Ray Allen and Jermaine O'Neal all coming off the books. The Nets will also have plenty of cap space, and the team has already stated their hope to re-sign Williams and try and sign Howard as well.
New Jersey is a bigger market than Boston, and Howard has shown a desire to play for a large market team. However, if looking at it strictly in terms of which player would be a better fit to play with, the choice is Rondo.
The statistical lines of both players yesterday are a microcosm of their games. Williams is a shoot-first point guard who takes many shots over the course of game and has become a scorer first and a distributer second. Rondo is a pass-first player who uses his vision and quickness to penetrate into the lane and then dish the ball to his teammates.
If I'm a superstar player, I want someone who's going to get me shots, not take them away. Deron Williams has proven to be more of a scoring point guard than a passer. He is seventh in the league in scoring, but he is shooting just 41 percent from the field, the lowest percentage of any top-15 scorer.
Rondo has proven to be one of the league's best floor generals. The point guard is second in the NBA in assists and has done a great job managing the game for an aging Celtics team. His elite passing ability has turned mediocre forwards Brandon Bass and Chris Wilcox into key contributors.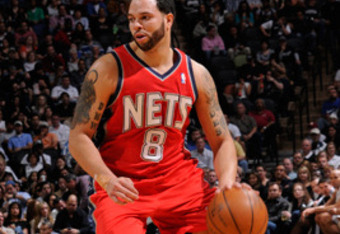 Rondo does so many things well on the court. Aside from being a superb passer, he is an excellent defender and a great rebounder at the point guard position.
With the exception of scoring, Rondo is above Williams in nearly all other major statistical categories.  Rondo is averaging 5.4 rebounds per game compared to 3.5 for Williams; he is averaging nearly a half a steal more per game than Williams, and is also shooting 47 percent from the field compared to Williams' 41 percent.
One of the most important statistics for a point guard is assist to turnover ratio. Rondo's ratio is 2.76, while Williams has an assist to turnover ratio of 1.97, the worst of any player averaging over eight assists per game.
Deron Williams may be the best scoring point guard in the NBA today. However, if I'm Dwight Howard, I want someone who is going to make me a better player through his passing and skills as a floor general. If you have to choose between Rondo and Williams when it comes to maximizing the play of those around them; I'd take Rondo any day.